Good News to Disneyland Fans! Disney Theme Park has expanded Fantasyland in Magic Kingdom with new attractive portions that make its fans go crazy!
With two themed areas, Enchanted Forest and Story Book Circus, the New Fantasyland adds to the charm of Magic Kingdom and feels more enchanted!
Fantasyland, which is located near Tomorrowland, is a place where the fantasy of Walt Disney's animated classic movies comes to life allowing the guests to live a magical life!
The new Fantasyland includes the following amazing worlds.
Story Book Circus
This area of the fantasyland is home to attractions like,
The Barnstormer


The Barnstormer is an adventurous ride where Goofy performs a stunt act. Known as the daring 'Great Goofini', he attempts his popular risky fly high show. Guests can witness the exciting show by entering a grand circus tent. They also get an opportunity to board one of Goofy's stunt planes and fly above the New Fantasyland. The flying stunt show begins with the plane ascending gracefully to the top of a wooden inspection tower, leaping down and around the active barnyard. The plane whizzes around gentle curves, trees and soars through the broken section of a nearby billboard and lands safely back inside the barn.

Dumbo The Flying Elephant


The ride features Dumbo, a Disney character of the 1971 classic Disney animated movie, Dumbo, the Flying Elephant, a typical circus elephant who discovers his exceptional skill to fly. The ride takes the guests on an enjoyable journey along with the triumphant sounds of festival music. At the entrance, Dumbo's loyal friend Timothy Q. Mouse greets the guests and directs them towards the ride. Once the guests are seated, the Dumbo ride begins by lifting off the ground and flies around and around. The classic Dumbo ride has been recently transformed and the new rides feature 2 sets of revolving elephants that move in opposite directions as they fly. The ride offers a unique feature to the guests where Dumbo can be controlled to soar skyward or fly low by using a handle located inside the gondola. A circus-themed air-conditioned play area with slides, climbing net, and a toddler section are also specially designed to entertain kids of all ages while the parents can rest on the ample seating.
Casey Jr. Splash 'N' Soak Station
Casey Jr. Splash 'N' Soak Station is a circus-themed water play zone where children can enjoy playing in the cool water!
Pete's Silly Sideshow
Pete's Silly Sideshow is a meet and greet area. Guests get to meet Goofy as the Great Goofini, Donald as a snake charmer, Minnie as a circus star and Daisy as a fortuneteller.
Fantasyland Station
Fantasyland station is a new feature at the Walt Disney World railroad where guests are taken on magical rides in a classic period train!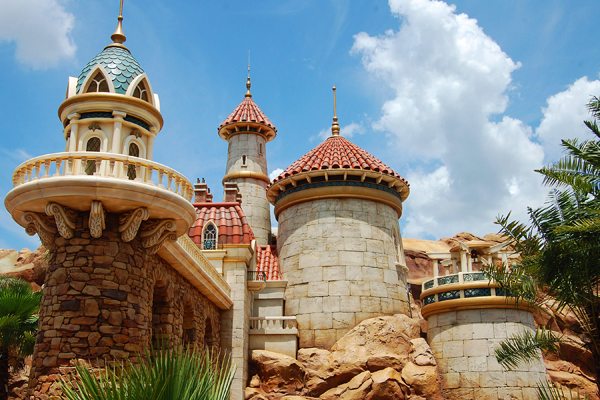 Enchanted Forest
Enchanted forest holds attractions like,
Under the Sea Journey of the Little Mermaid
An area dedicated to Ariel and her love Prince Eric, guests can plunge in to the colorful world of the sea. They can hear all of the Little Mermaid movie's most unforgettable songs and experience its most magical moments by taking a dark themed ride that begins from Ariel's gadget-filled grotto to a bandstand conducted by an overexcited crab. Guests also get to watch the romantic looks that Prince Eric and Ariel exchange sitting aboard a rowboat and then witness their fairytale wedding. Apart from Ariel and Prince Eric, guests can also meet other characters such as Sebastian, the crab, Flounder, the fish, King Triton and Ursula the sea witch.
Be Our Guest Restaurant
Located at the foot of the Beast's Castle in the New Fantasyland, are the 3 French inspired dining destinations that allow guests to relax and enjoy a meal at the mysterious West Wing, Belle's book-filled Library or the grand 2-story Ballroom.
Quick Bite
Stop by for a quick snack at the restaurants and enjoy the classy recipes! The important feature of these three restaurants is the touch-screen terminals that guests can use to customize their order so that Disney chefs can prepare and serve a signature meal of their choice!
Some of the cuisines served at the restaurants are,
Speedy salads and sandwiches
Quick Quiche
Fresh tuna Niçoise salad
Béchamel-smothered croque-monsieur sandwich
Turkey baguette
Vegetable quiche
Raised pork etc
Mickey meatloaf, whole-grain macaroni and more for kids
Dinner
Guests can also choose to have formal dinner at the restaurant. Cuisines served for dinner are,
Mussels steamed in white wine
French onion soup
Champagne vinaigrette salad
Rotisserie rock hen
Thyme-scented pork rack chop
Shrimp and scallops in puff pastry with lobster sauce
Oven-baked ratatouille
Grilled steak, fish or chicken breast for kids
Strawberry cream cheese – dessert
Triple-chocolate cupcakes – dessert
Cream puffs in chocolate cream or passion fruit- dessert
Advance reservations are recommended that can be made up to 180 days prior to visiting Fantasyland.
Enchanted Tales with Belle
Enchanted Tales with Belle is an area where guests can meet and spend time with Belle and they are even invited to play a part in the enacted play 'Beauty and the Beast'.
Ariel's Grotto
Ariel's Grotto is a meet and greet place where guests get to meet mermaid Ariel personally and have a conversation with her, get autographs and take photos.
Gaston's Tavern
Apart from 'Be Our Guest Restaurant', another quick service eatery at New Fantasyland is Gaston's Tavern, located in Belle's Village. No alcohol is served, however a frozen fusion called LeFou's Brew, made of apple juice, hints of toasted marshmallow and a light mango foam is available at the pub.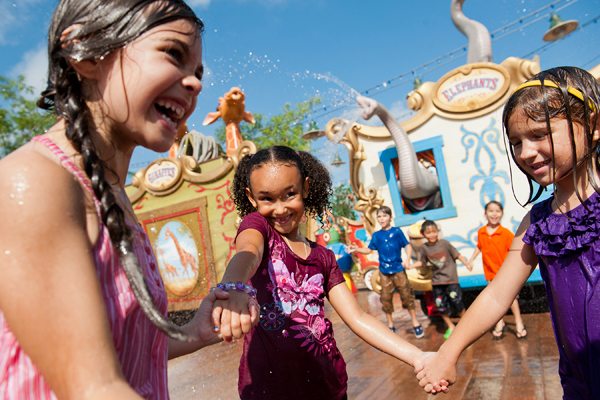 Other Fantasyland Attractions Scheduled for Future Opening
Princess Fairytale Hall
Opening in late 2013, Princess Fairytale Hall is where Aurora, Cinderella and other Disney princesses will greet their guests.
The Seven Dwarfs Mine Train
Opening in 2014, the Seven Dwarfs Mine Train is a roller coaster ride that will demonstrate 'Snow White' story in a new version.
So come and experience the new Fantasyland in Magic Kingdom , offering more immersive enchantment and interactive experiences for the entire family!
The Lands of Magic Kingdom: