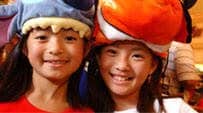 Rediscover your childhood with the most magical rides and shows in Walt Disney World.
Experience a whimsical place where storybook fantasy turns into everyday reality! Journey through 7 fantastic lands of fantasy – Main Street, Tomorrowland, Fantasyland, Liberty Square, Frontierland, Adventureland and Mickey's Toontown Fare. Enjoy the thrills and rides of Space Mountain, Splash Mountain, It's a Small World, Pirates of the Caribbean and many more…At the end of the day, don't miss the spectacular Share a Dream Come True electrical parade, the amazing fireworks and the beautiful Cinderella's Surprise Celebration.
Enjoy the thrills and rides in Magic Kingdom…
Walt Disney World Railroad
Town Square Exposition Hall – Discover the Stories Behind the Magic Interactive Kiosks
Tomorrowland Indy Speedway
Space Mountain
Extra TERRORestrial Alien Encounter
Cinderella's Surprise Celebration
Peter Pan's Flight
Dumbo the Flying Elephant
Snow White's Scary Adventures
The Many Adventures of Winnie the Pooh
The Haunted Mansion
The Hall of Presidents
Splash Mountain
Big Thunder Mountain
Country Bear Jamboree
Jungle Cruise
The Magic Carpets of Aladdin
Mickey's Toontown Fair
Mickey's and Minnie's Houses
The Barnstormer at Goofy's Wiseacre Farm
Disney's FastPass service is easy to use and cuts the wait time on the most popular attractions…
Each member of your party inserts his or her Walt Disney World Park entrance ticket into FastPass stations at participating attractions.
You will receive a FastPass Return Time so you can go play in the park instead of waiting in the line.
Zip back to the FastPass return lane during your Return Time, and hop on the attraction with little or no wait.

Check out our Walt Disney World Trivia:
A few days before Disneyland Resort opened, Walt ran out of funds to finish the landscaping. He quickly assembled his landscaping team together and told them to start putting Latin names on the plant labels and stick them by the weeds. Disneyland Resort opened with flowers, plants and weeds and no one knew the difference!
If you were to wash and dry one load of laundry every day for 44 years, you'd clean as much as the folks at Walt Disney World Housekeeping Laundry do in a single day! The workers launder an average of 240,00 pounds each day.