When you're coming to Orlando for business or pleasure, there's no reason to compromise on comfort and quality for affordable accommodations that put you within arm's reach of the attractions you want. The Royale Parc Hotel Lake Buena Vista has it all when you're here to enjoy Central Florida's most popular city with theme parks right around the corner plus easy access to golf, recreation and Floridian-style relaxation.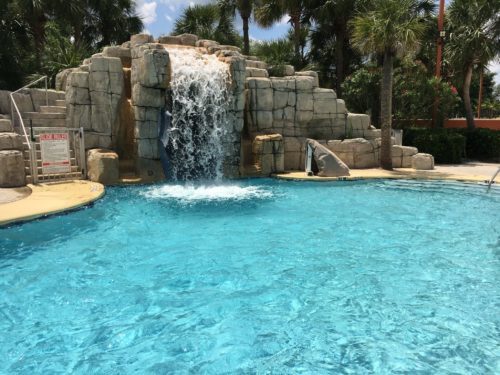 With your stay at the Royale Parc Hotel Lake Buena Vista, you'll get so much more for your money. You get free Wi-Fi, free hot breakfast, free parking, and free scheduled shuttle service to the theme parks. Plus, the outdoor pool area is loads of fun with a waterslide. There's also a fitness center and a business center to help you stay at the top of your game.
Relax in your comfortable room with the flat-panel TV, stash your snacks in the fridge, and heat up leftovers from the area's best restaurants you'll find right around the corner in your in-room microwave. A work desk and coffee maker also add more comforts to your room during your stay.
By far though, it's the location that makes the Comfort Inn Orlando Lake Buena Vista such a prime choice. You'll be less than 5 miles from the Orange County Convention Center, home to some of the biggest events in the country, plus you can walk to plenty of entertainment venues and restaurants. And of course, the theme park attractions for Disney and Universal are all nearby too, making this hotel the epicenter of all things awesome in Orlando.
Need more proof this is the best place to stay when you come to Orlando? The Royale Parc Hotel Lake Buena Vista reviews are from real people who experienced exceptional comfort, quality, and service by choosing this hotel as their home away from home during their visit to Orlando!
"Awesome front desk staff. Great tasting food and fresh fruit. Pleasant cleaning crew with fast response time to extra needs. And the people that run the little gift shop make me feel like family. I love going to Orlando and the staff at the Royale Parc Hotel Lake Buena Vista go above and beyond to make my stay 5 stars plus!" – Verified Guest from Davenport, IA
"If you're looking for a reasonably priced, good hotel, very close to Walt Disney World, this is it. We called ahead when we were only one hour away and received excellent service. Said they would hold a room open for us, no questions asked. Was greeted by name upon arrival." – Verified Guest from Winter Haven, FL
"This is the 2nd time we have stayed at this particular hotel and we are very satisfied. The rooms are very spacious and the breakfast is very good. The location is excellent and the staff was nice." – Verified Guest from Seminole, FL
"We chose this hotel mostly for the location four years ago and keep coming back because it is exactly what we need when staying in Orlando to attend the Florida Tow Show. We arrived a day earlier this year to get a chance to enjoy the pool. Really glad we did and plan to be back again next April." – Verified Guest from Franksville, WI
Royale Parc Hotel Lake Buena Vista Address, Telephone, and Website
8686 Palm Parkway, Orlando, FL, 32836, US
Phone: (480) 653-9329
Website | View Hotel Photos on Facebook | View Hotel Photos on Google Maps
View Hotels Photos on Instagram
See 360 view inside the Royale Parc Hotel Lake Buena Vista