When traveling on vacation, booking an Orlando hotel that gives you everything you want at an unbeatable price is a must. That's why the Holiday Inn Resort Lake Buena Vista is a fantastic option. It has all the vacation essentials to make your stay the kind of vacation you'll never forget. From the outstanding location to the spectacular array of amenities, you'll be glad you didn't stay somewhere else.

Holiday Inn Resort Orlando Lake Buena Vista Address, Telephone Number, Website, and Social Media Pages
13351 State Road 535 Orlando, Florida 32821 USA
Telephone. 407.239.4500
Website | Facebook | Twitter | Google Maps Listing | Watch Video on Facebook | Watch Video on YouTube |  Watch Video on IGTV
Room Types
There are 13 different types of rooms at the Holiday Inn Resort Lake Buena Vista. Each of them is comfortable with modern décor, provides complimentary Bath & Body Works toiletries, and is non-smoking. No matter how you're vacationing or who you're with, you'll find a suitable room for your needs.
Standard Rooms
The Holiday Inn Resort Lake Buena Vista offers three different standard rooms. King Bed, Queen Beds, and Queen Beds with exterior smoking (it's the only kind of room in the entire hotel where smoking is permitted). Each of these rooms comes with a refrigerator, microwave, coffee maker, in-room laptop safe, and free wi-fi internet access.
Deluxe Guest Rooms
The two options for Deluxe Guest Rooms have all the same amenities as the Standard Rooms. However, they are more spacious. The King Bed with Sofa has both a king-sized bed and a sleeper sofa in it. The other option is the Two Queen Beds room, which is bigger than the Standard Guest Room version and also includes a desk, perfect for getting work done.
Pool View Guest Rooms
If you want a room with a view, be sure to choose one of the three Pool View Guest Rooms. There's a Two Queen Beds Pool View, a King Bed Balcony Pool View, and a Two Queen Beds Balcony Pool View. Each of these rooms offers all the in-room amenities as the other rooms but allows you to enjoy a spectacular view of the resort-style pool.
Kidsuites
Kidsuites are an amazing alternative for families. They offer a partitioned-off layout to keep the king bed separate from the bunk bed. For most families, the Kidsuite King Bed One Bunk should be plenty of room for everyone, but bigger families will want the Kidsuite King Bed Two Bunks. Privacy for Mom and Dad, bunk beds for the kids, and amenities for everyone.
Suites
The two spectacular suites at the Holiday Inn Resort Lake Buena Vista offer more of a home away from home. Each one has a separate sitting room and kitchenette. Both offer plenty of privacy. The Presidential King Suite also has the option to connect to the Presidential Connector for larger families who desire more privacy.
Free Amenities Available
At the Holiday Inn Resort Lake Buena Vista, you'll have access to incredible free amenities. The over-sized heated pool with 2 whirlpools and Splash Pad is perfect for unwinding after a busy day of theme parks. The hotel organizes fun poolside games and activities every day that anyone can join in. Plus, the Cyber Arcade offers even more free entertainment. Throughout the entire resort, you'll have free wi-fi. There's also a 24-hour Business Center & Guest Library that you can use to take care of business or keep fit at the state-of-the-art fitness center. Additionally, one of the best freebies here is the free shuttle service to the area theme parks and attractions which will save you a bundle on parking.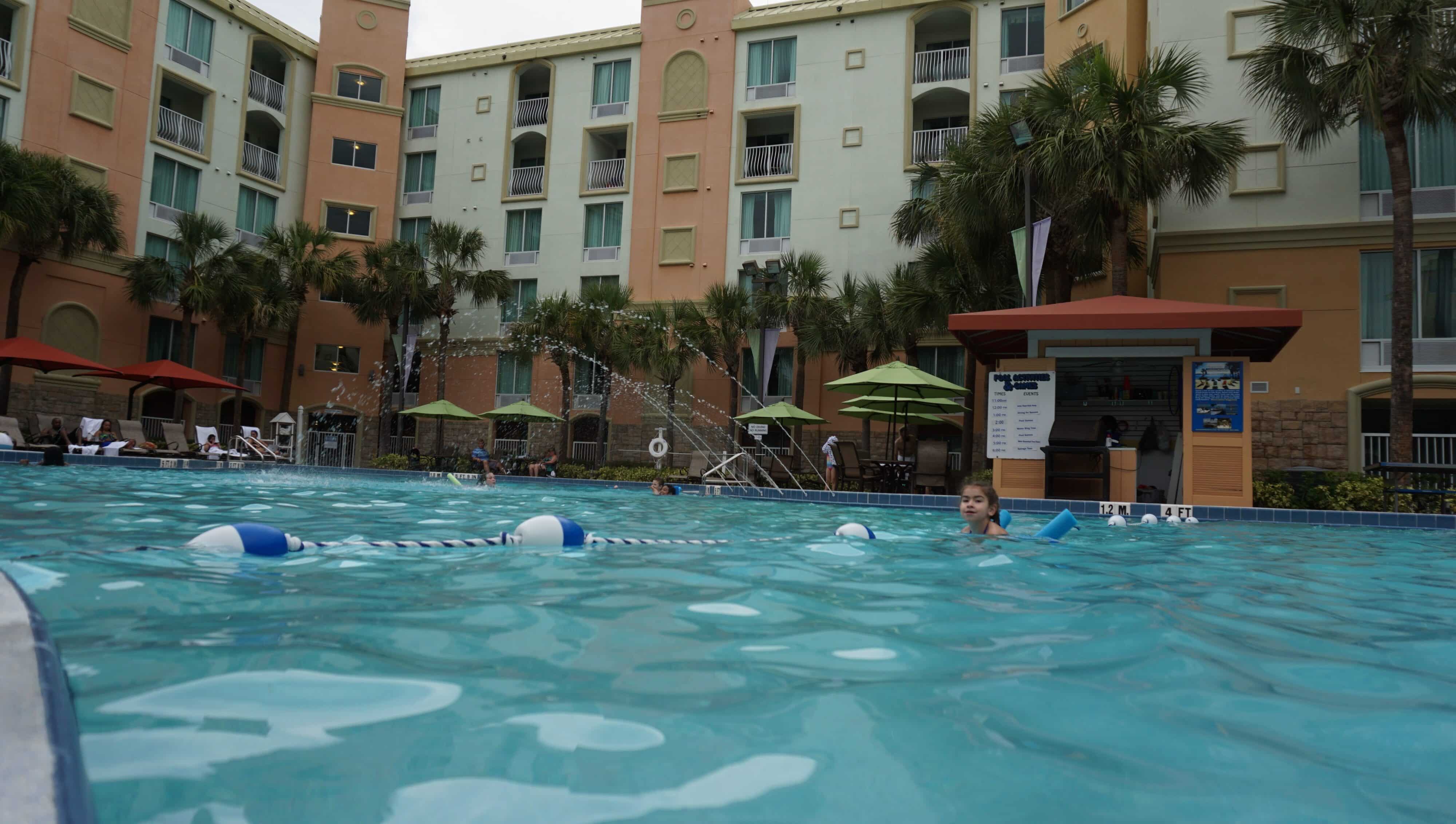 Walt Disney Good Neighbor
Resorts and hotels on Disney property can be very expensive. But even if a hotel is not on official Disney property, it can earn the coveted Walt Disney Good Neighbor rating. They offer the same high standards and quality service at an exceptional value, plus they are all located close to Walt Disney World Resort. The Holiday Inn Resort Lake Buena Vista is proud to be a Walt Disney Good Neighbor.
Location
The outstanding location of the Holiday Inn Resort Lake Buena Vista puts you right in the center of everything. You'll be able to get to every theme park in Orlando from the Magic Kingdom to Universal Studios with ease, visit the biggest malls like Mall at Millenia and Orlando Premium Outlets, catch a game at the Amway Center, and so much more. You'll have all of Orlando in the palm of your hand.
Dining Options
No need to search for a place to eat when you get back after a busy day of walking the theme parks. There's an Applebee's restaurant on-site. Casual, convenient, and family-friendly, it is a welcome addition to the resort. Enjoy big juicy burgers, fresh salads, specialty pasta, the Signature House Sirloin cooked to your exact liking, or the feisty Fiesta Lime Chicken. Plus, if you have kids, you'll save even more money when you eat at the Applebee's at the Holiday Inn Resort Lake Buena Vista. It offers the "Kids Eat Free" program which allows you to feed up to four kids age 12 and under. You can also enjoy Applebee's Tiki Bar Poolside. Stay and play by the pool and have your food and drinks brought to you. Now that's vacationing!
In need of essentials or just don't want to buy every single meal at a restaurant? The Holiday Inn Resort Lake Buena Vista has you covered with Pinky's Market Place and Gift Shop. Grab sandwiches and drinks, even beer and wine for when the kids fall asleep, plus get some great souvenirs to take home with you.
Book a resort hotel that you'll never want to leave. Make your next Orlando stay really count with the Holiday Inn Resort Lake Buena Vista.
Guest Reviews:
"Very Clean and Nice Hotel" – I have to say I was truly impressed with everything, and I will be staying here in the future.
"Kids Suites" – The kid's suite was a very convenient way to travel with 2-4 children. The kids loved having their own space and the bunk beds. Hotel was conveniently located for Disney and restaurants. Great off property option!
"Great stay with magical memories!" – Complimentary shuttle service to Disney Parks, a lot of restaurants walking distance from the hotel, very clean and well-maintained property. Everyone at the hotel was very friendly, the hotel has a service desk for Disney tickets so you don't have to wait in line when you get to Disney's ticketing center.
"Best Hotel in Orlando!" – I highly recommend this hotel. Their rates are reasonable and the rooms are beautiful and clean. The hotel is nice. The location is perfect for any place you want to go and is on the main drag with many places within walking distance. Free WIFI. They have a shuttle to Disneyworld that runs often. The staff is extremely nice and helpful.