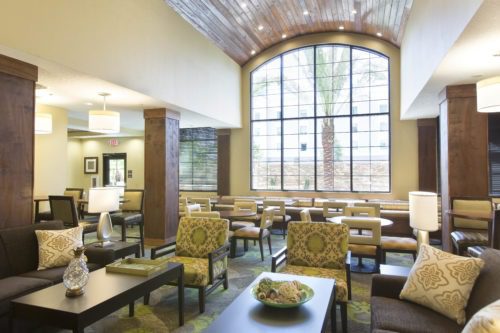 Where are you located?
Staybridge Suites Orlando at SeaWorld is located at 6985 Sea Harbor Drive Orlando, FL 32821.
How far is the airport from the hotel?
The hotel is approximately 13.3 miles away from the Orlando International Airport (MCO).
How close is the hotel to major attractions?
The hotel is located directly next to Sea World® (0.1 miles), 6.2 miles from Universal Orlando®, 5.9 miles from the Walt Disney World®, and 2.3 miles from Orange County Convention Center.
Is smoking permitted at the hotel?
No, our hotel is a 100% smoke-free facility. However, there are designated areas outside of the hotel where smoking is permits
Can I purchase theme park tickets at the hotel?
Yes, you may purchase a wide variety of multi-day theme park tickets through an independent guest's service desk located in the lobby of the hotel.
Is transportation available to the area attractions and airport?
Staybridge Suites Orlando at SeaWorld offers complimentary scheduled shuttle service to Sea World, Aquatica, Discovery Cove, World Walt Disney World®, as well as Universal Orlando®. Please call the hotel to see our pick up and drop off times. We do not offer transportation to and from the Airport.
Does the hotel offer luggage storage?
Yes. The hotel offers the same day of check-in or check out for storing guest luggage. No overnight storage allowed. The hotel holds the right to dispose of any luggage that is not claimed by guest and/or left overnight.
Can I send or receive merchandise to my hotel room?
Guests at the Staybridge Suites Orlando at SeaWorld can receive packages and send packages at no cost however the guest must pick up the package at the front desk with a form of I.D. Please call the front desk at 407-917-9200 for additional details.
Are pets permitted in the hotel?
No, our hotel is pet free facility, however, we do accept service animals.
Does the hotel offer non-smoking or ADA-compliant rooms?
All our rooms are non-smoking and yes, our hotel offers ADA rooms.
What does it mean that you are an All Suite Hotel?
This means that every one of our rooms is designed to be a Suite. Every room is larger than your standard hotel room. It comes equipped with a full kitchen stocked and ready to use. They will also have a full sized refrigerator and freezer, coffeemaker, and full-sized sofa bed. In addition, we offer an iron, ironing board, tv, and radio alarm clock.
Does the hotel provide parking?
Yes, onsite parking is available to all guests at no additional cost.
Do you charge a Resort Fee?
No, we do not have any extra hidden fees or costs associated with your booking.
Does the hotel have laundry facilities and offer dry cleaning services?
Yes, the hotel offers COMPLIMENTARY self-serve laundry facilities in designated areas. There are no quarters required here! Laundry supplies can be purchased at The Pantry, which also offers a variety of snacks, beverages, and ice-creams and is conveniently located in our Lobby area.
Is there a fitness center on the property?
Yes. We have a 24-hr fitness center available for all in house guests. Note that children under the age of 18 years must be accompanied by an adult.
Does the hotel offer business services?
A business center in the lobby area is available with a complimentary computer workstation. Stay connected, check your e-mails or print your boarding pass.
Does the hotel offer WI-FI?
WI-FI is available free of charge in all guestrooms and throughout the hotel. Use your IHG app and connect automatically without a passcode!
What is your cancellation policy?
Reservations may be canceled up to 72 hours prior to arrival without penalty. Cancellations made within 72 hours of arrival are subject to a one night plus applicable tax fee.
How do I guarantee my reservation?
All reservations must be guaranteed with a major credit card. To see which cards these are please click the "Hotel Amenities" tab on our website.
What are check-in and check-out times?
Check-in is available at 4:00p.m. and check-out is by 11:00a.m. Early check-in and late check-out is available upon request and subject to availability.
Are connecting rooms available?
Connecting rooms are available but subject to availability.
What is the maximum capacity to a room?
Our Studio Suite rooms are limited to 3-5 guests. Our One Bedroom Suites are limited to 3-5 guests. Our Two Bedroom Suite is limited to 6-8 guest. This also applies to the accessible versions of each room.
Do you offer complimentary breakfast?
YES! We offer a complimentary breakfast every day. It is Hot breakfast and done in a buffet style.
What is Manager Social?
The Social, held every Monday, Tuesday, and Wednesday is a time where the hotel offers a complimentary light dinner for guests of the hotel. It includes free beer and wine for adults over 21 years of age, and soda for the family. It's a chance for our guests to meet and interact with the management of the hotel, and our guests to meet and get to know each other.
What dining options are located nearby?
There is a variety of dining options available by walking distance or a short drive away. There is a Bonefish Grill less than 50 feet from the property.
Below are a few more suggestions:
Taco Bell, McDonald's, KFC, Moe's Southwest Grill, and Wendy's, Fire House Subs, Subway (Fast Food)
Panera Bread (American)
Denny's (American)
Applebee's (American)
Buffalo Wild Wings (American)
Mello Mushroom (Pizza)
Thai Thani (Thai)
Hurricane Grill and Wings (Tropical)