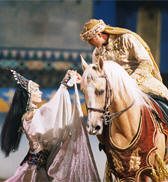 Beautiful horses, dazzling costumes, heart-stopping acrobatics and a fabulous three-course meal are only the beginning of an unforgettable night of entertainment at Arabian Nights, Orlando's favorite dinner show. The tale of Princess Scheherazade's birthday and her search for the Prince of her dreams comes to life each night at Arabian Nights in a stunning Broadway style show on horseback. The only performance of its kind, Arabian Nights features over 60 gorgeous horses and 30 of the world's finest performers in a show filled with magic, adventure and romance.
When guests arrive at Arabian Nights, they are treated to a fantastic performance of the magic of Michael Barron. They can also purchase the new VIP package at Arabian Nights, which includes a tour of the stables, meet and greet with the horses and performers from the show, and an opportunity for children to climb aboard one of the gypsy horses for a perfect photo opportunity, as well as guaranteed seating in the front three rows.
The show takes place in the magnificent 140,000 square-foot Palace of Horses, where two genies conjure a variety of entertainers from around the world for the Princess and her guests. The Ben Hur chariot race, the Gypsy bareback trick riders, the western square dance, Gaylord Manard and his drunk horse Chief Bear Paw, a stunning tribute to Native American and an appearance by Walter Farley's Black Stallion are some of the 22 acts that will entertain and thrill guests at Arabian Nights.
Our dinner menu includes prime rib, chopped steak, grilled chicken breast, chicken tenders and vegetable lasagna, all served with dinner rolls, steamed broccoli and mashed potatoes. For desert, the Princess's wedding cake, of course! This scrumptious meal also includes a house salad before the main course.
Come experience the magic, adventure and romance that make Arabian Nights the most honored dinner attraction in the world!

Also view other great dining options in Orlando: