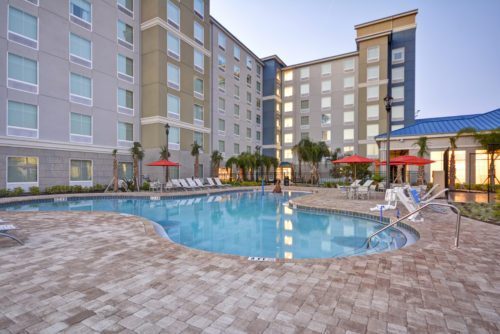 If you're planning a vacation to Orlando's theme parks, don't pay more for an on-site resort when you can get the same incredible location, bounty of amenities, and comfort at a greater value. Instead, choose Homewood Suites Orlando for your vacation accommodations.
You'll wake up to a free hot breakfast that includes Mickey Mouse-shaped waffles, evening socials Monday through Thursday, free parking, free shuttle service to Universal Studios, Islands of Adventure, and SeaWorld, and even complimentary grocery shopping services so your in-room kitchen can be stocked up with the things you like before you even arrive! Talk about service!

Enjoy the resort-style pool and keep fit in the fitness room too. And for your business needs, free Wi-Fi, a Business Center and other helpful services will ensure you get the job done right, leaving you plenty of time to relax and enjoy your stay!
Homewood Suites Orlando Theme Parks Rooms and Suites
You won't believe the comforts of home that you'll find at Homewood Suites Orlando! There are studio suites and one-bedroom suites to choose from as well as rooms that are accessible for those with disabilities, and every room comes with a fully-equipped kitchen that features a full-size refrigerator, twin-burner stove, dishwasher, and microwave. You can save even more on your vacation by cooking in your room, and you'll never have to toss out those delicious leftovers from your dinner the night before either.
The rooms and suites give you plenty of space to relax or work in too. Put your feet up and enjoy your home away from home! The room choices give you many options, especially if you're staying with more people. There's a 1 King Bed/2 Queen Beds Suite that features two full-size bedrooms and two bathrooms. There's a separate living area with a sleeper sofa so everyone has a comfortable place to sleep. The kitchen has everything you need to cook your favorite meals and even comes equipped with all the utensils you need to cook and savor the creations you make. Plus, enjoy complimentary Wi-Fi to get work done or upload your vacation photos without delay.
The 1 King Bed Suite offers even more with the same amenities plus a dining area that can also function as a suitable workspace. The 1 King Bed Studio Suite and the 2 Queen Beds/1 Bedroom Suite have it all too, ensuring your stay is as comfortable as home but with even better service.
Homewood Suites Orlando Theme Parks Amenities
When you see all the amenities you'll get to enjoy at the Homewood Suites Orlando, you'll wonder why anyone would ever pay more at the on-property resorts. With the money you save, you can see more Orlando attractions and buy more souvenirs of your amazing trip.
At Homewood Suites Orlando, you'll get to enjoy these amenities:
Complimentary Wi-Fi
Free shuttle service to Universal theme parks and SeaWorld
Complimentary hot breakfast buffet every morning
Free parking
Evening socials with free cocktails and snacks
Sparkling swimming pool
Fitness center
Basketball courts
Business center
Meeting rooms
And more!
Homewood Suites Orlando Theme Parks Dining
At Homewood Suites Orlando, you'll never go hungry! Here, you can start the day out right with a free, hot breakfast buffet that has everything you want for a grand breakfast. You'll find a rotating assortment of eggs, sausages, fruits, cereal, coffee and juice, and can even make your own Mickey Mouse-shaped waffles. Top them with butter and syrup just the way you like them too!
In the evenings from Monday through Thursday, stop by the Lodge to partake in the free social, where food and alcoholic beverages await. With all this complimentary food, you'll save bundles on your vacation expenses and be able to make your vacation budget go even further.
And should you want to venture out for lunch or dinner, the prime location of Homewood Suites Orlando puts you right beside all the desirable restaurants in Orlando. You'll find Bahama Breeze, Senor Frog's, Ruth's Chris Steakhouse, Seasons 52, The Capital Grille, and more. There's something for every budget and every type of cuisine so you'll always find what you want to eat.
Homewood Suites Orlando Theme Parks Meeting Space
Whether you're organizing your yearly family reunion or planning the biggest business pitch of your life, you can rely on Homewood Suites Orlando to help you make it a fantastic success. With two distinct event spaces that are versatile in design to accommodate your needs plus a friendly and knowledgeable staff that knows how to take the lead, you'll have a professional and seamless event experience. There's also a Business Center to help you get organized so you'll never feel like a fish out of water no matter how far from home you are.
Homewood Suites Orlando Theme Parks Location
Homewood Suites Orlando takes just 16 minutes to get to from the airport. If you're driving, you can get to the hotel from I-4. From the east, you'll take Exit 71. And from the west, you'll take Exit 72. It's so easy to find! Plus, the great location is surrounded by Orlando attractions, shopping, and dining to make your stay complete!
Things to Do Near Homewood Suites Orlando Theme Parks
The convenient location of Homewood Suites Orlando puts you in the center of Orlando's best attractions. Walk to SeaWorld and Aquatica, or let the free shuttle service take you there, as well as to nearby Universal Studios, Islands of Adventure, and City Walk. You're close to Disney theme parks too, as well as area shopping and dining. The proximity to the highway makes it a breeze to take a day trip over to the beach or catch a game or concert at the Amway Center by night. The best of Central Florida is easy to get to from the Homewood Suites Orlando!
Homewood Suites Orlando Theme Parks Specials
When booking your stay with Homewood Suites Orlando, be sure to check out the seasonal specials that can save you even more and give you an even greater value than before!  There are always AARP specials for AARP members, plus there are often savings for AAA members as well. Just ask when booking! There are other ways to take advantage of specials too. Some specials allow for a discounted rate for a longer stay so you get even more amazing vacation time for so much less. Plus, you can book early for more savings. Look forward to your trip and take that extra money you save to spend on an extra day at the theme parks!
Another special you can take advantage of is signing up for Premium Wi-Fi during your stay. Business travelers will adore this option to get lightning fast Wi-Fi. It's three times faster than the free Wi-Fi included in your stay which is worth it for ensuring speedy streaming for presentations or even for pleasure. Get photos up faster than ever or conduct business in real-time with face-to-face interactions that don't lag behind.
See Inside 360 view of Homewood Suites Orlando Theme Parks
Homewood Suites Orlando Theme Parks Guest Testimonials
Guests from all over love the experience, comfort, location, and value at Homewood Suites Orlando. Here's what they had to say!
"Centered near SeaWorld, this park was a great location to get to the main parks. We did all four Disney parks, both Universal parks and SeaWorld. The kitchen is nice, although we didn't do a lot of cooking. The free breakfast is great. They have Mickey Mouse waffle makers with toppings like white chocolate, fresh strawberries, and whipped cream. They were delicious." – Timothy W.
"The front desk attendants were super nice and friendly. The hotel is AMAZING. The rooms are very nice and the quality of the decorations and design are incredible. The room was spotless and I appreciated that the most. The close proximity to Disney is a great plus, but that hotel itself is incredible. We will definitely be staying again." – Benjamin W.
"Seriously, the friendly and always-smiling staff made the stay so much better than it already was. Clean rooms, clean hallways, clean breakfast area – even when packed! Multiple Mickey Mouse waffle irons are available, so all the family can have breakfast at the same time. The pool was deep enough for a good splash, and shallow enough for a 5 year old to feel safe. It's a pretty new hotel, so everything is modern looking and calming. Pretty big space in the living area, comfy beds, full kitchen with dishes and silverware for four. We are very satisfied, and planning a new stay!" – Maria W.
Homewood Suites Orlando Theme Parks Address, Website, Telephone Number & Social Media Pages
6940 Westwood Blvd, Orlando, Florida, 32821
Telephone: 407-778-5888
Website | Facebook | Twitter | Google Plus | Video on Facebook | YouTube Video