Ripley's Believe It or Not in Orlando is a museum style attraction that showcases oddities, illusions, and artifacts from around the world and appears to be sinking Odditorium houses 16 themed galleries with hundreds of outrageous and interactive exhibits to entertain audiences of all ages and backgrounds.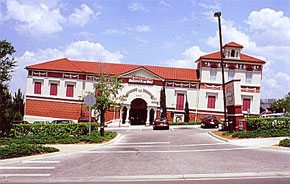 The Odditorium showcases an actual human shrunken head; an exciting dinosaur exhibit, complete with dinosaur skull and authenticated dinosaur eggs; a tribute to Robert Wadlow, the World's Tallest Man; an Egyptian mummy; animal oddities; human oddities; a 10-foot section of the Berlin Wall; an interactive Illusion gallery; unusual works of art; a 1907 Rolls Royce car made from over one million match sticks; and much more!
Ripley's is open 365 days a year from 9:30am to 12:00am, with the last ticket sold at 11:00pm. A typical visit is a self-guided experience that lasts about an hour and a half and parking is free.
Rates: Adults: $19.99 plus tax Child (4-12): $ 12.99.  Group Discounts for parties of 15 or more.
Operating hours and prices are subject to change without notice


Coupon subject to change without notice
Open daily from 9:00am – 1:00am
ORLANDO ODDITORIUM
8201 International Drive
Orlando, Florida 32819
General Information: (407) 363-4418
Local Group Sales Information: (407) 345-0501
Tour and Travel: (800) 998-4418 Ext. 3
Group Discounts for parties of 15 or more. Parking is FREE!
Related links:
– See more at: http://orlando-hotels.orlandoescape.com/attractions/ripleys.htm#sthash.i9uJLkaz.dpuf