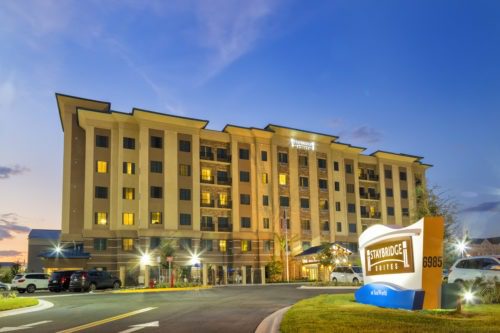 You've officially found Orlando's sweet spot with Staybridge Suites Orlando at SeaWorld! With nothing but upgraded suites in the center of Orlando's best attractions area, you'll have the best vacation or extended stay you could ever dream of.
Not only do you get to live the sweet life in your suite, but you also get preferred perks from this Official SeaWorld Hotel that guests of other hotels don't get. Things like free fast passes and special discounts will make your stay plenty sweet.
But to further sweeten the deal, even on top of free hot breakfast and free Wi-Fi, and even The Social, a free light dinner with beer, wine, or soda every Monday through Wednesday, you've got free shuttle service to the parks!
Benefits of the Staybridge Suites Orlando at SeaWorld Shuttle
With all the other amazing benefits this suite-only hotel of sweet features gives you, one of the best-hidden benefits is that of the special shuttle for guests of this hotel only. Here's why you need to stay here!
Save more money – Parking at SeaWorld, Disney, and Universal properties costs over $20 per vehicle. Parking at the Staybridge Suites Orlando at SeaWorld costs you nothing. Imagine how much you'll save if you keep your car parked at the hotel each day.
No charge for parking – You won't have to spend a penny on parking at the Staybridge Suites Orlando at SeaWorld either. Some hotels charge you a daily fee to park your car. How does that make you feel like a welcome guest? Keep more of your money so you can enjoy it on the things that really matter, like those special souvenir photos, stuffed animals and trinkets for the kids, plus extra treats and more!
Shuttles are free – You don't have to pay for the shuttle service either, however, you MUST reserve it no earlier than the day before and no later than one hour in advance of planning your travels to the area parks.
Get to the parks without the hassle of parking – If you're not a native to Orlando, then finding your way around can be stressful. Staybridge Suites Orlando at SeaWorld makes it easy to enjoy your stay with shuttles that take you to SeaWorld, Aquatica, Universal, and Epcot. Once you're on those properties, it's easy to get where you want to go!
Check the schedule and make your reservations during your stay at Staybridge Suites Orlando at SeaWorld once you check-in. Times are subject to change though you'll find the schedule provides plenty of room for you to get to and from the parks with ease. That's one less thing you can worry about so you'll have a sweeter stay!
Transportation Services 
For assistance with Theme Park and Attraction Tickets, Shuttle Reservations or Restaurant Reservations, please visit the Expedia Local Expert desk in the lobby of Staybridge Suites. Open daily from 7 am -1 pm.
*Please note:  ALL hotel shuttles require reservations at least 1 hour in advance and as early as 1 day before.
Shuttles are NOT direct and do stop at other locations.
 You must sign up and receive vouchers in order to board the shuttle. Reservations must be made in person at the Expedia Local Expert desk and cannot be made over the phone. Shuttles do reach capacity so please plan accordingly.
All Shuttles pick up from the Blue Seaworld Bus Stop in front of the Hampton Inn                                             
Departures to SeaWorld and Aquatica
 8:45am, 9:25am, 10am, 10:50am, 11:35am, 12:15pm
Returns from Seaworld
*Bus Pick Up at SeaWorld is located by the Green Canopy
12:45pm, 4:00pm, 5:00pm, 6:00pm, 7:00pm, 7:50pm, 8:30pm, 9:10pm, 9:50pm, 10:30pm
Returns from Aquatica
12:55pm, 4:10pm, 5:10pm, 6:10pm, 7:10
*Additional returns July 6, 7, 13, 14, 20, 21, 27, 28 at 8:00pm, 8:40pm and 9:20pm
Shuttle for Staybridge Suites Orlando at SeaWorld is provided by Maingate Transportation (407) 390-0000 x0. Reservations and vouchers are required for the Universal, SeaWorld and Aquatica Shuttles. Scheduled times are departure times.  Shuttle times are subject to capacity, traffic and weather conditions and may occasionally run late. Be at designated area 10 minutes prior to departure. Please note that capacity is limited and services are provided on a first-come, first-served basis. Your Resort and/or Maingate Transportation will not provide reimbursement for transportation service due to missed shuttles. There is NO smoking, eating, drinking or luggage permitted on the shuttle. For riders with disabilities and wheelchairs, please call for a reservation at least two (2) hours prior to boarding. Maximum capacity is two (2) wheelchairs/scooters per pick up per bus.
All Shuttles pick up from the Blue Seaworld Bus Stop in front of Hampton Inn
Departures to Universal Orlando
10 am – Maingate Transportation
 Returns from Universal Orlando
*Maingate Transportation at bus parking lane 55*
7:15 pm
Departures to EPCOT
7:55am   11:35 am
Returns from EPCOT
*Platinum Transportation at Bus Lane 36*
6:20pm   9:15pm   10:30pm
About the Walt Disney World/Platinum Transportation Shuttle
*Hotel or Platinum Transportation Inc does NOT provide complimentary transportation to or from Disney® Special events such as "Not so scary Halloween"®, "Mickey's Very Merry Christmas Party"®, etc. Groups of 10 or more MAY NOT use the shuttle. Please consult Platinum Transportation Inc for alternative options. The shuttle buses have a GPS tracking system for accurate departure times. The shuttle departs promptly at a scheduled time.  Please be at the bus stop at least 10 minutes prior to departure time, as the driver does not announce the departures at the lobby or any area at the hotel. The shuttle operates on the first come first serve basis. Seats are limited. Standing room is allowed on the buses up to the white line. Wheelchair accessible reservations must be made 24 hours in advance. Neither Platinum Transportation Inc. nor your hotel will be held responsible for any missed pickups. No reimbursement for alternative transportation. Smoking, food or drinks are prohibited at all times. Luggage other than handbags or strollers is not allowed on the shuttle. Pets are prohibited from riding the shuttle unless needed for medical assistance. Contact the dispatcher if the shuttle is delayed more than 20 minutes. Before boarding the shuttle please present room key to the driver. Platinum Transportation Inc. is not responsible for any items left behind. Platinum Transportation Inc. reserves the right to adjust drop off locations to any alternative Disney World Park for reasons including, but not limited to traffic, weather, road incidents, special events, etc. at driver's discretion. Should such a situation occur, guests would have an option to transfer to an original destination via Disney's COMPLIMENTARY buses, monorail, or ferry boats. Pick up locations remain as scheduled.
For Taxi Service- Please contact Platinum Transportation at  407-492-8888
Learn more about Staybridge Suites Orlando at SeaWorld 
Frequently Asked Questions About Staybridge Suites Orlando at SeaWorld