Have you visited the Indian restaurant Tabla, Orlando yet?
We recently attended the Orlando Foodies Meet Up at Tabla Restaurant and it was such a great experience, with amazing people and incredibly delicious food. The purpose of the night was to sample various Indian dishes that Tabla had prepared for us, and they were all divine.
With the awesome help of Isha, a passionate traveler, vegetarian and Orlando local (@willflyforchai on Instagram) the Foodie Meet Up was rocking from the moment we arrived. She said:
"I had an awesome time hosting my 3rd food meetup with some great Orlando foodie friends at @tablaorlando! Thank you, everyone, for letting me share my vibrant culture with you!"
What is Indian Cuisine?
Well, let's start by saying Indian food isn't about the heat, or how spicy food can be.
Indian food is about bringing together flavors, aromas, spices, all in one tasty bite! It's also about giving all of your 5 senses an experience! And just like any good cuisine, it has the ability to bring people together.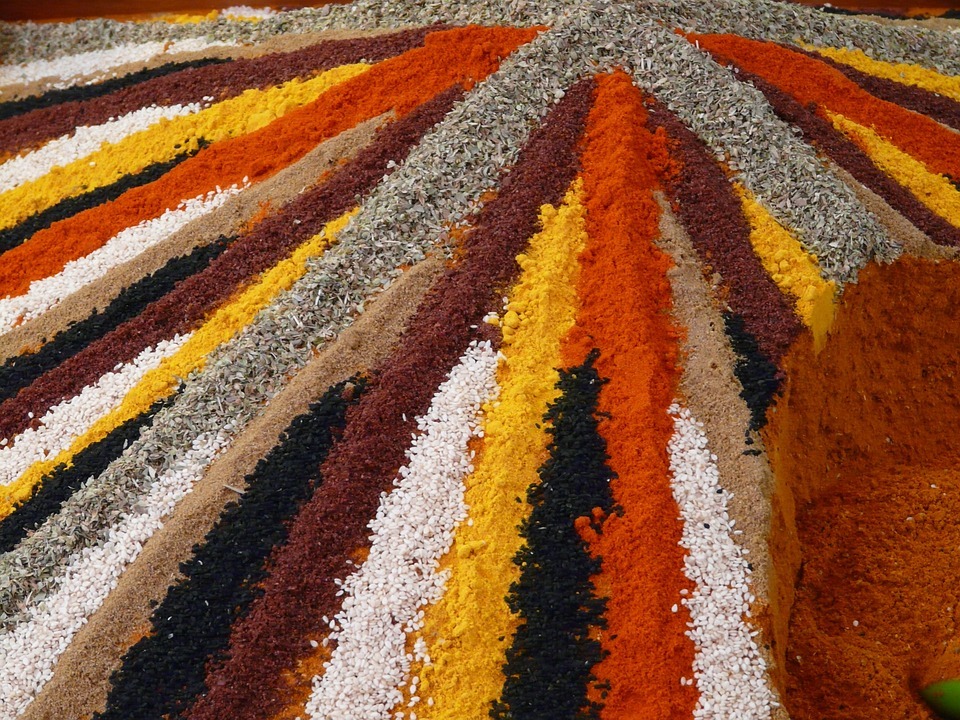 What Makes Tabla So Special?
Tabla Restaurant is hands down our favorite Indian restaurant in Orlando because they put so much love and effort into every dish, the staff is super friendly and informative, and the food is consistently delicious!
Did you know? They were recently voted one of "Orlando's Top Hidden Gems Restaurant," by Visit Orlando.
What's On The Menu?
We took many mouthfuls of the Mixed Chaat Platter – papdi chaat, samosa chaat, Pani Puri, Lamb Korma, Paneer Kadhai, Chicken Tikka Masala, and Palak Paneer, to name a few dishes we ate. While we would advise them all, whatever you choose to order, please include a garlic naan, as they are perfect for scooping up any leftover sauce. You won't want to waste a drop!
If you still have room in your tummy, order a dessert. Our favorites include the Gulab Jamun Creme Brûlée and Chocolate Samosas, with Cassata Ice Cream (pictured below).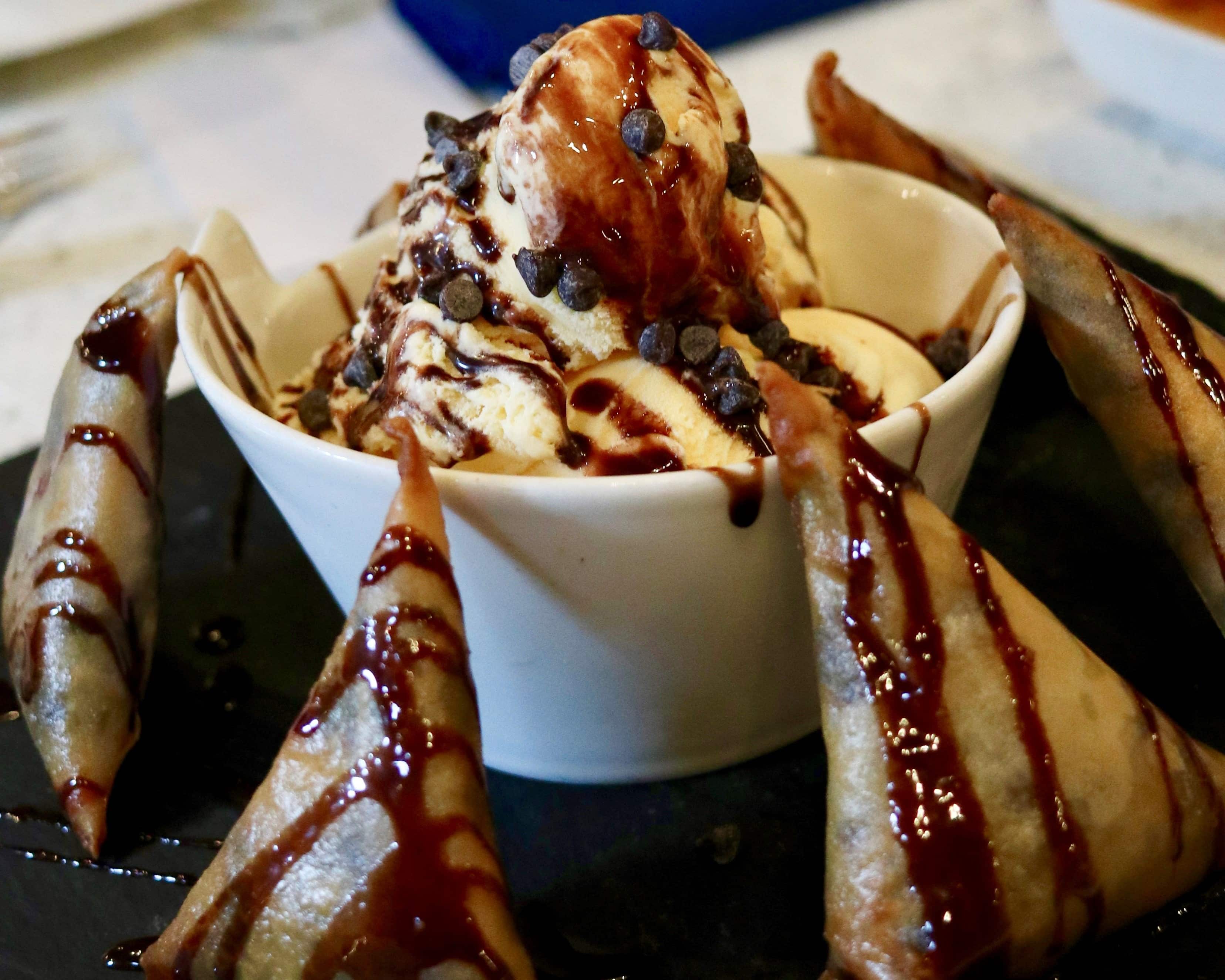 For a full list of Indian curries available, check out their menu online.
What Do Customers Think About Tabla Restaurant, Orlando?
If you are still not convinced then read about what your fellow foodies think about Tabla.
I feel so lucky to have had the opportunity to taste so many delicious dishes at Tabla Indian Restaurant. Everything was amazing from beginning to end. There was such mystery pulling up to the restaurant and upon entering, I was greeted with hospitality and surrounded with gorgeous decor. I was very impressed, to say the least. There was plenty of spicy goodness to go around as well as some milder options for those less adventurous. The flavors only got better as the courses progressed. I'm a dessert person so that was definitely the highlight of the night for me! – by @navigatingorlando
"This was my first experience at Tabla, and certainly not my last… (the) Papdi Chaat and Pani Puri, set the tone for a meal, that took my taste buds back to the famous snack stands in India. I enjoyed Lamb Roganjosh with fresh Garlic Naan for my entree. The curry was a beautiful blend of aromatic spices and the perfect amount of heat; "flavorful" is an understatement. Tabla is truly an experience that should not be missed. " – by @ThreesCompny
"I loved everything about Tabla! From the ambiance, the service, and the food…everything was on point! The staff was very friendly and patient (which is GREAT if you have a large crowd and/or it's your first time trying Indian food). " – by @Aarohi_Realtor
"Tabla serves up authentic Indian cuisine, and also offers Chinese and Thai dishes as well. I was thrilled upon entering the restaurant. It is a spacious establishment with a modern look and pleasant ambiance, perfect for date night, family dinners, or gatherings. I was amazed at how delicious the food was and how generous the portions were. The highlight of my night was the amazing desserts that were served."  – by @eatingwithchristina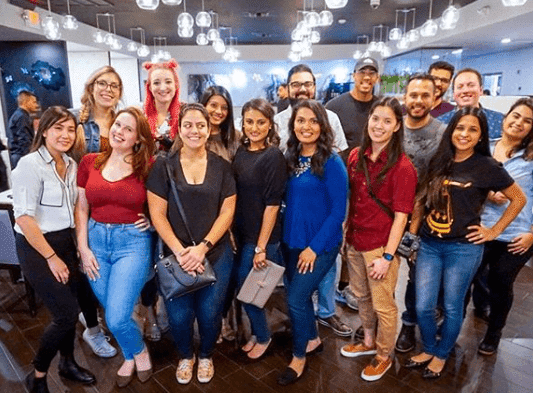 Tasty Chomps also attended the fun Orlando Foodie Meet Up at Tabla Restaurant, you can check out their experience and more great food images at 'Meet Me at Tabla'.
When Can I Indulge In Tabla's Indian Food?
There are two ways you can indulge in the best Indian food in Orlando. The first is by visiting the restaurant, which is located at 5847 Grand National Drive, Orlando. They are open for Lunch on Tuesday – Sunday, from 12:00 PM until 2:30 PM and dinner on Tuesday to Sun, from 6:00 PM – 11:00 PM.  To make your reservation click here.
Your second option is to order in, you can do this via GrubHub.
So, either enjoy Indian cuisine in a charming and vibrant restaurant or from the comfort of your home, rental apartment or even hotel room.
This article was written with the major inspiration of  Isha Shah. She is an enthusiast blogger with a focus on food – travelling for food and cooking food, with an emphasis on vegetarianism. You can follow her journey and adventure on Facebook and Instagram.