Beyond the Parks: Growth in East Orlando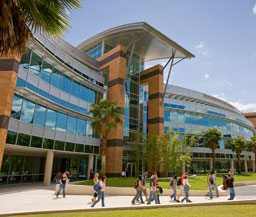 For most of the visitors who travel to the Orlando area, "Orlando" is defined by Walt Disney World, Universal Studios, International Drive, and other local attractions; but for the growing number of residents who call Central Florida home, the future belongs to East Orlando.
Not too many people outside of the state of Florida think of Orlando as a "college town," or at least compare it to the better-known college towns of Tallahassee (Florida State University) and Gainesville (University of Florida). And yet, just a few miles northeast of all the attractions that draw visitors to Orlando, more than 46,000 students are enrolled at the University of Central Florida, a four-year institution that is growing in national prominence.
UCF's total enrollment also includes smaller branch campuses in 11 Central Florida counties, but the majority of students attend classes in the main campus located 13 miles east of downtown Orlando. Opened in 1968, the University of Central Florida campus is quite modern compared to other national universities. There aren't as many residence halls either since many students live locally or in off-campus apartments. However, there is a Greek system, a football team—the Golden Knights—and the pizza eateries and other casual dining establishments lined up along the stretch of University Boulevard leading into UCF makes it very clear that you are heading into a college campus.

While UCF doesn't have as much of a past as FSU, University of Florida, or University of Miami, this growing University has a very promising future that is rooted in the latest technology. Located adjacent to UCF's main campus, Central Florida Research Park is a campus-like environment for businesses that desire a relationship with the University, especially in the areas of technological research and light manufacturing. Currently, Central Florida Research Park has more than 100 tenants, which include the Institute for Simulation and Training, National Center for Simulation, Northrop Grumman, Boeing, and a number of UCF research departments.
The growing area of University of Central Florida
The expanding number of subdivisions in East Orange County is a testament to the heavy growth of this area, and the locals' favorite place to congregate in the Waterford Lakes Town Center, located just south of Colonial Drive (State Road 50) on the east side of Alafaya Trail. Shoppers strolling through this outdoor retail center can enjoy the Florida sunshine year-round, as well as the easy listening music that is pumped out of ground level speakers throughout Waterford Lakes. Also, a numerous amount of hotels near UCF have emerged due to the growth in this local area.
Weekends are noticeably crowded at Waterford Lakes; one could easily spend an entire day taking care of business as well as taking a break in this popular shopping center. You can schedule a doctor's appointment, get a haircut, grab a bite to eat, and catch an afternoon movie at the 20-screen Regal Cinemas theater without ever having to leave the parking lot. On any given Saturday, local families load up on groceries and other supplies at the Super Target that anchors the south end of Waterford Lakes, while teens line up for the latest gaming device outside of the Best Buy on the north side of the shopping center. Waterford Lakes also has a Barnes & Noble bookstore, Ashley Furniture showroom, numerous clothing and specialty shops, at least a dozen casual dining restaurants, and another dozen fast food establishments.
The growth of East Orange County in and around UCF's main campus demonstrates that more and more people are discovering that Orlando is not just a fun place to visit, but a great place to live. For those visitors who are willing to venture out beyond the theme parks, or who want to take a leisurely drive east on State Road 50 towards the Space Coast, they can see for themselves that East Orlando holds the promise of a very exciting future for the entire region.