Embark on a heart pounding expedition into the world of imaginary and extinct animals featuring a 100 acre savanna with free roaming animals at Disney's Animal Kingdom!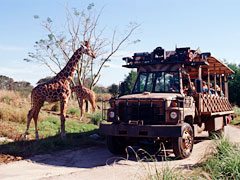 Safari Village Encircle by Discovery River, this colorful island is the hub of the Park, and serves as a magical departure point to reach different realms of Disney's Animal Kingdom Theme Park.
The Tree of Life – The Icon of the Park, is 145 ft. tall and 50 ft. wide at its base, It is surrounded by a soft landscape of trees, pools and grass filled with animals. Inside the Tree of Life you will find the state of the are 3D attraction, It's Tough to be a Bug!, a funny look at some of our planet's least known scariest creatures – Bugs!
Experience exciting adventures aboard Disney's Animal Kingdom Discovery River Boats, with views of Harambe and an exit at Upcountry Landing. You will also see the shores of Asia and DinoLand USA.
Camp Minnie-Mickey Visit the enchanted land of Camp Minnie-Mickey. Snuggle up to your favorite characters like Mickey Mouse, Minnie Mouse, Winnie the Pooh, Tiger and Eeyore. Don't miss the popular Lion King animated movie musical stage spectacular, Festival of the Lion King.
DinoLand USA View this family oriented "fossil exhibition" discovered 50 years ago. Over the years hunting professors and grad students have built and inhabited a series of wooden cabins that give the land a nostalgic look of the 50's and 60's. A 40 foot tall Brachisaurus has been recreated to create the magnificent gateway, Olden Gate Bridge which takes you to DinoLand USA.
Crawl through The Boneyard, a discovery play maze built from the remains of Triceratops, T-Rex and other vanished giants.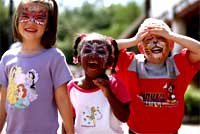 Countdown to Extinction is an Animal Kingdom thrilling adventure that takes you back 65 million years to rescue the last dinosaur from extinction. Come face to face with dinosaurs and end up in the path of a giant asteroid that's hurtling toward earth. View Theater in the Wild, a live musical stage show called Journey into Jungle Book.
Visit the Village of Harambe, a representation of an African coastal village. Kilimanjaro Safaris will transport you and your family to an African savanna surrounded by hundreds of real elephants, zebras, lions, giraffe and other creatures of the wild. Travel deep into a lush jungle encountering East African birds, fish and reptiles, and come face to face with live gorillas on the Gorilla Falls Exploration Trail.
Experience the interactive fun of Conservation Station while riding the Wildlife Express Train. View how Disney cares for the creatures of the Park and wildlife around the world.
Visit Asia and see Anandapur, an Asian village incorporating structures from Thailand, Nepal and Indonesia. Asia features a re-creation of modern southeast Asian forest and the spectacular Tiger Rapids Run – a river raft thrill ride. Encounter tigers and giant fruit bats in the mystery filled setting of Maharajah Jungle Trek.
Don't miss Expedition Everest at Disney's Animal Kingdom. Inspired on the lowlands surrounding Mount Everest with more than 900 bamboo plants, 10 species of trees and 110 species of shrubs are being nurtured and planted to create an authentic environment around the village and mountain.
Immerse in the culture and spirit of the Himalayas and up to the peaks of excitement aboard a train that races backward and forward through icy canyons and caverns.
Expedition Everest is towering at nearly 200 feet high and occupying a 6.2-acre site, is located in the Asia section of the theme park. It is one of 18 mountain attractions created by Walt Disney Imagineering at Disney theme parks worldwide. Guest can take advantage of Disney's FASTPASS – offered at no charge to park guests – designed to reduce wait times at popular attractions in all four Walt Disney World theme parks. Expedition Everest height restriction is 44 inches.
Visit Disney's Animal Kingdom Theme Park and experience a world of wonderful adventures!