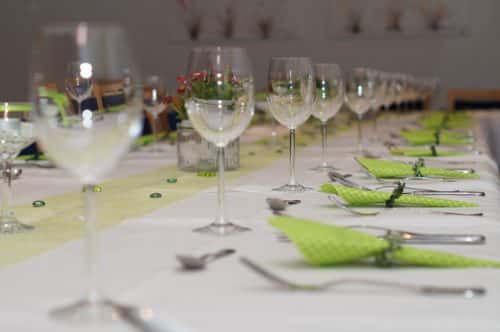 Orlando isn't just the best place for a fun vacation. It's also the best place to host your big banquet, meeting or convention. When you're planning an event for business or even a special event like a destination wedding or anniversary party, it's important to choose a place that has the facilities you need to make your event enjoyable and worry-free.
What are you looking for when you're planning your big banquet or meeting? You need plenty of space for all your guests, special room rates for big blocks of guests, catering or ease of accommodating outside caterers, and décor that is stylish and comfortable to give your event the right feel from start to finish.
With our list below, you'll be able to find the best banquet and meeting facilities in Orlando. Plus, they're all close to the exciting attractions Orlando is known for. So when the meeting is over, you can take time to explore the surrounding area and get in some more thrills and fun. Choose a place like one of these and you'll have the best of everything for your Orlando event to make your banquet or meeting an absolute success!
List of Banquet and Meeting Facilities in Orlando
Amway Center
www.AmwayCenter.com
400 W. Church St. #200 Orlando 32801
407-440-7041
Art & History Museums-Maitland
www.artandhistory.org
231 W. Packwood Ave. Maitland 32751
407-539-2181
Bay Hill Club & Lodge
www.bayhill.com
9000 Bay Hill Blvd. Orlando 32819
407-876-2429
Central Florida Fair & Exposition Park
www.centralfloridafair.com
4603 W. Colonial Dr. Orlando 32808
407-295-3247
Central Florida Zoo & Botanical Gardens
www.centralfloridazoo.org
3755 W. Seminole Blvd. Sanford 32771
407-323-4450
Citrus Club
www.citrus-club.com
255 S. Orange Ave. #1800 Orlando 32801
407-843-1080
Cuba Libre Restaurant & Rum Bar
www.CubaLibreRestaurant.com
9101 International Dr. #1004 Orlando 32819
407-226-1600
Executive Meeting Center -The Villas of Grand Cypress
www.grandcypress.com
1 N. Jacaranda Orlando 32836
407-239-4700
Florida Citrus Sports and The Varsity Club
www.fcsports.com
1 Citrus Bowl Pl. Orlando 32805
407-423-2476
Harry P. Leu Gardens
www.leugarens.org
1920 N. Forest Ave. Orlando 32803
407-246-2620
Heaven Event Venue
www.heaven8240.com
8240 Exchange Dr. #Cloud 9 Orlando 32809
407-488-1800
Holy Trinity Reception & Conference Center
www.holytrinityreceptioncenter.com
1217 Trinity Woods Ln. Maitland 32751
407-331-3036
I-Drive NASCAR Indoor Kart Racing
www.ampgroupusa.com
5228 Vanguard St. Orlando 32819
407-354-3939
Lake Mary Events Center
www.lakemaryeventscenter.com
260 N. Country Club Rd. Lake Mary 32746
407-585-1490
Mango's Tropical Café Orlando
www.mangos.com
8126 International Dr. Orlando 32819
407-673-4422
Orange County Convention Center
www.occc.net
9800 International Dr. Orlando 32819
407-685-9800
Orlando Museum of Art
www.omart.com
2416 N. Mills Ave. Orlando 32816
407-896-4231
Orlando Science Center
www.osc.com
777 E. Princeton St. Orlando 32803
407-514-2000
Osceola Heritage Park-Events Center/Silver Spurs Arena
www.ohpark.com
1875 Sliver Spurs Ln. Kissimmee 34744
321-697-3333
Showcasewg LLC
www.showcasewg.com
12100 W. Colonial Dr. Winter Garden 34787
407-347-9914
The Ballroom at Church Street
www.theballroomatchurchstreet.com
225 W. Garland Ave. orlando 32801
407-420-9091
The Club at Bella Collina
www.bellacollina.com
16355 Vetta. Dr. Montverde 34756
407-497-4999
The Mezz
www.mezzorlando.com
100 S. Eola Dr. #200 Orlando 32801
407-704-6261
Topgolf
www.topgolf.com/orlando
9295 Universal Blvd. Orlando 32819
321-319-7721
University of Central Florida Student Union
www.ucfsu.com
4000 Central Florida Blvd. Bldg.52 Orlando 32816
407-823-3677