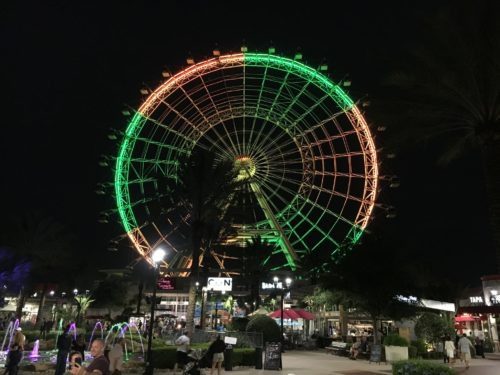 For visitors to Orlando, if you want to see and do it all, you need to stay near International Drive, often nicknamed "I-Drive" by the locals. It's the main stretch through the area that provides tons of entertainment, dining, shopping, and attractions that go beyond the theme park fun that you've come to town for.
After all, why not maximize your fun while you're in Orlando? Here are some of the ways you can have the most fun on International Drive!
1. See Orlando from above
The iconic Orlando Eye is a huge Ferris wheel with high-tech pod capsules. When the weather is clear and bright, you can even see the Space Coast from high up on your perch!
2. Dinner shows
Orlando is the place to be if you want to enjoy dinner and a show. On International Drive, you'll find dinner with shows that are themed from magic to comedy to mystery. There's even a Titanic-themed dinner show!
3. Recreational activities
We know why you're coming to Orlando…the theme parks! But there are other ways to have fun on International Drive. Golfing, go-karts, games, fitness and aquatics all await with something fun for everyone in the family. Fun Spot is a great place to go that's free to get in with rides, attractions, and much more too!
4. Shop 'til you drop
The famous outlet shopping destination, Orlando International Premium Outlets, is the place to go to score name brand designer clothes, shoes, bags and more, all for less. You can bring back fun Floridian styles and gifts for friends and family who couldn't come along on your trip to Orlando.
5. Casual to upscale dining
If you're not up for dinner and a show and just want an entertainment-free meal, International Drive is lined with restaurants for any budget. You'll find the world's largest McDonald's play place here too which will make any kid happy. Plus, no matter what type of cuisine you're looking for, you're going to find it here.
6. Live the nightlife
International Drive is home to many places that come alive at night. From restaurants and bars to movies and billiards, plus much more. Dance, play, eat, drink and have an amazing time every night of your stay!
Hurry and make your plans to come to Orlando now so you can get in on all the fun waiting for you on International Drive! We have the perfect list of hotels on International Drive.