Based on the movie, "Forrest Gump," Bubba Gump's 20th Location Slated for Universal Orlando's 30-Acre Entertainment Complex.
Guests looking to enjoy a fun, family atmosphere with a plethora of great tasting menu offerings will have a new place to dine with the addition of Bubba Gump Shrimp Co., a restaurant based on the blockbuster film "Forrest Gump," located in Universal CityWalk.

Bubba Gump Shrimp Co. offers many signature menu items including "Bucket of Boat Trash," comprised of deep fried tender shrimp, lobster and mahi mahi; Cajun spiced mahi mahi with bourbon sauce and shrimp served over mashed potatoes; and the more traditional Southern Fried Shrimp, along with a host of other great-tasting items for customers to choose.
"As one of the world's greatest family destination locations, the city of Orlando, and notably Universal CityWalk, marks the ideal environment to open the 20th Bubba Gump Shrimp. Co. restaurant," said Scott Barnett, Bubba Gump Shrimp Co. president and CEO. "With a menu that offers something for everyone, even non-seafood eaters, our restaurant appeals to a wide consumer base that enjoys the fun, family atmosphere."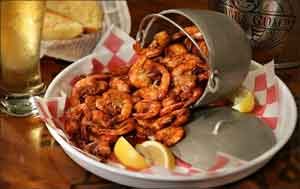 An eclectic collection of restaurants, nightclubs, specialty shops and a 20-screen movie theatre, Universal CityWalk is Orlando's hottest spot for entertainment, boasting the biggest names in live music, dining, dancing, movies and more. From the casual "Floribbean" food of Jimmy Buffett's Margaritaville to the Latin-flavored cuisine of Latin Quarter, from the concerts at Hard Rock Live to the island music performed at Bob Marley – A Tribute To Freedom, CityWalk has something to appeal to every taste.
"Our guests expect high quality food and service in a fun and unique atmosphere" said Ric Florell, Senior Vice President of Revenue Operations. "Bubba Gump Shrimp Co. will provide the experience guests expect while immersing them in the story of 'Forrest Gump'."
The new restaurant, is approximately 12,000 square feet in size, it offers casual family dining as well as a full service bar. Bubba Gump Shrimp Co. is located right across the Cineplex near the entrance to CityWalk.
Capturing the charm and American spirit that made the motion picture "Forrest Gump" a smash hit, Bubba Gump Shrimp Co., which opened its first restaurant in 1996 at the famous Cannery Row in Monterey, Calif., features a mix of "Forrest Gump" movie memorabilia and reproductions of script pages, storyboards, costumes, shoes, still photos and scrawled "Gumpisms." Tasty seafood, a casual family atmosphere and a creative concept culminate the experience at Bubba Gump Shrimp Co. – the first restaurant group based on a motion picture property. For more information about Bubba Gump Shrimp Co., visit www.bubbagump.com.
Bubba Gump Shrimp Co.
Dining Hours: Monday – Sunday: 11am – 12:00am
Located at the Entrance to Universal's CityWalk® Close to the parking garage, valet and the bus loop.
Perfect for special events and groups from 15-500 people
6000 Universal Boulevard,
Suite 735 Orlando, FL 32819
Other great links: