Walt Disney World is improving its environmental sustainability by focusing on its day-to-day operations in the realms of water reduction, plastic usage, waste management, and energy consumption. Let's find out more!
Many of us have adopted a green lifestyle at home, due to fears and health-related issues concerning the current climate crisis. Maintaining these habits can be harder when on vacation. But while you are making an effort at home, Disney is also taking steps to lower their environmental impacts.
Latest Green Efforts at Walt Disney World Resort
Most recently, the Walt Disney Company built a huge 270-acre, 50-megawatt solar facility in collaboration with the Reedy Creek Improvement District and Origis Energy USA. The clean energy produced from the solar ranch is expected to power two of the four theme parks at the Orlando resort.
>>To find out more and to see the solar farm, visit Disney's official YouTube channel<<
The Walt Disney Company has set itself the achievable goal of reducing its carbon emissions by 50% in 2020, compared to that of 2012. Therefore, this new solar farm is an incredible step forward to successfully attaining this environmentally friendly target.
A new Waste Recycling Technology is also doing great things towards producing clean renewable energy. "Harvest Power" turns organic waste from the 50+ million guests at Disney's Animal Kingdom, into electricity. Leftover coffee grounds and unwanted food can create enough energy to power lights and also be used for composting, via the award-winning "Harvest Power" system.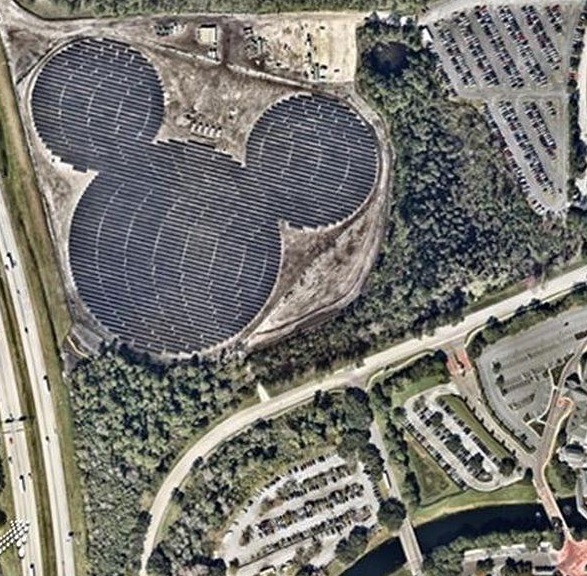 How Environmentally Friendly is Walt Disney World Resort Orlando?
The escalating ecological emergency is a serious problem and Walt Disney World Resort is making other changes to help the planet.
Surprisingly, only 30% of all the plastic ever produced is still in use, due to recycling. The rest is put into landfills and the ocean or incinerated. In April 2019, plastic straws were banned and replaced by paper straws across all theme parks. Disney plans to take further steps in reducing single-use plastics.
>>In July 2018, it expanded its environmental commitment by reducing plastic waste. Read more about it on the Official Disney blog.<<
98% of lights within the signs, decorations and Christmas trees throughout the parks are LED fixtures. These are more environmentally friendly than normal lights as they provide a higher, more effective conversion of energy to light. Plus, they contain non-toxic materials and are 100% recyclable.
Another, huge step to reducing energy consumption is turning the lights off, literally. The lights of the many icons of Disney, such as Cinderella's Castle, are turned off or severely dimmed when not in use.
Transportation around the parks has been adapted as an alternative to gas (petrol for our British readers). Over 1,500 fuel-efficient vehicles for staff and guests are available. These include lower emission and electric vehicles, for example, the monorail trains and golf carts.
Walt Disney World Resort, of 24 resort hotels, maintains Florida's Green Lodging designation. This "green" certification means that it must monitor the conservation of water through the use of low-flow plumbing fixtures. In addition, they enforce a linen reuse program, use energy-efficient programmable in-room thermostats, use eco-friendly cleaning supplies and high-efficiency air filters. A waste management criterion must also be met.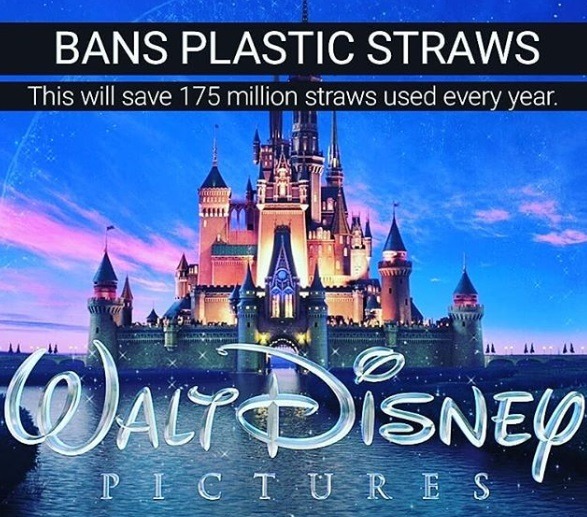 Recycling at Disney
In 2013, 125,000 tons of material was recycled from within the Walt Disney World Resort. Waste Management is a huge commitment by Disney to tackle its carbon footprint. Here are some facts and figures about what is recycled at Disney:
The napkins and merchandise bags, used by guests are made from 100% recycled materials.
Both staff and guests are encouraged to recycle. There are more than 650 themed recycling containers throughout the Orlando parks, including backstage, at restaurants and within the gardens and line areas.
The plastic room keys for the hotels and resorts are reused until they are no longer suitable for further use and then recycled. Around 600,000 plastic cards are recycled each year.
Disney is partnered with multiple charities and green organizations to reduce their carbon footprint and to reduce waste. For example, partially used soaps and bottled amenities from the hotels are donated to people around the world that need these products.
Even the "waste" from the animals at the Animal Kingdom is recycled, as it is sent to a compost facility and reused as a natural form of fertilizer. In 2013, 4,200 tons of manure was used for composting purposes.
Take action, by continuing the conversation!
Does knowing the green policy of an organization, make you more likely to visit it and purchase tickets and products from them?

If you know of more steps that Walt Disney World Resort is taking to become increasing eco-friendly please share them with us.
Are you interested in more eco-travel posts about Orlando? Tell us and we'll happily research it further to provide you with the content you want.
What greener options do you choose when booking your Orlando vacation?
Find out what's NEW at Walt Disney World Resort: 9 New Experiences to Enjoy at Walt Disney World, From August 2019