at Disney's Fort Wilderness Resort Pioneer Hall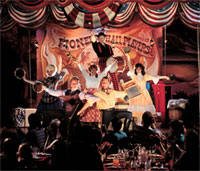 One of the many things that set Walt Disney World apart from other attractions in Orlando is the abundance of dinner show and character dining experiences at the resort. Visitors seeking a family friendly dinner theater experience will find what they are looking for at Disney's Hoop-Dee-Doo Musical Revue at Disney's Fort Wilderness Campground near the Magic Kingdom theme park.
Bringing a pioneer spirit to hungry guests, the Hoop-Dee-Doo Musical Revue is held in Pioneer Hall and features Wild West dancing, singing, and zany vaudeville comedy. Unlike the animatronic Country Bear Jamboree at Magic Kingdom, audiences will be entertained by the live performances of the Pioneer Hall Players, who are in character as Claire de Lune, Johnny Ringo, Dolly Drew, Six Bits Slocum, Flora Long and Jim Handy. The grand finale is a musical tribute to Davy Crockett-the real life pioneer who inspired one of Walt Disney's first television shows as well as the popularity of coonskin caps in the mid-1950s.
For many dinner theaters, the actual meal can be a bit of an afterthought, but for Disney, the cuisine is just as important as the entertainment (as it should be, since the entire experience costs between $26.99 and $61.99 per person). Guests are served pails of all-you-care-to-eat American favorites like fried chicken, smoked BBQ pork ribs, seasonal vegetables, baked beans, fresh baked corn bread and strawberry shortcake. Unlimited draft beer, wine, sangria and soft drinks are included for guests 21 years of age or older (proper ID required). Reservations and pre-payment are required for the Hoop-Dee-Doo Musical Revue, and guests can book online or call 407-WDW-DINE up to 180 prior to their visit.

Since the Hoop-Dee-Doo Musical Revue is a dinner show, this experience it is an ideal way to cap off a day spent setting up a tent or an RVcampsite at Disney's Fort Wilderness Resort, which also offers the benefits of indoor accommodations at the Fort Wilderness Lodge. No matter where they lay down their heads for the night, guests can also enjoy bike riding, horseback riding, fishing in the lagoon or the large swimming pool, complete with a toddler area and a snack bar.
In addition to a dinner theater experience that is different from other Orlando restaurants, other evening activities at Disney's Fort Wilderness include outdoor movies and catching a glimpse of the fireworks display at Magic Kingdom. There is also Disney character dining at Mickey's Backyard BBQ in the outdoor pavilion picnic grounds for guests who are looking for photo opportunities with their kids and Mickey and Minnie. Disney's Fort Wilderness is a reminder of a time simpler time when a trip to Disney World really meant a trip to Magic Kingdom and some local roadside attractions, which is why visitors of all ages will get a kick out of the rip roarin' Hoop-Dee-Doo Musical Revue.
Also view the Crystal Palace and the Spirit of Aloha Dinner Show. Family friendly dinner shows for everyone.
Disney's Fort Wilderness Resort & Campground
4510 N. Fort Wilderness Trail, Lake Buena Vista FL
Tel: (407) 824-2900
For Reservations call: 407-WDW-DINE