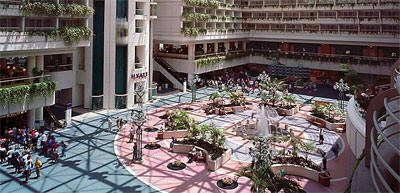 What do you think of when you imagine Orlando airport hotels? Whatever you've pictured, it's time to change the way you think of airport lodgings, thanks to the innovative Hyatt Regency Orlando Airport Hotel.
The Hyatt is undoubtedly one of the most recognizable hotel brands on the planet, and for good reason: they understand how to take a traditional hotel and turn it into a new and enjoyable experience. So while one might picture airport hotels as a recluse of businesspeople and tired families with early AM flights, Hyatt has used Orlando International Airport as a training ground for introducing a new approach to Orlando airport hotels.
That's where the Hyatt Regency Airport Hotel comes into play. Unlike other airport hotels, this hotel is situated right in the main terminal of the airport. Some rooms have a full view of the airport terminal, so you can sit on your balcony and enjoy the sights and sounds of busy travelers. Other rooms in this hotel have a full view of the lush scenery surrounding Orlando International Airport.
So what are some other benefits to staying at the Hyatt Regency Airport Hotel?
Affordable Luxury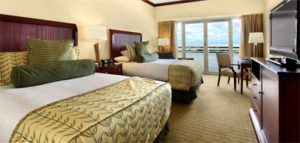 When it comes to discount Orlando hotels, the Hyatt name may not immediately spring to mind. But rest assured, the Hyatt Regency Airport Hotel offers guests an affordable alternative to staying in pricier resorts. Rooms are spacious and bright, and customer care is attentive and friendly. Depending on the time of year, you can often book a stay for less than $120 per night for a traditional room. Now that's a price that will let you play more at the many Orlando theme parks!
Unique Surroundings
An airport may not sound like the most fun place to stay. However, don't let this stop you from experiencing this Hyatt hotel; many guests often report that staying in the midst of the hustle and bustle adds to the fun. You can pop downstairs and pick up a few Disney gifts, or dine out at one of the many restaurants in the terminal. Don't forget the added convenience of only needing to walk a few feet to check into your flight when it's time to leave Orlando. With such close proximity to your airline, it's hardly likely that you'll end up missing your flight.
Shuttle Service
You may not be as close to the theme parks as other discount Orlando hotels, but that doesn't mean you won't be able to get to them. In fact, Universal Studios is just around the corner, and Disney is a quick twenty-minute trip down the highway. Given that so many park shuttles leave the airport every few minutes, you'll have a wealth of choice for transportation. Save the money you'd spend on a rental car and spend it on something you really want – like a memento of your wonderful vacation in Orlando.
Enjoy a unique accommodation experience by staying in the Hyatt Regency Airport Hotel for your Orlando vacation!
Hyatt Regency Orlando International Airport
9300 Jeff Fuqua Blvd, Orlando, Florida, USA 32827