Disney Floral & Gifts have special packages available for those wanting to add an additional sprinkling of fun to their Disney experience. They are ideal for Disney newbies and those celebrating something extra special like a birthday, wedding anniversary or proposal.
Choose Your Disney "In-Room Celebration"
There are 3 types of celebration packages available, they are Birthday, Romance and Welcome. The choices are listed below with a starting price. Basically, once you pick your theme, your room will be decorated accordingly. This could include roses, balloons, a bottle of champagne, candy, cupcakes and Disney memorabilia such as matching Mickey bath towels and mouse ears. The higher-priced "In-Room Celebrations" include more items, such as novelty bedding and clothing.
Some items in the packages can be personalized, for an additional fee.
Birthday "In-Room Celebrations"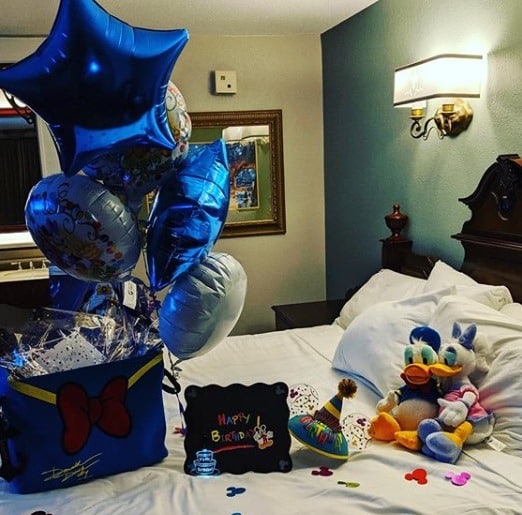 Welcome to Disney "In-Room Celebrations"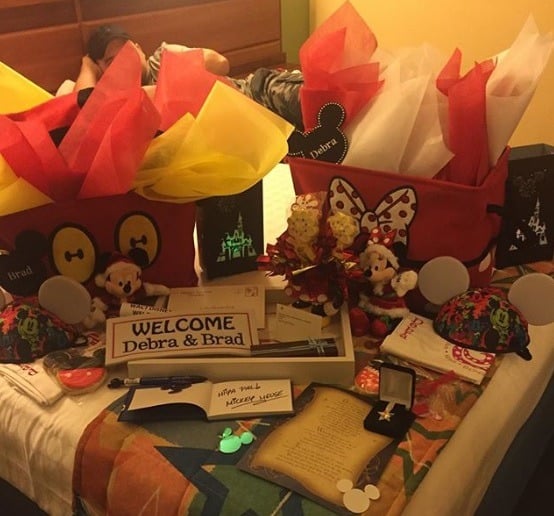 Romantic "In-Room Celebrations"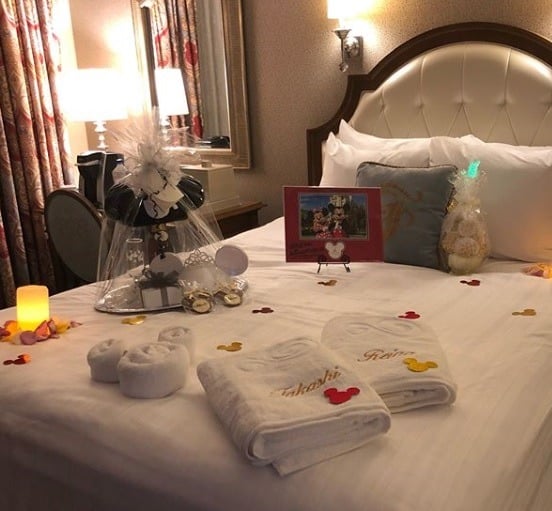 In addition to the above celebration packages, there are also Halloween and Christmas themed "In-Room Celebrations," available seasonally.
Plus, a celebratory My Magical Triumph, (from $275) which is great for showing how proud you are of someone who has recently achieved a big accomplishment, like graduating.
How does it work?
You need to pre-order your "In-Room Celebration," in advance, as the artistic Disney Floral & Gifts team need time to prepare and secretly set up the surprise in your hotel room. They normally do this when you are out having the time of your life at one of the Walt Disney World Resort parks.
The birthday "In-Room Celebrations", can be booked as an add-on to your Disney vacation, when you initially book your holiday. This is great for those wanting to make their payments in installments.   
Final Notes about the Disney "In-Room Celebrations"
There is a slight difference in packages that include balloons if you are staying at the Animal Kingdom Lodge. To protect the animals; the balloons are exchanged with an original piece of Minnie and Mickey artwork.
If you book you "In-Room Celebrations" whilst on your Walt Disney World Resort vacation payment is required in full at the time of booking.  Regardless of when and where you book there is a $10 delivery charge added.
To book your "In-Room Celebration" and take your Disney experience to the next level, visit Disney Floral and Gifts online.
THANK YOUR FORE READING! To discover more useful information about Walt Disney World Resort takes a look at:
If you don't want to stay in a Disney Hotel or Resort, check out your alternative hotels at 'Great Hotels in Orlando, with a FREE Shuttle to Disney World.'