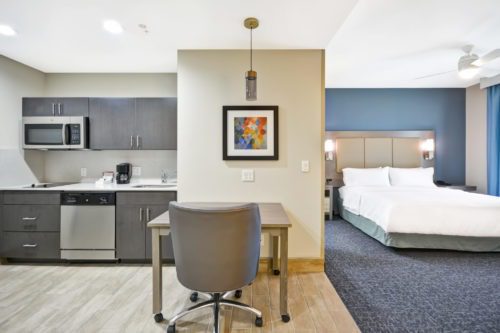 If you're searching for Orlando Suites Hotels, then you've discovered an inevitable truth about the Happiest Place on Earth: no one likes to visit it alone. In fact, as a premier family destination, Orlando has played host to flocks of family reunions, extended family vacations, and staggeringly large class field trips.
With this in mind, it's no wonder more people are looking for all suites hotels in Orlando. However, before you start booking with the first hotel website that insists they have suites, it's important to put the brakes on for just a moment. Many hotels will claim that they have suites – however, upon closer investigation, those "suites" turn out to be nothing more than a slightly larger-than-average hotel room.
And that's certainly not something you'd like to discover when you're checking in with your large extended family!
If you're still on the fence as to whether or not you'd like to book a stay in one of these rooms, take a look at the many benefits of Orlando hotel suites:
You Can Accommodate More People
One of the obvious benefits of booking this type of room is that you can accommodate more people. As previously mentioned, Orlando vacations are hardly enjoyed alone – and when you have a large family in tow, you'll want space to stretch your arms without bumping into someone. Besides, vacations are meant to be relaxing and refreshing – and nothing is more nerve-wracking and annoying than staying in a hotel room the size of a tuna can!
Be sure to specifically look at the description of the hotel suite before you book. You'll want to see indications that it has multiple bedrooms and bathrooms. Otherwise, you're just booking a glorified hotel room.
They're Affordable with Orlando Hotel Packages
If the term "suite" makes you want to protect your wallet, not to worry. These hotels are surprisingly affordable and many of these suites offer Orlando Hotel Packages at great prices. Look for Orlando hotel suites that offer free park passes, transportation, meals, and other amenities when you book a suite for a certain number of days. You just may find that booking a suite turned out to be the cheaper option!
It's Easier to Plan Your Orlando Vacation
When you know you have space to accommodate multiple people, it's a lot easier to plan your Orlando vacation. Think about it this way: what if your mother wants to stop in for a couple of days, or your sister and her family want to stay with you for a week? Having a suite gives you the luxury of hosting multiple visitors, instead of dashing around attempting to book a nearby hotel room for them.
When it comes to the benefits of booking a hotel suite in Orlando, you'll often find that this move is cheaper than booking a traditional room. Go on and enjoy the incredible experience that only comes with staying in one of many fabulous and family-friendly Orlando hotel suites!
Suggested Family Suites hotels in Orlando that you might want to consider for your suite accommodations
Staybridge Suites – AAA 3 Diamond rated hotel features 150 guest suites with your choice of one or two bedroom suites with private bedrooms, separate living rooms and full kitchens that are enhanced by contemporary furnishings and stylish detailing.