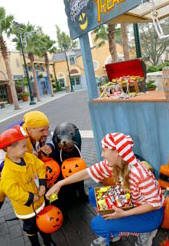 SeaWorld Halloween Spooktacular is back! A Halloween fun friendly family experience for everyone.
Experience an underwater FantaSea where kids can play with friendly sea creatures, enjoy treats galore and groove to special entertainment at SeaWorld's Halloween Spooktacular. Catch a wave of excitement weekends in October at the only event where Halloween meets the sea.
This October walk among friendly sea witches, octopuses, mermaids, pumpkin fish and more at SeaWorld's Halloween Spooktacular. Only SeaWorld can bring the myth of the sea alive, with an incredible underwater FantaSea. Dress-up in your favorite costume and trick-or-treat while giggling with sea fairies, learning from a 'school' of fish or dancing with an ice witch.
Join Princess Penelope and her friends at the Spooktacular Dance Party. Gather up your candy and kick up your feet as our party host invites you and your family to dance along to a spooky mix of line-dancing favorites as clouds of bubbles fill the evening air. The party kicks off at the front of the park every Spooktacular event night an hour before SeaWorld's park closing time, so don't miss the fun!
Other great related experiences included in your regular admission are:
Penelope's Party Zone

 – This lively underwater environment immerses children in the wonders of the sea through family-friendly music, crafts, games, and colorful characters. Located at SeaWorld® Bayside Stadium, this zone comes to life when families dance and play along to the spooky sound waves broadcasted by a live DJ. With countless bubbles floating overhead and colorful pumpkinfish gliding beside, this Halloween party is sure to provide non-stop fun for all ages.

Trick-or-Treat Sweets

 – SeaWorld® offers children the ultimate in safe and exciting trick-or-treat fun. Kids can follow their special Halloween Spooktacular® maps to many different stations throughout the event, each featuring treats galore. With multiple candy stations and a wide array of sweets and treats, kids will be swimming in Halloween Spooktacular goodies.

Strolling Entertainment

 – Fun-loving sea witches Gummy Worm Wanda, Salt Water Taffy, Swedish Fish Suzy, along with over 35 other fanciful sea creatures, greet, mingle, and play with guests making their way through the event.

Seven Seas Railway

 – It's "all aboard" with Otto the Octopus as our youngest guests enjoy a whimsical train ride in Shamu's Happy Harbor®.
Come and enjoy SeaWorld Halloween Spooktacular, a family friendly way to enjoy Halloween in Orlando.
Interested in other Halloween events in Orlando?  Visit  Mickey's Not So Scary Halloween Party or Halloween Horror Nights.  Universal Orlando Halloween Horror Nights is not recommended for kids under the age of 13.  However, there are many other things to do in Orlando and an abundant of SeaWorld Orlando events for the whole family to enjoy.