This week in Orlando offers something for just about everyone. Arts and culture, food, science and learning, or enjoying nature, it's easy to find something that you'll enjoy. Orlando has many facets and you can take advantage of as many of them as you wish. Plan an outing for the family, as a date or just as a solo adventure. Don't be shy in taking advantage of what Orland has to offer.
Star Wars-Inspired Resort Planned for Walt Disney World Resort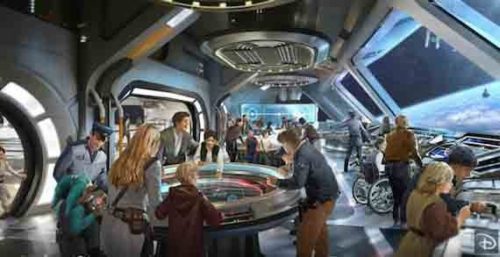 This first-of-its-kind resort will combine luxury with complete immersion into an authentic Star Warsstory. Guests' journey through space will start when everyone departs together for a multiday Stars Wars adventure by boarding a starship alive with characters and stories that unfold all around them during a voyage through the galaxy. At the resort, Guests immediately become active citizens of the galaxy and can dress up in the proper attire. Every resort window will also have a view into space. The opportunity for immersion at this resort will also stand out among all Disney resorts around the globe, as it will be seamlessly connected to Star Wars: Galaxy's Edge at Disney's Hollywood Studios, allowing guests a total Star Wars experience. Stay tuned for future updates on this fascinating place!
Guardians of the Galaxy Attraction at Epcot Will Be One of World's Longest Enclosed Coasters
This one-of-a-kind family attraction will be one of the world's longest enclosed roller coasters when it's added to Future World at Epcot®. It'll feature a unique story currently being created by Walt Disney Imagineering and include a new innovative ride system that's guaranteed to "wow" Guests.
The Charles Hosmer Morse Museum of American Art
This museum, in Winter Park, houses the world's largest collection of Tiffany art, was founded in 1942 and moved into its current location in 1995. The Morse has about 19,000 square feet of public space and celebrated its 75th year last year. The Tiffany chapel interior from the 1893 World's Columbian Exposition is not to be missed, and the surviving art from the Tiffany Long Island estate is equally impressive. A tour of the museum should allow at least 90 minutes, and the museum does close at 4, so the earlier you visit the better. Guided tours are available upon request, and add an interesting and educational aspect to your visit.
Disney Garden Rocks Concert Series at 2018 Epcot® International Flower & Garden Festival
The International Flower and Garden Festival includes the concert series starting in early March. Bands from Foghat to Smash Mouth will be playing hits old and new to audiences of all ages. There are three showtimes every evening, so it shouldn't be too hard to find a time that works for you.
Mardi Gras at Universal Studios
Get your New Orleans party on at the Mardi Gras celebration that goes on for over two months at the theme park. Parades each night include street performers, costumes and a ton of beads. Authentic Cajun food and music round out the experience and make it feel like you're in the Big Easy. Mardi Gras also includes several major performers offering concerts, including Mackelmore, 311, and Foreigner. While this has all the fun of the real thing, it's designed to be more kid and family friendly, so there's no awkward discussions afterwards with the children. Great chance for the whole family to celebrate and laissez les bons temps rouler!
The Lion King at the Dr. Phillips Center
The hit broadway production of a beloved Disney classic comes to Orlando from the middle of February through early March. This musical has won 6 Tony awards, including Best Musical, and is incredibly well-reviewed and has been seen by over 90 million viewers. The show is the third longest running on Broadway and the highest grossing Broadway production of all time. There just aren't any other Broadway shows as impressive and awe-inspiring as The Lion King, and this is a great opportunity to see the show for the first time or the next time.
Orlando Solar Bears Ice Hockey
The Orlando Solar Bears are a ECHL franchise that is affiliated with the Toronto Maple Leafs. They are currently fourth place in the Southern division with 21 wins this season. The team will play a variety of games against several opponents throughout February and March and this is a great opportunity to see some quality ice hockey at an attractive price. Not to mention that it's a fun change of pace from sunshine and warm weather.
Events upcoming in Orlando this week and further in the future offer some great options no matter what you're looking for. Whether you're on an anniversary trip, a family vacation or just looking for things to do, there's something going on that'll entertain and delight.
For more information on Orlando concerts, events, and attractions, follow us for weekly roundups.