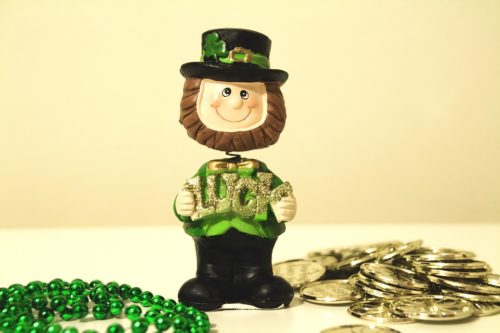 Who thought the next holiday was Easter? Nope, it's the special green day of St Patricks Day. This Irish holiday has slowly spread across the globe, including Orlando. St Patricks Day is on March 17th each year to celebrate everything that St Patrick achieved for the country. Along with many religious good doings, it is said that he eradicated all the snakes of Ireland and made it a safer place.
It a super fun holiday to celebrate, especially if you have children, because many of the stories involve mischievous tiny fairies called Leprechauns, beautiful rainbows and pots of gold.
If you're in the celebrating mood this St Patricks Day, here are a few places and activities for you to get involved in. Don't forget to wear green!
Crooked Can Celtic Festival
Celebrate your Irish side at the central Floridian festival that claims to be the largest Irish event, in the area. The Crooked Can Celtic Festival is FREE for all ages and takes place from Friday 15th through to Sunday 17th. Hosted by the Crooked Can Brewing Company in Winter Park, the days are jam-packed with activities, including face painting, pop up beer stands, live music, Irish dancers and more.
Irish Pubs & Irish Menus
Raglan Road Irish Pub and Restaurant at Disney Springs, will be going all out at the Mighty St Patrick Festival, which starts March 15th – 17th. Expect plenty of live music from Irish singers and bands, original Celtic music and of course no Irish party is complete with a jig or two.
If you want to get merry with a pint or two of Guinness and eat some traditional Irish grub, these are the best places to visit.
Fiddlers Green Irish Pub and Eatery, located at 544 W. Fairbanks Ave in Winter Park will be opening their doors at 9 am to their festive celebrations. All day there will be live music and also some Celtic bagpipes.
To fill your belly with a true Irish menu, have dinner at Disney Springs,  American Kitchen Bar & Grill.  The Irish Beef Bacon Pot Pie is our number 1 choice.
Gatorland
Visit Gatorland to learn all about snakes, the creature that Saint Patrick kicked out of Ireland. Keep your eyes peeled for a cheeky leprechaun, they are said to be as tall as a thumb. Implementing a leprechaun hunt would make the day extra special.
Discover more about Gatorland Orlando, with OrlandoEscape
Universal Orlando Resort
You don't have to be Irish to enjoy the festivities, you just need to be green at heart. From Midday to 2 AM on St Patricks Day, Universal Orlando Resort will be enhancing its menus to incorporate specially designed drinks and meals. Pop into different restaurants and bars throughout the parks and hotels to see what you can find.
Bailey's Irish Cream, Green craft beer, and Guinness chocolate cake are sure to be popular. Before you leave the complex, visit Rosie's Irish Shop. It's dedicated to the Irish immigrants who traveled to America and passed Lady Liberty in New York City. The interior design is not to be missed.
Boston Celtics Basketball
On the eve of St. Patricks Day, 16th March 17:30, get comfortable in a local sports bar, with a Guinness or Irish Whisky in hand and watch the Boston Celtics play the Atlantic Hawks. The Boston Celtics are one of the most successful teams in NBA history, so it should be an entertaining game.
Read '8 Awesome Sports Bar in Orlando', to find your nearest sports bar or the most appealing to satisfy your sports viewing needs. 
St. Patricks Day Fancy Dress Outfit
Orlando has a few fancy dress/costume shops. If you don't have a good outfit and you really want to get into the spirit of the Irish, visit a store to see what they have. Or you could wear a lucky t-shirt, or a full green suit or perhaps a rainbow top. Here are some other outfit ideas for St. Patricks Day.
Have a great St Patricks and don't forget to tag your Instagram photos with #OrlandoEscape.