It was recently announced that the hugely popular entertainment center, ICON Park, situated in the heart of International Drive will be adding two new attractions next year (2020).
As adrenaline junkies, we at Orlandoescape are very excited by the latest news at ICON Park and we hope you are too. The new additions are the Orlando Slingshot and the Orlando Gyro Drop Tower! Don't they sound like totally thrilling rides?
What makes these two rides extra special is that they are going to be record-breakers.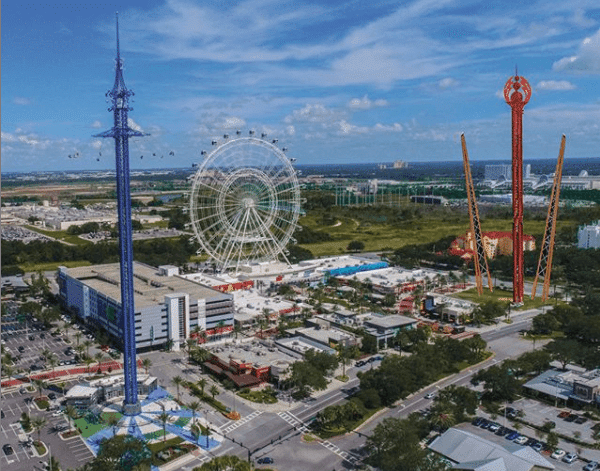 Orlando Slingshot at ICON Park, Orlando
The Orlando Slingshot will be the World's (not Orlando's or even the nations, but the World's) tallest slingshot. It's going to be a staggering 300 feet (91 meters) in height. Now, if its size cannot compute and it couldn't for us, here are a few famous landmarks you can compare it to:
St Basils Cathedral, Moscow is 156 feet
Cinderella's Castle at Magic Kingdom is 183 feet
Taj Mahal, Agra is 239 feet
Statue of Liberty, New York City is 305 feet
If you have visited any of these wonderful landmarks, the height of the Orlando Slingshot will now have a strong meaning and will get your pulse racing. But that's not even the best part!
Every rider will get the ultimate adrenaline rush as they are catapulted 450 feet into the air!
Also, the Orlando Slingshot will feature innovative dual-loading, meaning the wait time will be reduced because riders can board the ride, while other passengers are experiencing the attraction.
Orlando Gyro Drop Tower at ICON Park, Orlando
The Orlando Gyro Drop Tower will provide epics views of the ICON Park and International Drive, as it raises riders 400 feet up into the air. This is its World record-breaking feature! The Orlando Gyro Drop Tower will become the World's tallest free-standing drop tower.
The experience starts with a powerful climb as the ride gyrates (hence the name) around the tower until it achieves its goal of reaching the top. After an unexpected "incident,"riders' will enjoy an epic freefall of 350 feet. As riders hurtle back to Earth, at speeds up to 75 mph (120 km), their hearts will surely be racing.
Can you handle it?
When can we visit?
Both of these rides will be opening Spring 2020. Let the countdown begin!
If you can't wait until then to visit, there is still plenty to experience now! Have you ridden the StarFlyer at ICON Park? It was unveiled in 2018 by the Slingshot Group of Companies, and it doesn't disappoint.
The park is open from 10 a.m. until 2 a.m. Restaurant and bar opening times may vary.
Also, "ICON Park is already known for having the tallest observation wheel on the East Coast and the World's tallest swing ride," said Chris Jaskiewicz, President and CEO of ICON Park. "ICON Park is the name to know as a complete destination of family-friendly adventure."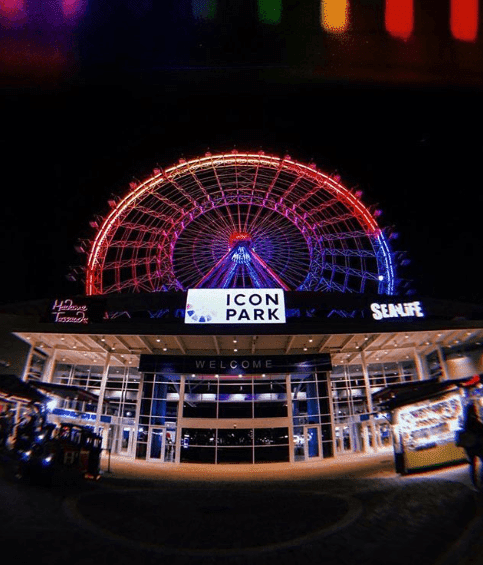 About Icon Park
If you are visiting Orlando for the first time, here is some interesting information about ICON Park:
• ICON Park is a 20-acre, walkable entertainment destination and opens from 10 a.m. until 2 a.m.
• It is located in the heart of Orlando's International Drive, making it easily accessible by bus and car.
• Not only does it have epic adrenaline-fuelled rides, but it's also a great place to dine, drink and explore.
• There are more than 40 attractions, restaurants, trendy bars and boutique shops for you to visit.
• The main focus of ICON Park is The Wheel, a remarkable observation wheel that stands 400 feet in the air.
• ICON Park offers free parking on-site.
For more information on ICON Park, visit ICONParkOrlando.com.