Are you ready to make a splash this summer? Disney's Typhoon Lagoon is bringing back the best glow in the dark party in Orlando, H2O Glow Nights.
During 25 select nights from May 30 to August 24, 2019, Disney's Typhoon Lagoon reinvents the meaning of fun, by seamlessly combining fantastic electronic celebrations with energizing splash wonders.
H20 Glow Nights Entertainment
The theme of H2O Glow Nights 2019 is Toy Story, as the long-anticipated 4th movie of the series is due for release in just a few weeks. So, expect a selection of fun Toy Story experiences, including meet and greets with everyone's favorite space ranger and cowboy, Buzz Lightyear and Woody.
Guests can also enjoy a DJ dance party and shorter wait times at the seven water-slide rides and the epic lazy river.
Turn your celebrations up to the max with the novelty items available on the night like a light-up popcorn bucket, H2O Glow Nights light-up souvenir cup and glow cubes.
Related: The least expensive kid-friendly, fun places to visit, in Orlando!

'Adults Only' at Disney
For those visiting with kids or who want to take some adult time, there is a special adults-only area where you can enjoy some live entertainment. At the Wharf you can have fun and relax whilst enjoying full bars at Leaning Palms, Let's Go Slurpin' and Happy Landings.
There will be a selection of specialty beverages for the occasion, both alcoholic and non-alcoholic. For example:
Buzz Blaster (Non-alcoholic): Sprite and green apple topping pearls served with a Buzz Lightyear glow clip, available at Leaning Palms.
Party Time Tea (Alcoholic): Tennessee whiskey, sweet tea, and lemonade with a glow cube, available at Let's Go Slurpin'.
Dream Disco Float (Alcoholic):  Hard orange soda, vanilla ice cream, whipped cream and edible glitter, available at Happy Landings.
Related: 8 Awesome Sports Bars in Orlando
When are the H2O Glow Nights at Typhoon Lagoon?
H2O Glow Nights will be held every Thursday and Saturday, from May 30 to August 24, 2019, except for June 20.
June 1, 6, 8, 13, 15, 22, 27 and 29, 2019
July 4, 6, 11, 13, 18, 20, 25 and 27, 2019
August 1, 3, 8, 10, 15, 17, 22 and 24, 2019
This splash-tastic event will begin at 8:00 PM until 11:00 PM.
Related: Aquatica in Orlando Florida SeaWorld's Ultimate Waterpark
Ticket Information for H2O Glow Nights 2019
There are two prices available to enter the glow in the dark party zone and they dependant on when you purchase your ticket. We suggest buying them in advance to take advantage of the discount available.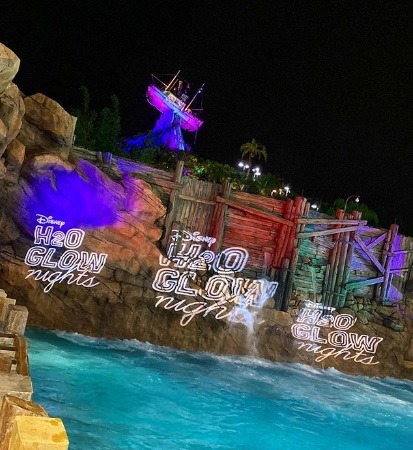 Advance tickets:
$59 per adult (plus tax)
$54 per child aged 3-9 (plus tax)
On the day tickets:
$69 per adult (plus tax)
$64 per child aged 3-9 (plus tax).
Tickets are not required for children under the age of 3, regardless of when you purchase or attend the event.
To purchase your tickets and to find out more information visit the Official Disney World website.