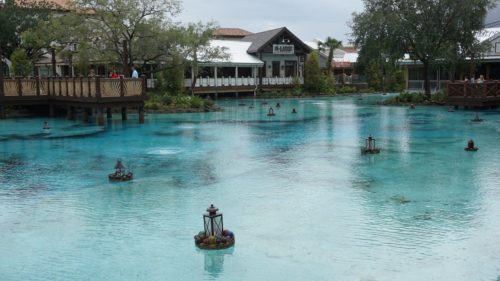 If you asked any child in America (or indeed in the world) what their ideal travel destination would be, they would probably answer "Disney World in Orlando, Florida." Of course, Orlando has so much more to offer: beautiful parks, a buzzing dining scene, and a plethora of opportunities for water and adventure sports. Recent studies have shown that going away together as a family has mental benefits that range far beyond mere enjoyment; in this post, we highlight recent scientific findings on the subject and suggest ways to avail of these benefits in Orlando.
Holidays Cause Positive Molecular Changes in Human Beings
A recent study carried out at the Icahn School of Medicine at Mount Sinai, the University of California, looked into the impact of going on resort holidays vs meditation retreats. They found that a resort style vacation positively impacted the molecular pathways associated with stress and the immunity, and produced short-term improvements in wellbeing, vitality, and distress.
Researchers noted, "It's intuitive that taking a vacation reduces biological processes related to stress, but it was still impressive to see the large changes in gene expression from being away from the busy pace of life, in a relaxing environment, in such a short period of time."
Human beings have long sought to lower stress through natural means; after your holiday, you may wish to boost the benefits obtained. Proven ways to maintain lower stress levels include regular physical activity, the inclusion of mindfulness activities such as yoga or meditation in our weekly routine, and the consumption of powerful supplements for stress and anxiety. The name may sound fancy, but nootropics are essentially any supplement that can promote a calmer state of mind and better sleep. The list includes ginkgo biloba and caffeine, which promotes alertness when consumed in moderation.
How Can You Lower Stress and Boost Your Mood in Orlando?
Research indicates that one of the best ways to immediately lower levels of stress hormone, cortisol, is to head for a green area. Nature enhances our ability to enter into a state of mindfulness, one in which we are content to be "in the here and now", instead of feeling negative about the past or worried about the future.
Orlando has many parks, including Lake Eola Park, which is smack bang in downtown Orlando. The park features a refreshing ½ mile walk and is filled with a plethora of plants and birds. You can also head to Baldwin Park, just a few miles from the center of Orlando, or drive to nearby Winter Park, home to the stunning Kraft Azalea Gardens and Mead Botanical Gardens. If you love walking, head for the Tibet-Butler Nature Preserve, featuring peaceful views of Lake Tibet-Butler.
How Do Holidays Bring Families Together?
Unlike generations past, families today often forego holidays together because of a sometimes unstable economy, and increasing workloads. In an interesting review on the benefits of travel for families, James F. Petrick of Texas A&M University reveals that family holidays boost our mental health in their main ways: travel creates stronger family connections and positive lifetime memories that sustain human beings in time times; it improves the quality of relationships and reduces the likelihood of divorce; and increase individual and total family happiness, as well as overall well-being and quality of life.
How to Bond as a Family in Orlando?
Orlando has so many sites that family members of all ages can enjoy. Take SeaWorld Orlando, with its plethora of penguins, dolphins, and orcas; or Disney Springs and Universal City Walk, where you can savor different types of cuisine at several themed restaurants; yoga in the park, which both kids and adults can enjoy together.
To make the most of your family holiday in Orlando, make sure to enjoy a number of different activities. Disney World rides, a peaceful yoga session in the Great Outdoors or a scenic walk through one of Orlando's many green areas will ensure you have the perfect blend of action and mindfulness-based activities. Without a doubt, you will not only bond more strongly as a family, but also build a treasure trove of memories that each of you will treasure for a lifetime.