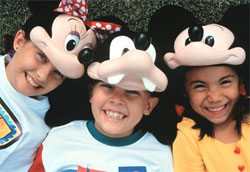 If you've been holding off on an Orlando vacation until your children are out of diapers, think again. All theme parks in Orlando have plenty to offer the stroller crowd, and you'll be in good company. Walt Disney World, Universal Studios, and SeaWorld—are designed to be as kid-friendly as possible, so even though you won't be able to take your tot to Space Mountain, there are plenty of opportunities to enjoy an Orlando vacation with young children.
Parents with infants will be relieved to see diaper changing areas that are much sturdier than the wobbly pull-down changing tables found in other public restrooms. The theme parks also have quiet, spacious accommodations for nursing mothers, so a hungry baby won't automatically necessitate a trip back to the hotel room. SeaWorld even sells Gerber baby foods in the main nursing/diaper changing area and in the park's restaurants.
Stroller rentals are readily available at the theme parks. A rental saves you the aggravation of folding up your own stroller and dragging it onto a tram in the Disney parking lot, but the hard plastic strollers might not be as comfortable or lightweight as your own. Additionally, your child might not nap as easily in a stroller that doesn't fully recline. If you are trying to save money, bringing your own gear is the best way to go, especially with essentials like drinks, snacks, and sunscreen.
Out of all the theme parks in Orlando, Walt Disney World's Magic Kingdom will offer the most ride possibilities for babies and toddlers. It's a Small World and Tomorrowland Transit Authority are gentle enough for a baby to doze through, and The Many Adventures of Winnie the Pooh and Peter Pan's Flight are toddler favorites. If your young ones are old enough to enjoy live performances, Disney's Hollywood Studios has a number of shows to delight preschoolers, including one with their favorite Playhouse Disney characters.
If you are planning an Orlando vacation with very young children, you can avoid extra hassles and focus on the fun by following these travel tips:
Seek out a Disney Character Meal: These dining experiences usually require reservations and cost more than the average theme park meal, but character meals work out well for two reasons: the characters keep the children entertained while the adults take turns getting food, and the buffet-style meals cut down on the waiting time involved. Plus, there are plenty of great photo opportunities.

Find an escape route:

 Most rides with long lines give guests an opportunity to bail out if necessary. A Disney FastPass or Universal Express ticket can help you avoid waiting too long at the more popular rides, at no extra cost. During live performances, sit on the aisle (if possible) or near an exit if you anticipate that your little one won't sit still through the entire show.

Heed the warning signs, Part I:

 Interactive attractions might be thrilling for a school-aged child, but a two-year-old (or an entire roomful of them) might end up screaming in terror throughout the entire experience. If there are any signs warning you that an attraction might be too intense for younger children, believe it.

Heed the warning signs, Part II:

 Only you know best when your child has had enough. Some children can conk out peacefully in their stroller and be refreshed enough to last until the early evening, while others will go into meltdown mode if they don't get a break from all the stimulation. Before your little one decides to scream all the way back to the parking lot, know when it's time to call it a day.
If you are planning a Florida vacation with a baby on board, you can be rest assured that there will be plenty of parents just like you, navigating Orlando's attractions with a camera bag on one shoulder, and a diaper bag on the other.
View other interesting Orlando travel tips to help you in the planning of your Orlando vacation. Also view the top 10 mild rides in Orlando, a suggested list of excellent rides for familes traveling with kids and ways to beat the heat in Orlando. There is always something fun to see and fun things to do in Orlando.