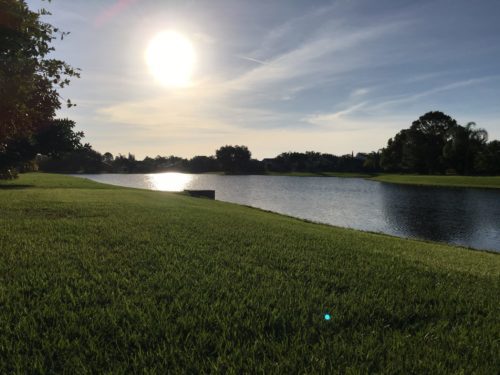 Every year, millions descend on Orlando from around the world to visit Disney World and the many other major attractions in the area. It's a paradise for tourists, but what's it like for millions of people who live in the city and its surrounding suburbs?
Amusement parks lose some of their charms when you can visit them any day of the week, and there are all sorts of local hotspots tourists rarely visit since they're off the beaten path. If you're in the Orlando area and you'd like to experience the city like a local, try doing something on the following list.
1. Visit A Lake
Central Florida is completely covered with lakes, springs, and rivers. There are dozens of lakes in Orlando's city limits, and depending on what you want to do you can find lakes for swimming, boating, fishing, birdwatching, or just enjoying the view from a lakeside chair or bench. Just remember to keep an eye out for alligators.
2. See The Gators At Gatorland
Speaking of alligators, one of the more local attractions in Orlando would have to be Gatorland down on South Orange Blossom Trail. Established in 1949, Gatorland celebrates some of the oldest residents of Florida. It's not for everyone, but between the zip lines, the alligator feedings, and the water park, Gatorland is a great and often overlooked family destination.
3. Grab A Local Drink
Thanks to the microbrewery explosion, every city has its own local flavor. For Orlando, that means craft breweries like Ocean Sun Brewing on Curry Ford Road and Orlando Brewing on Atlanta Avenue. Places like these offer lagers, Belgian ales, blonde ales, and other brews you normally don't get in cans at the local supermarket.
4. Explore The Milk District
The Milk District in Orlando takes its name from an old dairy farm, although at this point the biggest landmarks are the Colonial Plaza Mall at the north end and the Orlando Executive Airport just to the east. Orlando locals have been working hard to make the Milk District a vibrant center of arts, food, sports, and shopping, and no matter where you're from you can appreciate what the district has to offer.
5. Stop To Smell The Flowers
The Harry P. Leu Botanical Gardens are just across Lake Rowena from the museums of Loch Haven Park, and thanks to Florida's climate they have one of the most diverse plant collections anywhere. The gardens host collections of arid plants, azaleas, bamboo, ornamental plants, and 215 varieties of rose.
6. Golf Like A Pro
Florida is one of the biggest states for golf thanks to its warm and wet climate and its flat terrain. Orlando is no exception, so if golf is your sport of choice remember to pack your clubs before you book your Orlando hotel. You probably won't want to join a club if you're only visiting, but luckily one of the best courses in town, Dubsdread, is open to public reservations.
7. Eat Well
Every city has a few local restaurants that make some unforgettable meals you just can't get from a fast-food chain or a pricey resort restaurant. In Orlando, these restaurants include Hash House A Go Go on International Drive and Hawkers Asian Street Fare on Mills Avenue North.
8. Slurp Oysters
It'd be a shame to visit a place like Orlando, Florida, and leave without sampling the local seafood. There are a few goods, local places to get Gulf Coast and Atlantic oysters and other seafood in Orlando, including Lee and Rick's Oyster Bar in west Orlando and Hot N Juicy Crawfish to the southwest.
9. Shop At A Flea Market
Flea markets are where you can find the homemade goods and antiques that giant tourist destinations can only imitate. Orlando has more than its fair share of flea markets, and one, in particular, you should visit is the OBT Flea Market on Orange Blossom Trail. It's open most weekends from 8 a.m. to 5 p.m.
10. Hike Through The Wilderness
Orlando and central Florida have plenty of natural beauty to enjoy. Just west of town is the Lake Apopka North Shore, and to the north, you'll find the Seminole State Forest.
Even if you make a point of staying away from the big amusement parks and attractions, you'll have no shortage of things to do during a stay in Orlando, Florida. With all the food, drinks, shopping, and amusements, you're sure to have an unforgettable experience no matter what.