At Walt Disney World's new Pixie Hollow, fans meet the famously elusive Tinker Bell.
Move over Ariel, Cinderella, and Jasmine. The princesses who have captivated young girls for generations now have some new competition ~ Tinker Bell and the Disney Fairies at Pixie Hollow.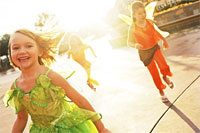 Parents will remember Tinker Bell as the mute pint-sized fairy who befriends Peter Pan and uses magic pixie dust to make the Darling children fly. She's been a Disney icon for decades. Adorned in a green mini dress, pom-pom shoes, and blonde hair done up in a bun, Tinker Bell is as recognizable to Magic Kingdom visitors as Cinderella or Snow White. Unlike other Disney princesses that are available for autographs and photos, Tinker Bell has been virtually inaccessible. For a long time, the only way to see Tinker Bell has been during parades or spotting her famous nightly fly-over during the park's fireworks display. To the delight of all, those days are over.
Pixie Hollow is a fairyland for kids to meet and greet Tinker Bell and her fairy friends. In keeping with the charmed nature of the spot, guests to Pixie Hollow will feel like they've been magically shrunk to fairy size. As visitors make the journey along a winding pathway that skirts the bank of an enchanted pond, wildflowers grow to become the size of trees. When meeting the famed Tinker Bell in person, though, don't expect the same petulant creature that appeared in Peter Pan—the one that expressed herself only in pantomime and threw temper tantrums. At Pixie Hollow, Tinker Bell is happy and playful. Tink, as she is known to her friends, is smiling and chatty, much like she was in last year's DVD release "Tinker Bell: The Movie."
Four additional fairies also greet visitors and share pixie secrets. Iridessa, Rosetta, Silvermist, and Fawn—also from the movie—explain to children how fairies secretly manage the natural world by shaping snowflakes, giving stars their twinkle, and giving bees their buzz. Tink's fairy friends each have their special talents. Fawn is an animal fairy; Iridessa, a light fairy; Rosetta, a garden fairy; and Silvermist is a water fairy. And Tinker Bell's talent is mending pots and pans.
The Pixie Hollow characters are part of the new Disney Fairies franchise, which includes a broad array of fairy-themed goodies, including books, game software, a web portal, a magazine, and DVDs. While some of the characters are drawn from the original boy-centric adventure of Peter Pan, the themes have been modernized to appeal to today's young girls. Girls who love Disney's Princesses will love the fairies at Pixie Hollow. And for more Neverland fun, the whole family can enjoy Peter Pan's Flight in Fantasyland. This attraction lets little ones sail away on a flying ship like Peter Pan used to take Wendy, John and Michael to Neverland where they met Captain Hook and the Lost Boys.




Part of the appeal of Pixie Hollow is meeting and talking to Tinker Bell, who never spoke in the original J. M. Barrie book. Here you'll also be able to purchase the wardrobe of a fairy. While classic "mouse ears" are never out of style at Disney World, fairy costumes are quickly becoming popular sellers at the park, especially for aspiring pixies who want to play dress up. Parents visiting Pixie Hollow will find ample opportunity to shop and outfit their little fairies with pixie prettiness, including dresses, wands, crowns, and wings—all the necessities for a day of magic-making.
Traditionalists will be happy to know that Tinker Bell can still be spotted midway through the evening's fireworks, performing her fly-over of Cinderella's Castle. During the day though, Miss Bell, along with Iridessa, Rosetta, Silvermist and Fawn, is now available for photos, autographs and fun.
Pixie Hollow:
What: Meet and greet Tinker Bell and the Disney Fairies (Silvermist, Iridessa, Fawn and Rosetta)
Where: Pixie Hollow, in the Mickey's Toontown Fair area of Disney World's Magic Kingdom.
Audience: Young children, especially girls
Tinker Bell's Flight:
When: Every evening at the Magic Kingdom during the "Wishes" fireworks display (hours vary depending on the season)