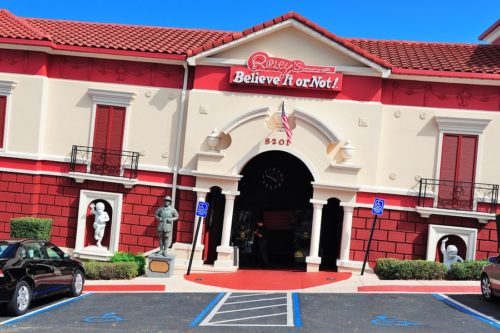 Orlando's biggest attractions might be its amusement parks, but there are more things to see in Orlando than Disney World or Universal Studios. The city has plenty of museums your family can explore, and many of them can keep the attention of a younger audience even as they offer an unforgettable education experience.
Skeletons: Museum Of Osteology
Like the name says, the Museum of Osteology is all about bones and skeletons. The museum boasts over 40 exhibits with 500 real skeletons from vertebrates of every category, including some of the most famous animals around. It's one of only two skeleton museums in America, the first being the original Museum of Osteology in Oklahoma City. Assuming your kids aren't disturbed by skeletons, they'll be fascinated by all the different animals and poses. The museum is on International Drive and part of the I-Drive 360 attraction, which means it's also a convenient walk away from many Orlando hotels.
Orlando Science Center
The Orlando Science Center has been a popular central Florida destination for over 60 years. The center is four floors high, and each one is full of educational and interactive exhibits where kids of all ages can learn about science and natural history. In particular, KidsTown is a whole section of the museum devoted to visitors ages 7 and younger, and visitors of all ages will enjoy watching 3D movies on the center's huge screens. The Orlando Science Center is on Princeton Street in Loch Haven Park, and it's one of the park's several lakeside museums.
Madame Tussauds Orlando
Madame Tussauds is the famous wax museum of London, but recently the museum has been expanding into new locations around the world. Their Orlando location is one of their newest, and it features a diverse mix of figures from film, music, and sports. Guests can get right up close and personal with the wax sculptures (while under supervision), and the collection is always growing so you can count on finding something new every time you visit if you're a regular Orlando vacationer. Like Skeletons, Madame Tussauds Orlando is another attraction of I-Drive 360.
Ripley's Believe It Or Not! Orlando
Ripley's Believe It or Not! has collected and categorized the strangest objects and events the world has ever seen ever since the first newspaper segment debuted in 1918. The Ripley's Odditorium is yet another I-Drive 360 attraction, and it's sure to keep your kids' attention with over 600 exhibits divided between 16 galleries. Ripley's is one of the few places in America where you can find authentic shrunken heads, and other exhibits include a real vampire-hunting kit and a vortex tunnel.
Wycliffe Discovery Center
If you prefer to give your kids a firmly Christian upbringing, you might be interested in bringing them to the Wycliffe Discovery Center east of the Orlando airport. The Wycliffe organization is devoted to translating the Bible into every language on Earth, and while all the major languages have been covered there are still thousands more on every continent that don't have their own unique translation. The discovery center is all about these obscure languages and cultures, and it offers education programs and tours for kids in elementary school and up.
You can also find several art museums that appeal to some kids but are too dull for others, like the Orlando Museum of Art and the Mennello Museum of American Art, both of which are neighbors of the Orlando Science Center. Between them, this list, and the bigger attractions around Orlando, you won't have any trouble keeping your kids educated and entertained when you decide to visit the city.