An Orlando vacation should be lots of things. It should be fun, exciting, and worry-free. Why stay far from all the things you want to do and see just to save a buck or two? You can stay at the Travelodge Suites East Gate Orange for the best proximity to Walt Disney World in clean and comfortable rooms with fantastic amenities without blowing your budget and get a location you'll love plus much more!

The value you get is extraordinary at the Travelodge Suites East Gate Orange. The location puts you just off I-4 near Walt Disney World Resort. And you don't even have to worry about driving to the attractions either. With your stay, you get to ride on the free shuttle to Orlando attractions. Feel like relaxing after a day of running around Orlando? Enjoy the heated outdoor pool. Kids can make a splash in the kiddie pool and adults will love the hot tub too.
Before starting your day in Orlando, make sure you grab your free continental breakfast. Need a pick-me-up? Get 24-hour coffee service. Post all your vacation photos in real-time with the free Wi-Fi and show everyone back home how much fun Orlando is, especially when you're staying at the Travelodge Suites East Gate Orange.
Kids driving you crazy? Let them burn off energy in the on-site game room while you work on your game plan for the next day. Old Town is just nearby with laser tag, bumper cars, and plenty more to entertain the family on the cheap. Walt Disney World Resort is likely the reason you've come to play, so enjoy your stay for less at the Travelodge Suites East Gate Orange for accommodations that make you feel right at home. You'll also have easy access to SeaWorld or Universal's theme parks too. It's all right here at Travelodge Suites East Gate Orange, the best location in Orlando!
Need something in your room? The 24-hour reception desk can help you get it or help you find where to go next. You won't have to pay for parking either. Travelodge Suites East Gate Orange is here to help you relax and enjoy your vacation from the moment you check in until you're on the road back home again.
You don't need to pay more to get the same amenities, comfortable rooms, or location. Save that money for your souvenirs and experiences while you're visiting Orlando. With so much to do and see in this city, you'll be glad Travelodge Suites East Gate Orange leaves you with more money in your wallet during your stay!
Check out Kissimmee, FL's "Orange" Tribute to the Troops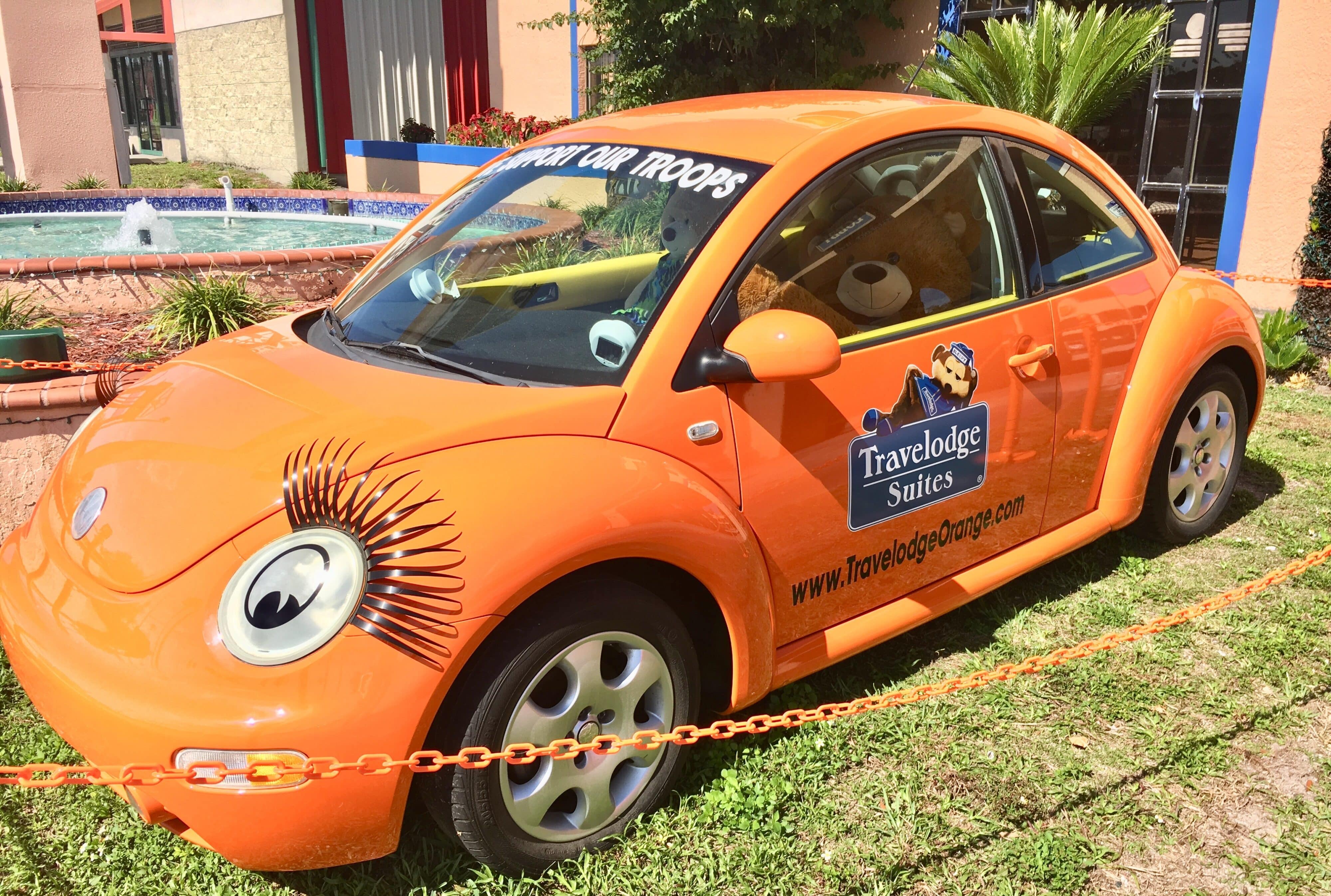 Just a few feet away from the Travelodge® Suites by Wyndham Kissimmee Orange is a beloved local landmark – the "World's Largest Orange." This inspired the Kissimmee, FL crew to create their own landmark that kept with an orange theme…
Parked in front of the Travelodge is a bright orange Volkswagen Beetle – filled inside with a family of stuffed teddy bears (plus a Sleepy Bear plush toy). The car's exterior serves a dual purpose: to display the hotel's website and share the staff's gratitude for those who serve in the military and their families.
"The response has been incredible, with guests and people walking or driving by stopping to take photos with it," Libby Coker, General Manager of the hotel. "It goes to show that a picture is worth a thousand words."
For comparison, take a look below to see the Travelodge Suites by Wyndham Kissimmee Orange and their bright orange Volkswagen Beetle next to "Orange World."
Travelodge Suites by Wyndham Kissimmee Orange Address: 5399 West Irlo Bronson Kissimmee, Florida 34746 United States
Travelodge Suites by Wyndham Kissimmee Orange Telephone Number: 1-407-966-4418
Travelodge Suites by Wyndham Kissimmee Orange Website: http://bit.ly/orange-beetle 
Travelodge Suites by Wyndham Kissimmee Orange Social Media Pages:
Google Maps | Video on Facebook | Video on YouTube | Hotel Facebook Page | Pinterest | Instagram Post
Travelodge Suites by Wyndham Kissimmee Orange Photo Gallery