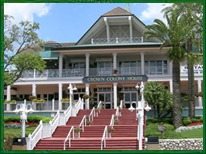 Busch Gardens is the ultimate family adventure park offering an array of fascinating attractions, thrilling rides, premier zoos and live shows. And while enjoying the wide variety of Busch Gardens Tampa attractions, take some time off and enjoy a magnificent meal in any of these great restaurants.
Crown Colony Restaurant:

 Relax in air-conditioned comfort and take in a panoramic view of the Serengeti Plain while you enjoy courteous full table service, authentic African roadhouse ambiance and a diverse menu that includes delicious up-scale entrees, refreshing salads and hearty sandwiches all house-made with the freshest ingredients by our culinary team.
Desert Grill:

 Palatial architecture, exotic entertainment and air-conditioned comfort come together to make your meal at the Desert Grill truly unforgettable! Watch a live performance while you dine on outstanding entrees like Baby Back Ribs or Chicken Fettuccini Alfredo – all served fast and fresh. You'll also find specialty salads, hot and hearty sandwiches, delectable desserts and a complete kid's menu.
Sultan's Sweets: Start your day at Busch Gardens with a steaming cup of gourmet coffee and muffins, cinnamon buns and pastries made fresh daily in the park. Stroll through the shop and feast your eyes on an incredible array of sweet treats including hand made candies, cakes and the deliciously decadent Wild Indulgence Fudge.

Bengal Bistro:

 Located in the heart of Jungala.  Specializes in fish wraps, salads, hot dogs and assorted desserts. Great for quick dining.

Garden Gate Café:

  Serving a variety of pizzas, pasta and desserts while overlooking the amazing view of the beautiful flowers and birds in the Bird Gardends.
Zagora Café: Get a hearty start with breakfast and come back again for a variety of healthy alternatives for lunch and dinner located in Morocco. Featuring healthy meal alternatives like wraps, oven roasted turkey, grilled chicken and seafood platters.

Zambia Smokehouse:

 Enjoy exquisite BBQ chicken and ribs, specialty salads, sandwiches and assorted Pepsi products while watching the spectacular view of SheiKra floorless rollercoaster in Stanleyville.

Quick Bites:

 There are many other eateries such as: Jungala Market, Oasis Snacks, Kenyan Kanteen, Orang Cafe, Sahara Snacks and many more!  Featuring fast refreshments, and quick items to eat without having to wait in long lines or require reservations.
If you are visiting Busch Gardens in Tampa, take advantage of the Orlando – Tampa Busch Gardens Shuttle Express. A complimentary round trip shuttle service for guests with the Orlando Flex Ticket. For guests who purchased the regular Busch Gardens ticket will only pay $10.00.
Post Office Box 9158 Tampa, FL 33674
Phone: Toll Free 1-888-800-5447