So you've done it all before. You've visited the Mouse, fed dolphins and stingrays, seen the movies come to life, and ridden extreme tube rides. What more could Florida have to offer? Your answer lies on the west coast, just an hour's drive away on Interstate 4—the city of Tampa. So load up the kids, your significant other, your friends, or just yourself and start your Tampa adventure!

Action and Adventure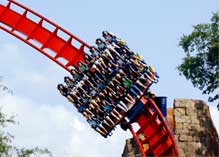 You know the first stop on any Tampa adventure has to be Busch Gardens, where you can visit the countries of Africa. If you've never been, test your screaming skills on the roller coasters, including SheiKra—Florida's tallest at 200 feet. Cool off on the Tidal Wave, Stanley Falls, or the Congo River Rapids. If it's wildlife you came to see, take a safari on Rhino Rally or visit the 500 tropical birds from around the globe at the Bird Gardens. Don't miss, Jungala—an exotic jungle where you can connect with the animals and the world around you. For more splashing and relaxing, head next door to Adventure Island, Tampa's 30-acre water park.
The action continues throughout the night at The Seminole Hard Rock Casino. Take a chance at 150,000 square feet of gaming machines and live action poker.
Animal Antics
Even for those of you who are not confirmed animal lovers, the Lowry Park Zoo is an affordable leisure destination focusing on education and endangered species conservation. Where else can you snap a shot of rare and endangered animals, pet a goat, and visit a manatee hospital all in one place?
Tampa's hidden gem of animal attractions is the Big Cat Rescue, the world's largest non-profit accredited sanctuary for big cats and home to over 100 exotic cats, including tigers, lions, leopards, cougars, bobcats, lynx, ocelots and more. See the cats up close on a guided day, night, feeding or private tour.
Arts and Culture
Slow down the pace with Tampa's artistic ventures. The Tampa Museum of Art collection includes 20th century and contemporary art and a renowned collection of Greek and Roman antiquities. A changing special exhibitions program provides a mix of classical and contemporary shows.
In the mood for a classy night out? Get tickets to one of the Tony Award-winning Broadway musicals at the Tampa Bay Performing Arts Center—featuring Jersey Boys, Avenue Q, and Disney's The Lion King.
At the Tampa Theatre, audiences are transported to a lush Mediterranean courtyard with a nighttime sky, twinkling stars, a mighty Wurlitzer Theatre Organ, and even gargoyles. The Tampa Theatre is the place for a variety of cultural events, including specialty film, classic movies, concerts, special events, corporate events, weddings, and tours.
Fashion and Leisure
Just minutes from downtown Tampa, Hyde Park Village is the place to go for unique boutiques filled with electronics, clothing, candy, pet items, house wares, toys, and specialty soaps. At the end of the day, you can rest your tired feet at one of the convenient restaurants.
No trip to Tampa is complete without a visit to Ybor City, Tampa's Latin Quarter and one of only two National Historic Landmark Districts in Florida. Ybor was originally a cigar-manufacturing center, but today you can browse the shops, art galleries, and museums or find a variety of cuisine while strolling down the main street. But don't leave when the sun goes down—Ybor comes alive at night with a vast array of nightspots and entertainment.
So now that you know what Tampa, Florida has to offer, get out that planner, pick out your favorites and schedule your Tampa adventure!