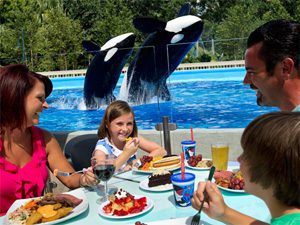 Up-Close Dining! Unique Dining! Experiences Only At SeaWorld Adventure Park Orlando Florida. Taste a World of Discovery!   Dine With Shamu. Come sit at Shamu's table!
You'll dine alongside SeaWorld's whale habitat in an area only open to our trainers, animal care specialists and YOU! Trainers may join you at your table and, of course, Shamu will be right there to show off!
Come and dine with Shamu and enjoy a delicious buffet meal with SeaWorld's biggest star. This once in a lifetime water-side dining experience includes a wonderful buffet including dishes such as Tropical Vegetable Salad, Pasta Primavera, and Beef Bourguignon, plus a special "just for kids" menu.
For family or group reservations, call 407-351-3600 or 1-800-327-2424 between 9 a.m. and 6 p.m. Seating times vary according to season and are subject to availability.
Dine with Shamu Pricing:
Prices starting from $29.00 for adults / $19.00 kids (3-9).
Pricing may vary by season, check specific date for actual price.
Make your online reservations today.
Tax and gratuity not included / Not included in regular admission
View other great SeaWorld Orlando Dining options available!
Location: Intersection of Interstate 4 and FL 528 (the Bee Line Expressway), 10 minutes south of downtown Orlando and 15 minutes from Orlando International Airport.
Park Hours: Open year-round at 9 a.m., with extended hours during summer and holidays. Allow a full day to see all shows and attractions.
Information: For general park information, call (800) 4-ADVENTURE, or (407) 351-3600.
[seaworld/sea_world_links.htm]