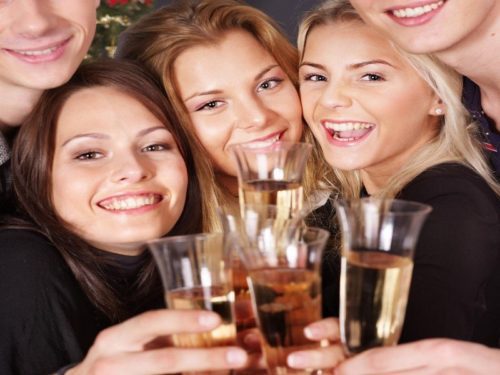 Orlando is for more than just families. All kinds of groups vacation in Orlando all year round: spring breakers, honeymooners, and groups of girlfriends who all want to have some real fun once the sun goes down. If your ideal list of things to do includes shopping by day and partying by night with you and your girlfriends, you might want to stop by at some of the places on this list.
International Drive
One of the biggest shopping hubs in the city is at the north end of International Drive near where I-4 crosses Florida's Turnpike.  You can start with the Orlando Outlet Marketplace where you'll find all the famous names in shoes and clothing.
If that's not good enough, just to the north is the Orlando International Premium Outlets outdoor mall where you'll find all kinds of upscale brands.  Once you're done you can feel like a kid again at the Fun Spot Action Park, or you can look through the many strip malls just south of Fun Spot to find obscure stores and lots of local restaurants.
The Florida Mall
The Florida Mall is one of the biggest shopping destinations in the state.  It's southeast of the International Drive shops on South Orange Blossom Trail and it sees about as many visitors every year as Universal Studios Orlando.  The main building offers air conditioning and a who's who of designer label outlets, plus you can find even more stores and outlets just beyond the mall's parking lot.
Eve Orlando
Eve Orlando is easily one of the top nightclubs the city has to offer.  The venue is on South Orange Avenue in downtown Orlando, and its three floors offer three different environments:  lounge, nightclub, and open-air balcony.  You can reserve a VIP table on any floor, and Wednesdays are Ladies Nights so you can get in without a cover charge and enjoy complimentary cocktails until 10 p.m.  You might also want to show up on another night because Thursdays come with a strict dress code and Fridays feature DJs and international music.
The Beacham
The Beacham is a live music venue located just up the street from Eve Orlando.  The Beacham features some of the hottest bands and music acts around, and depending on the night you can catch alt-rock, hip-hop, EDM, and more.  They also serve cheap drinks of every variety, at least as long as it's not an all-ages show.  Tickets are for standing room only, but depending on who's playing you can get a balcony ticket and reserve a table and bottle service for you and your group.  You can keep track of who's playing on Facebook or on their website.
With so much to do both day and night, you don't have to be with your family to enjoy your stay in Orlando.  And even if you and your girlfriends aren't that into shopping, there's plenty more to do like visiting the museums downtown, enjoying some outdoor time at one of the city's many lakeside parks, and exploring one of the many conventions that come to town.  If something sounds like fun, chances are you can do it in Orlando, Florida.