The Fort Wilderness Resort and Campground continues its tradition of being one of Disney World's best kept secrets. The only campground at the Walt Disney World Resort offers a tranquil getaway for families and couples alike. Relax within the confines of the lush Florida landscape lined with rustic woods teaming with friendly, local wildlife.
Where can I stay?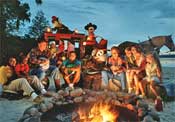 For the well-traveled visitor, Disney provides top-notch hook ups for mobile RVs. The adventurous crowd is encouraged to pitch a tent and unwind in secluded campsites after a long day at the parks. If your party values the pleasures of comfort and convenience, make yourself at home in the spacious Fort Wilderness log cabins. Each fully air-conditioned cabin comes equipped with cable TV, VCR, kitchen, daily housekeeping, and a charcoal grill for cookouts. All guests are invited to take advantage of strategically placed 'Comfort Stations' which include private showers and laundry services.
There always something to see and do!
Guests are welcome to kick back and relax at Fort Wilderness' private white-sand beach, Bay Lake Beach. Other activities near the water include boat rentals, two full-size swimming pools, and fishing for the entire family (catch-and-release only). If you like to stay active even while on vacation, there are several tennis courts on site (equipment rental not available) and bike rentals along the three-quarter mile path to Disney's Wilderness Lodge which also serves as a jogging trail. Young children will surely enjoy Chip 'n Dale's Campfire Sing-a-long, where they will sing songs and roast marshmallows all while watching a Disney feature film under the stars. Hit the trail with the kids and enjoy the petting farm, pony rides, horseback riding, and carriage rides. Be sure to visit the cornerstone entertainment experience at Fort Wilderness, Hoop-Dee-Doo Musical Revue for a musical comedy the entire family can enjoy.
All that fun's made me hungry! No sweat. Fort Wilderness also offers various dining options on-site. For a quick bite in a casual atmosphere, visit Crockett's Tavern and enjoy a menu that includes: pizza, smoothies, appetizers, and a full service bar. If you're craving a bigger meal head to Trail's End Restaurant for a family buffet in a quaint, rustic setting. Now, if you don't feel like you want to sit still while you eat, treat yourself to a great feast at the Hoop-Dee-Doo Musical Revue dinner show. You may also want to pay a visit to Mickey and his friends at Mickey's Backyard BBQ for an all-you-can-eat character picnic. There are also other Disney Character Dining options available in the Walt Disney World Resort that you and your family will definitely enjoy.
A great alternative to standard accommodations
Now going 24 years strong, the Fort Wilderness Resort and Campground continues to cater to the adventurous Orlando traveler. If you'd like more information on this resort, feel free to contact them directly at: (407)-824-2900 and you'll be one step closer to enjoying the great outdoors!