Discovery Cove Orlando exists to make your animal dreams come true! Whether it's swimming with dolphins, a face to face encounter with a shark or to play with otters.
This aquatic paradise is the perfect place for a special occasion, whether you are male, female, child or adult, there is an incredible experience package for you. It doesn't matter if you are planning a proposal, celebrating an anniversary, a 10th or 100th birthday because the Bottlenose dolphins are always happy to swim and play with you.
Basic Discovery Cove Package: Resort Only
The most basic package available includes an all-inclusive day, on a 'Resort Only' basis. This means no additional experiences are included. You are still guaranteed an incredibly magical day involving some animal encounters and relaxation.
For less than $150 you have free rein of the parks excellent beach, otter and marmosets exhibit, panoramic shark tank and colorful aviary. Plus, your breakfast, lunch, snacks, and drinks (inc. alcohol) are included.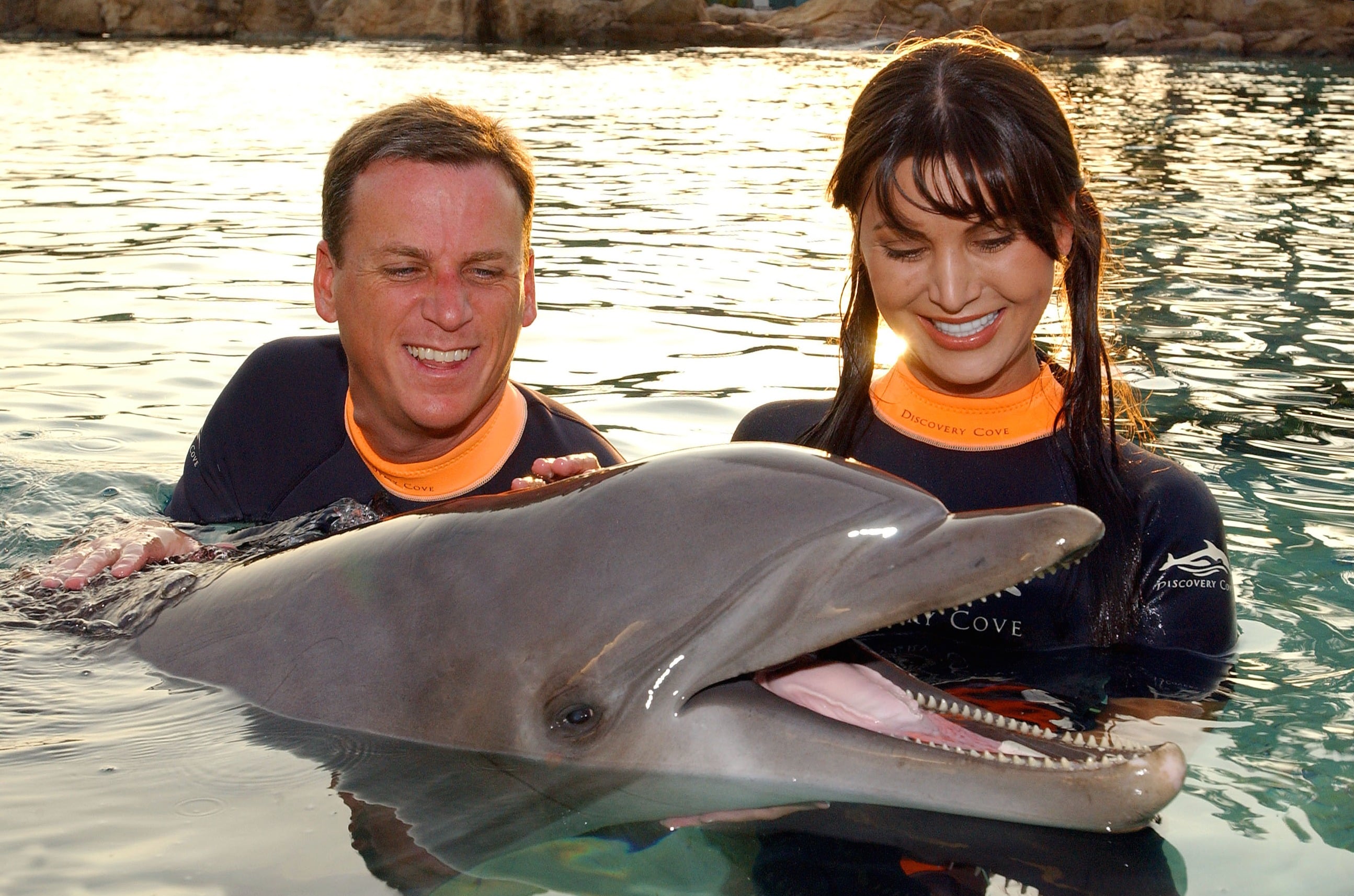 To make it even more amazing, you can get access to SeaWorld and the waterpark, Aquatica, unlimited for 14 days for an additional $30.
Additional Package: Swim with Shark
For an additional $109, add the 'Swim with Shark' experience to your day. It takes place every day 11:15 am – 11:45 am and spaces are limited, so book well in advance. The only requirement is that you are at least 10 years old. By selecting this additional package, you can also support marine research as 5% of the proceeds are donated to the Guy Harvey Ocean Foundation.
Most Popular Discovery Cove Package: Resort & Dolphin
If your dream is to meet and swim with a friendly dolphin then add the dolphin experience to your package. There are 3 packages available depending on your desires.
Discovery Cove Orlando + Dolphin Experience = $189
Discovery Cove Orlando + Dolphin Experience + SeaWorld + Aquatica + Busch Gardens = $245
The dolphin encounter is a 30-minute interactive experience wading in the water, after learning about dolphin behavior and how to communicate with a dolphin. With a trainer, you will then meet an Atlantic bottlenose dolphin, before finishing with an epic dorsal fin tow ride.
If either of the previous packages sounds perfect to you, there are 2 items you must remember to pack. The first is a sturdy and unmoveable swimsuit. The second is an underwater camera to document every exciting minute, as you will want to remember and relive this perfect day again and again.
Attention Florida Residents! Take advantage of the exclusive Discovery Cove Orlando local discount scheme, which saves you money. To find out more information and to buy your tickets, click here.
Romantic Packages at Discovery Cove Orlando
If your celebrations are in the department of love then there are 3 excellent tailormade celebration packages to take a look at.
Celebration Package (starting at $129): Ideal for a wedding proposal! Your magical day will include a personalized message on a buoy presented to your loved one by a beautiful dolphin. Plus, you will receive a Discovery Cove Signature Tote Bag, Beach Towel and 20% off a Discovery Photo Package, valued at $57.
Elite Cabana Package (starting at $459): This pampering package includes a private cabana and cabana host/hostess on top of the celebration package.  As you relax and enjoy the views from the comfort of your cabana you will have access to a privately stocked fridge, and a snack service.
VIP Cabana Package (starting at $799): For the ultimate experience at Discovery Cove Orlando choose this package. As well as the Elite Cabana Package, you will have reserved seating at Laguna Grill, planned itinerary escorted by dedicated host/hostess and an additional up-close animal encounter.
To book any of these exclusive and limited packages call 407-513-4600 or visit the website.
Discovery Cove Orlando: Staycation Hotel Package
Also, available is a hotel package which includes almighty discounts and offers, when you stay at an Official Hotel Partner of Discovery Cove Orlando. As a Florida Resident, you can still take advantage of this excellent deal. Having a holiday or vacation within your hometown is called a 'staycation.' If you want to give it a try here are the benefits you will receive:
One free night of hotel accommodation
A complimentary shuttle bus to SeaWorld, Aquatica® and Universal Orlando
Access to reserved seating at the best animal shows in SeaWorld
An exclusive 'Rescue Tour' to learn how endangered manatees and sea turtles are rescued
$200 coupon book for Pointe Orlando
Plus, lots more!
To find out more and to book this money and time-saving offer, click here.
To book any of these packages or to make a general reservation, call 1-407-513-4600, or visit www.discoverycove.com