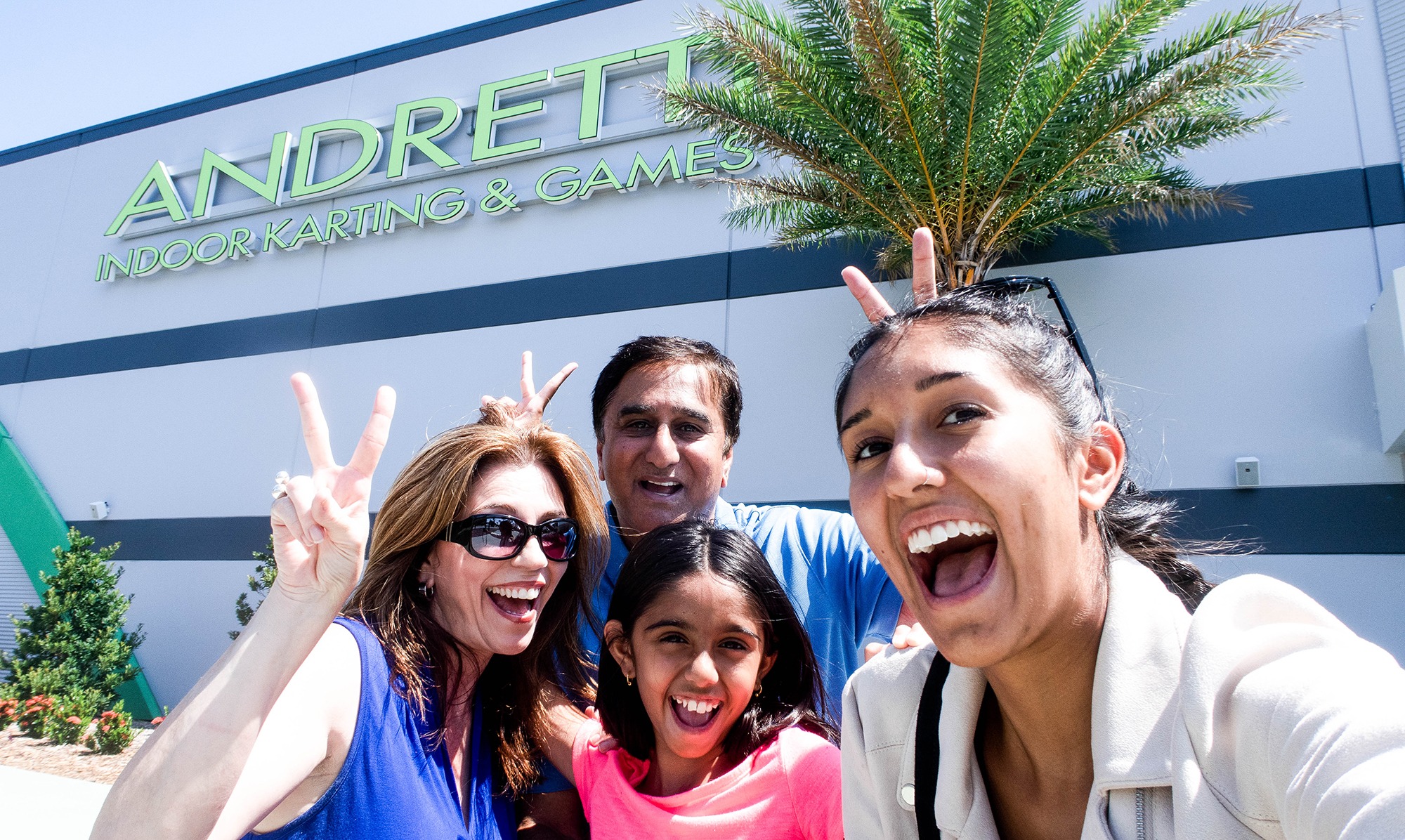 Our day started at ten in the morning, and since Andretti Indoor Karting & Games is just a short drive from home, we decided to take time off and visit the place that everyone in Orlando is raving about.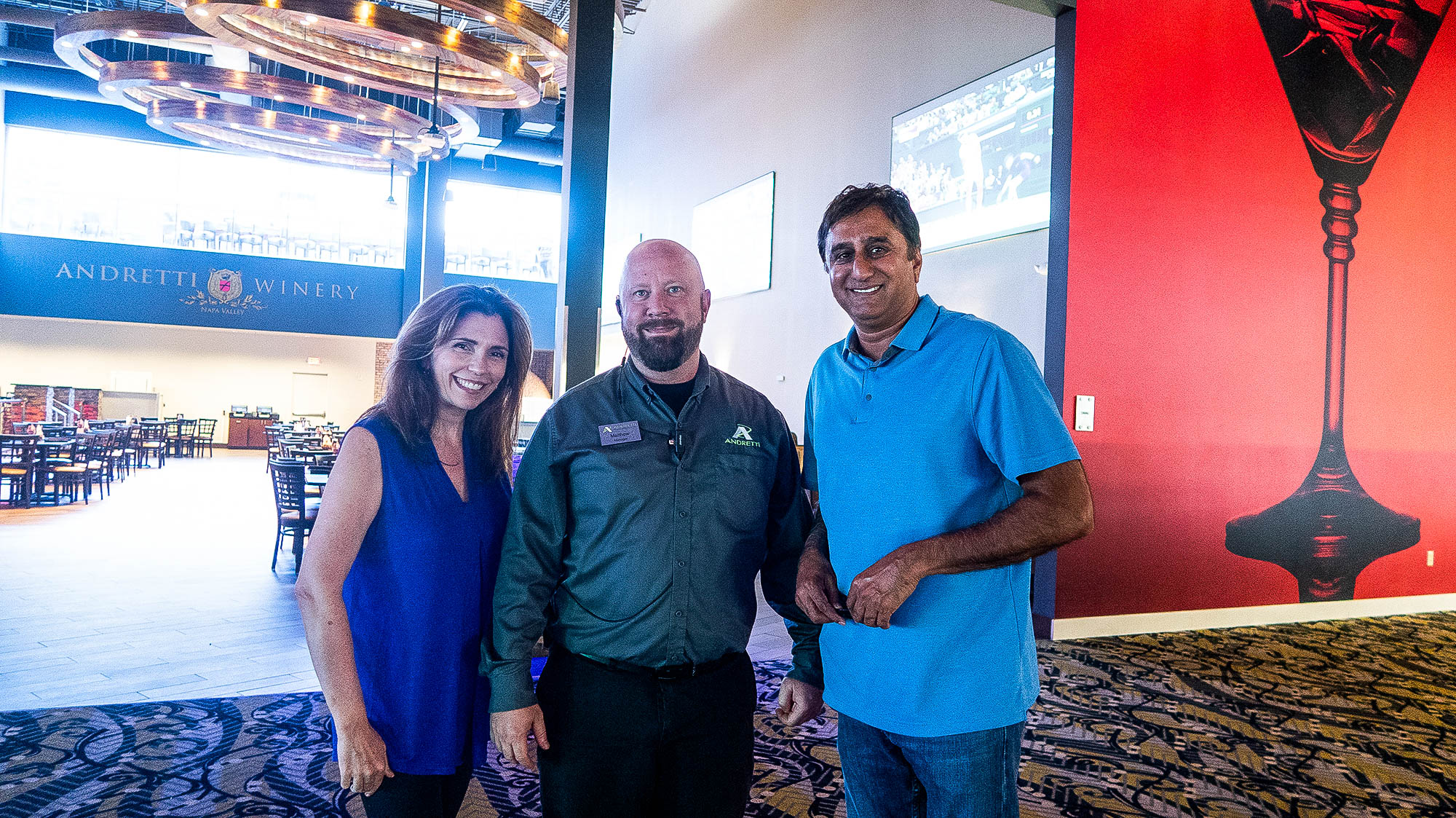 We were greeted with warm welcomes from the incredible staff who guided us with smiles throughout our entire Andretti experience. Our eyes were drawn into a number of the most staple arcade games, as well as ones we had never seen before, a stunning bowling alley with restaurant service at your disposal, unlimited options of high end, adult beverages at the open bar. It was almost as if we were placed in a vortex of everything we could have ever wanted, as a child or adult. From the Sky Rail Rope Course with a view of the arcade to the Sky Bar with a view of the racetrack, a person of any age is guaranteed to channel their inner champion, whether it's conquering the colorful obstacles or the tasteful drinks. We were ready to tackle all that Andretti Indoor Karting & Games Orlando had in store for us.
Here are the 12 Reasons to visit Andretti Indoor Karting & Games in Orlando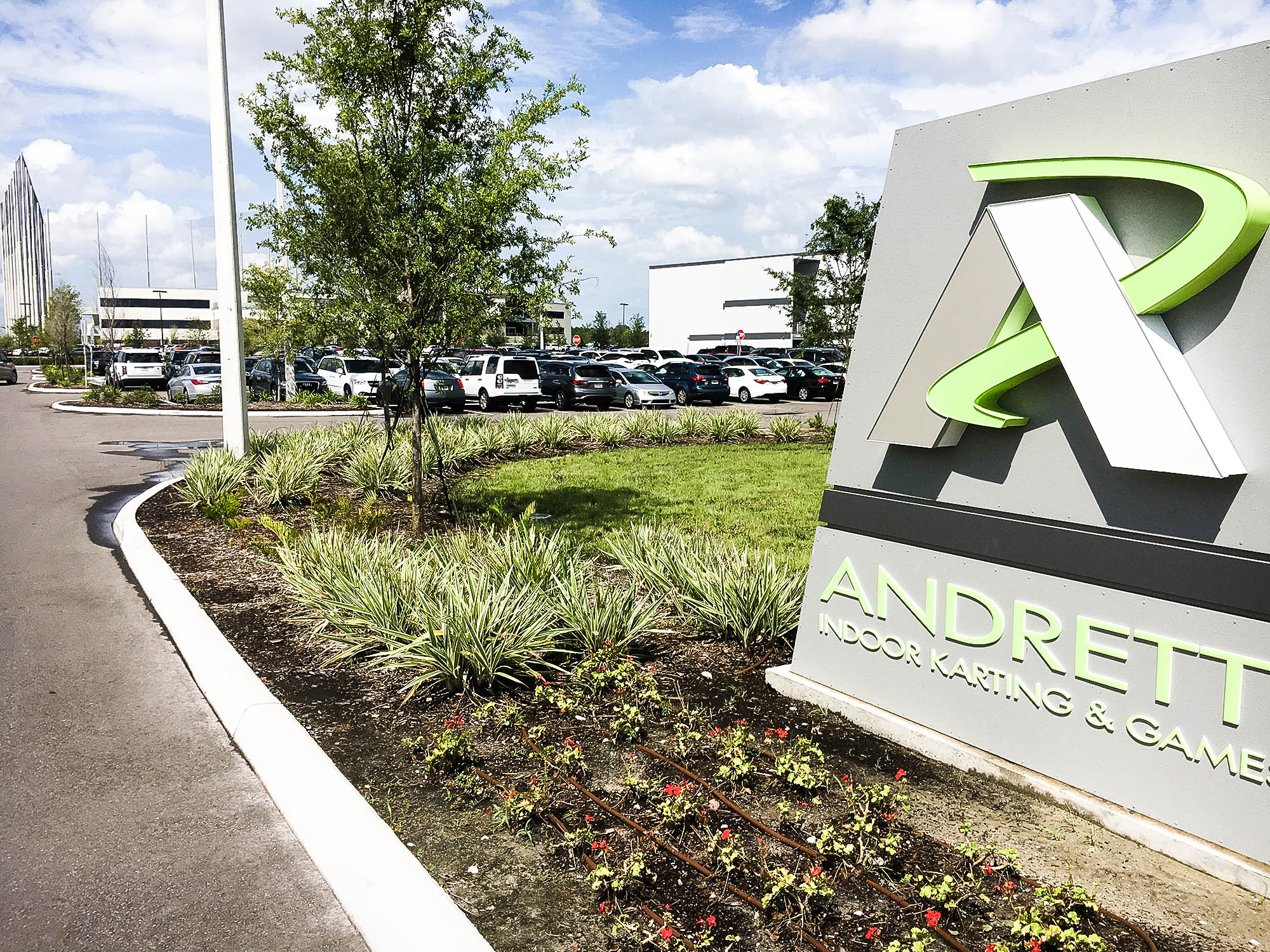 1. Parking is Free
Yes, at Andretti parking is FREE, and easily accessible, unlike many other attractions that charge up to $20 to $25 for parking per day.  Additionally, there is not a maximum amount of hours meaning that you can stay and play all day.
2. No General Admission Fee
Unlike many other popular attractions found in Orlando, to my surprise, there is no general admission fee. Guests are free to come to eat and drink, without play, but let's be honest: what's a night at Andretti without a little competition?  At Andretti, you pay as you go, meaning that you only pay for the attractions that you want to enjoy.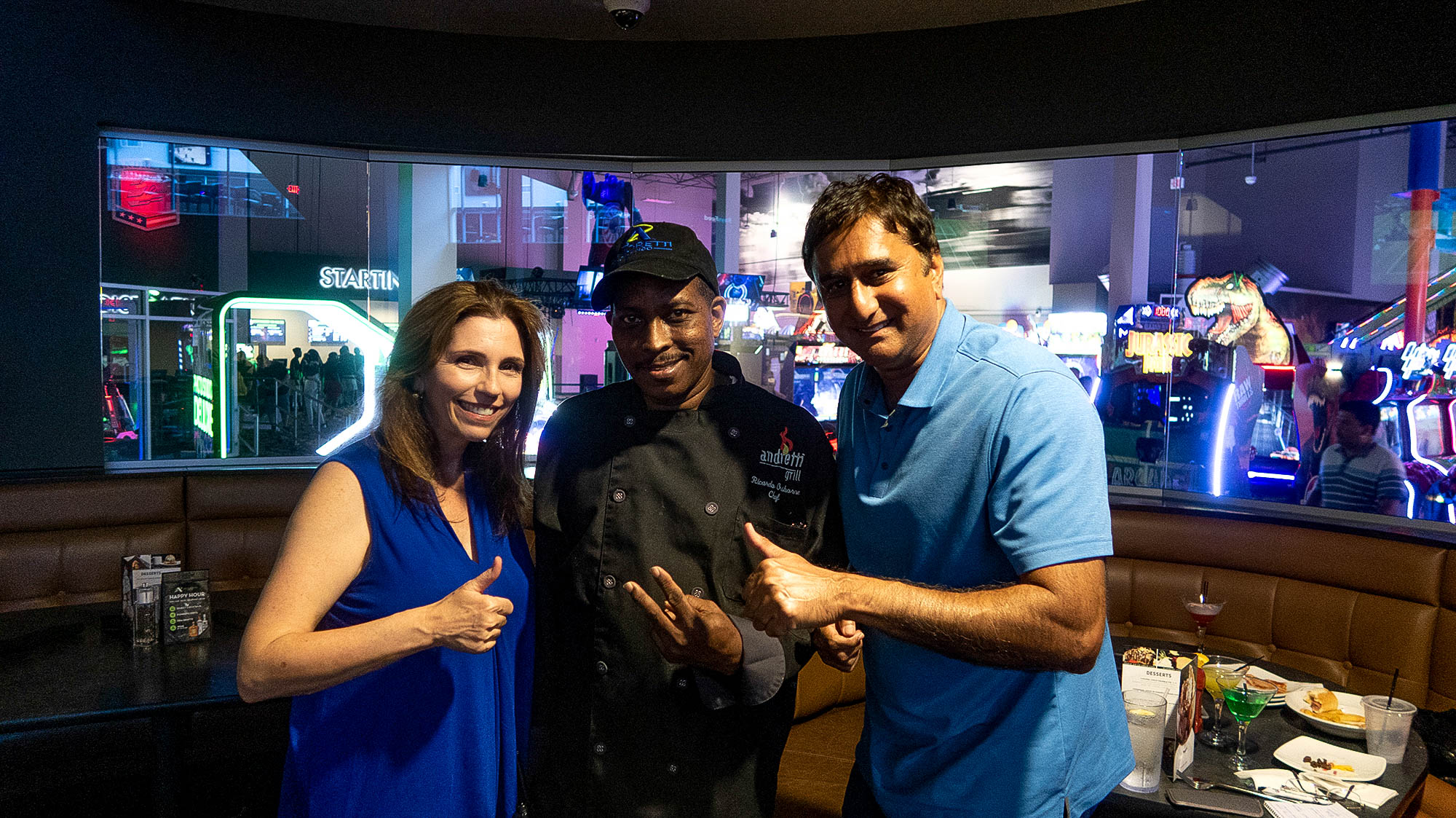 3. Great Food and Drinks – Amazing Food prepared by award-winning Chef Ricardo and his staff
I'm always eager to try new dishes when visiting or traveling to new places, and now that our daughter Kiana, an established photographer on Instagram @kianagovind, became vegan a year ago, choices seem to be limited, but at Andretti, we found many items catering for vegans just like her.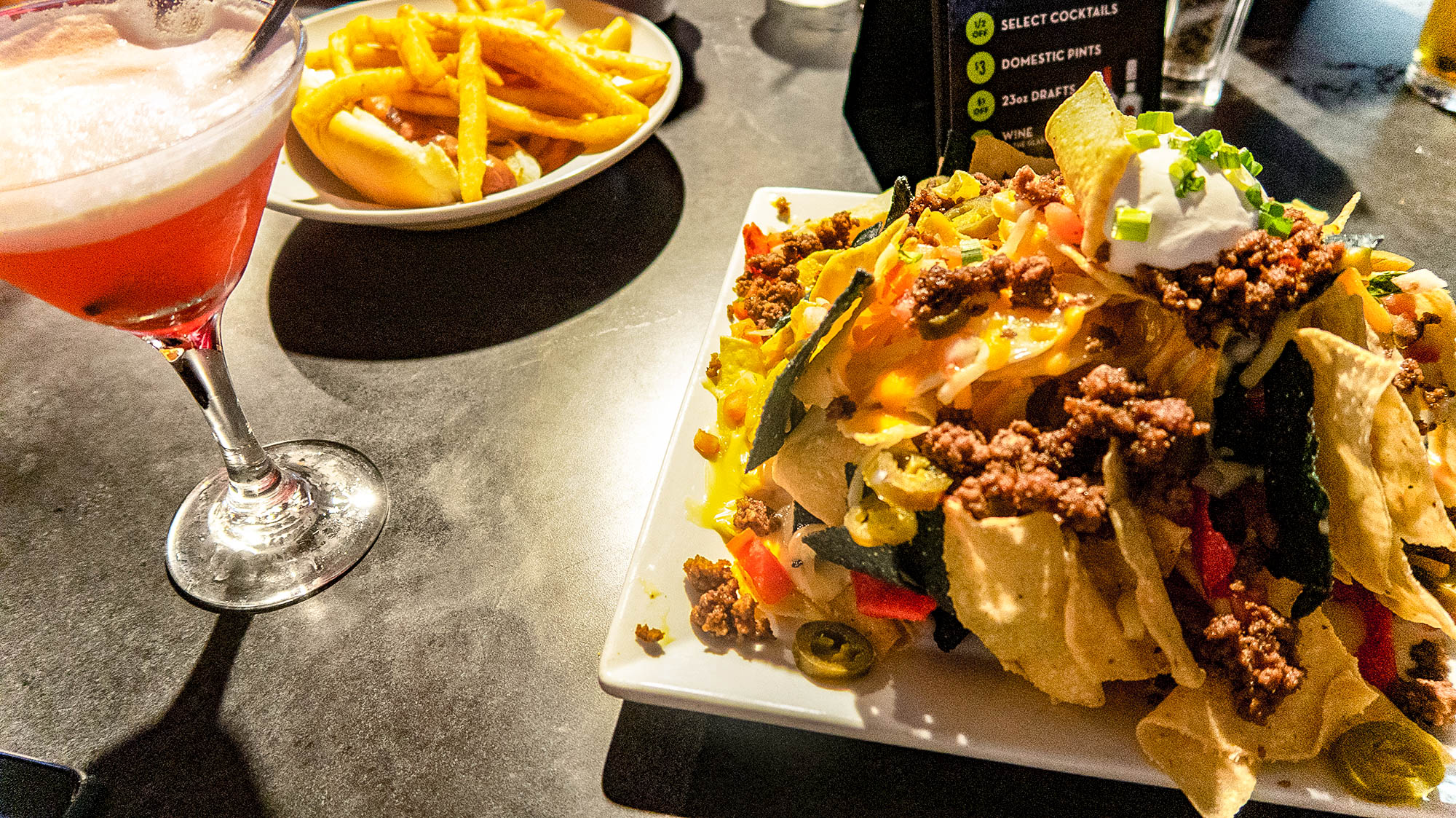 We began our culinary experience with a couple of drinks.  My daughter ordered the Pole Position, and my husband enjoyed a refreshing IPA beer, while I ordered the Andretti specialty drink. Cocktails were smooth, delicious and had a right kick!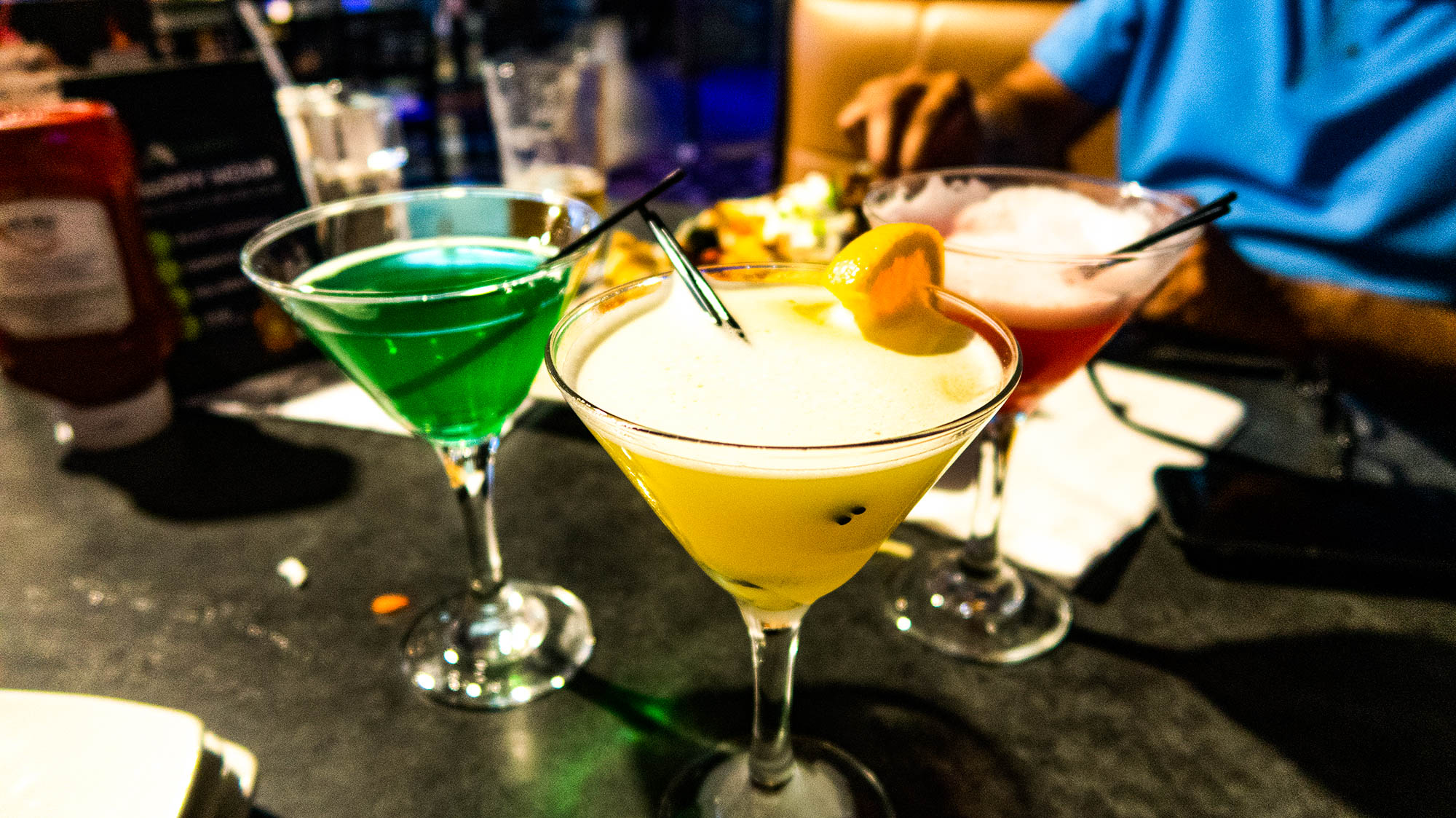 For lunch, our friendly waitress, Elisa, suggested the homemade Pesto Pizza, topped with pesto sauce, broccoli, sun-dried tomatoes, and mozzarella. Homemade because at Andretti, all meals are made from scratch using fresh ingredients. Even our little one Karina, who is 9 years old, tried it and loved it.  However, she decided to dive into the kid's menu and ordered the hot dog along with a soft drink and yummy fries. As for Sunil and I, we ordered their signature appetizer, Sky High Nachos, a tri-colored tortilla chips topped with beef, scallions, jalapeños, sour cream and their famous house-made queso sauce that it was out of this world. For dessert, we ordered the Ultimate Banana Split Sundae. A goblet filled with sliced bananas dipped in hot fudge, ice cream, topped with crunchy Heath Bar and sprinkles along with caramel, chocolate and strawberry sauce.  A must try if you visit Andretti for sure.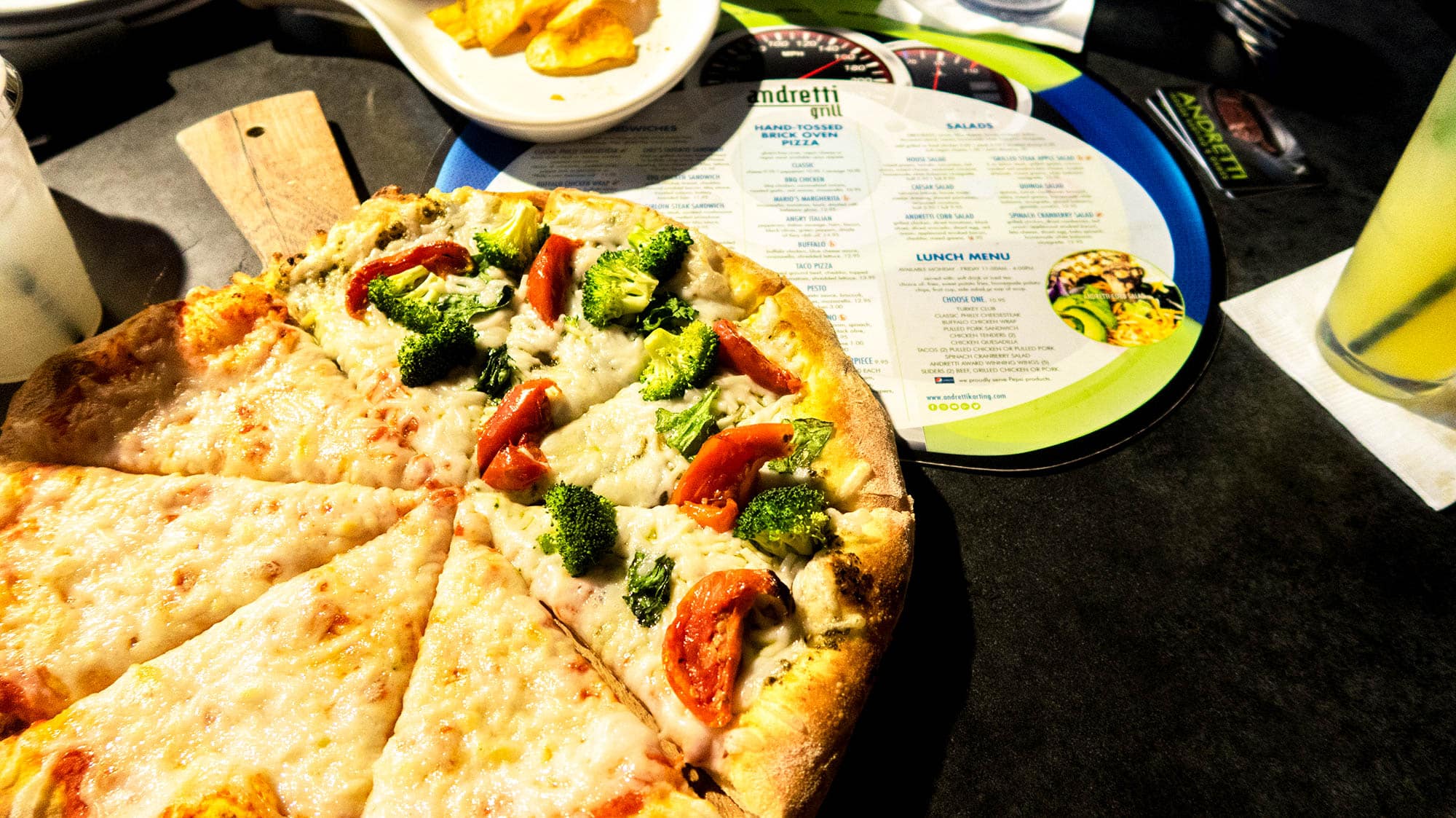 Once done with lunch we hopped into our first experience…  
4. Sky Rail Rope with Zip Line – Here we go….
Although it looks a bit intimidating from the ground, Kiana and I decided to try the 10-minute experience, Sky Rail Rope Course.  After strapping into our harnesses, we walked up the stairs and there we were…. 20 feet above the ground not knowing where to begin.  Of course, we went straight to the beginner's course. As we walked from one rope to another, each one featured a different challenge. The grand finale of our Sky Rail Rope adventure ended up with the zip line. Kiana had the perfect landing, but as for me, not so much.  The experience was fun and exciting and will definitely do it again. (A 10-minute ropes experience is $9.95/Member and $11.95/Non-Member)
5. Go Kart Racing!  – Adrenaline rush anyone?
The moment you enter this side of the building your adrenaline starts rushing, and your heartbeat increasing…. Yes, it is real, it is definitely happening!  You are ready to experience Andretti's main attraction. Go Kart Racing!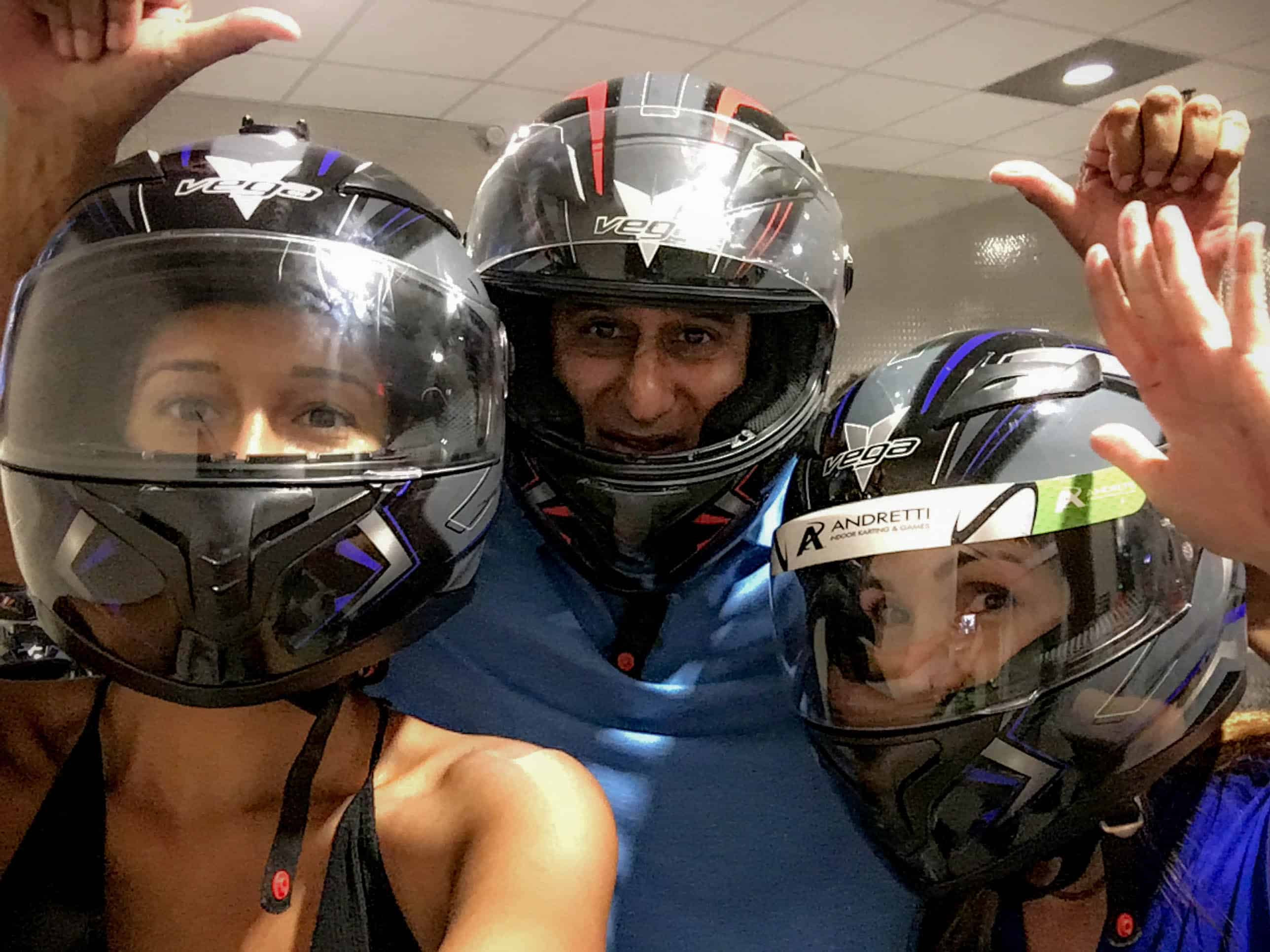 As our host provided us with a head sock and a helmet, we received a 10-minute briefing about safety and track rules.  At Andretti, safety comes first! Once we were done with the briefing, we walked into our go-karts, buckled our seat belts and there we went….  Driving up to 35 miles per hour in the world's longest two stories go kart indoor track. The competition was intense, fun and exciting and the race lasted approximately 7 minutes.   The overall experience was amazing and the multi-level loops where challenging. (Price varies per track. For a complete list of prices click here).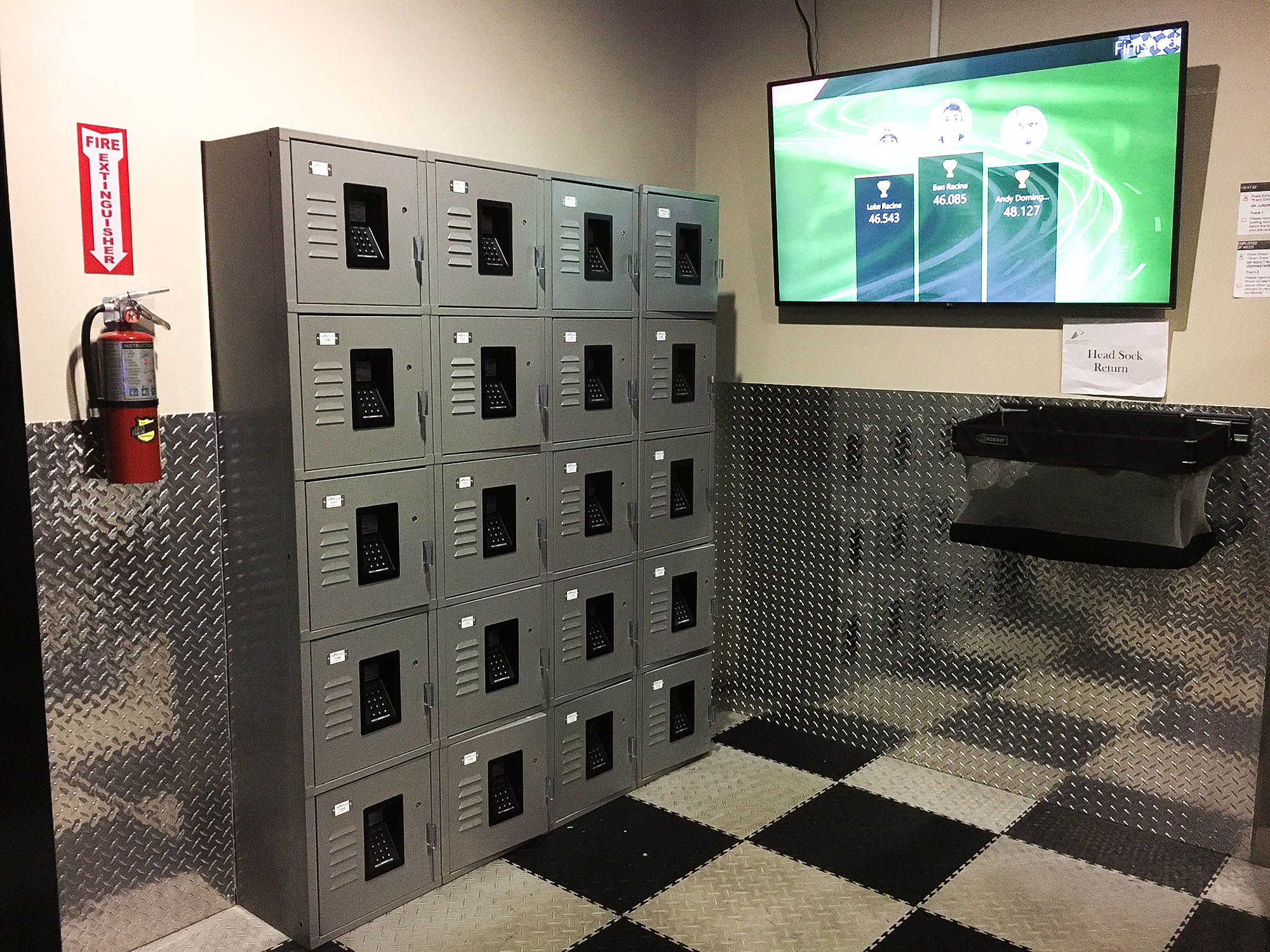 Tip: There are lockers free of charge for your personal belongings on this side of the building.  I would suggest to leave your valuables in the lockers while enjoying all the games and retrieve them at the end of the day.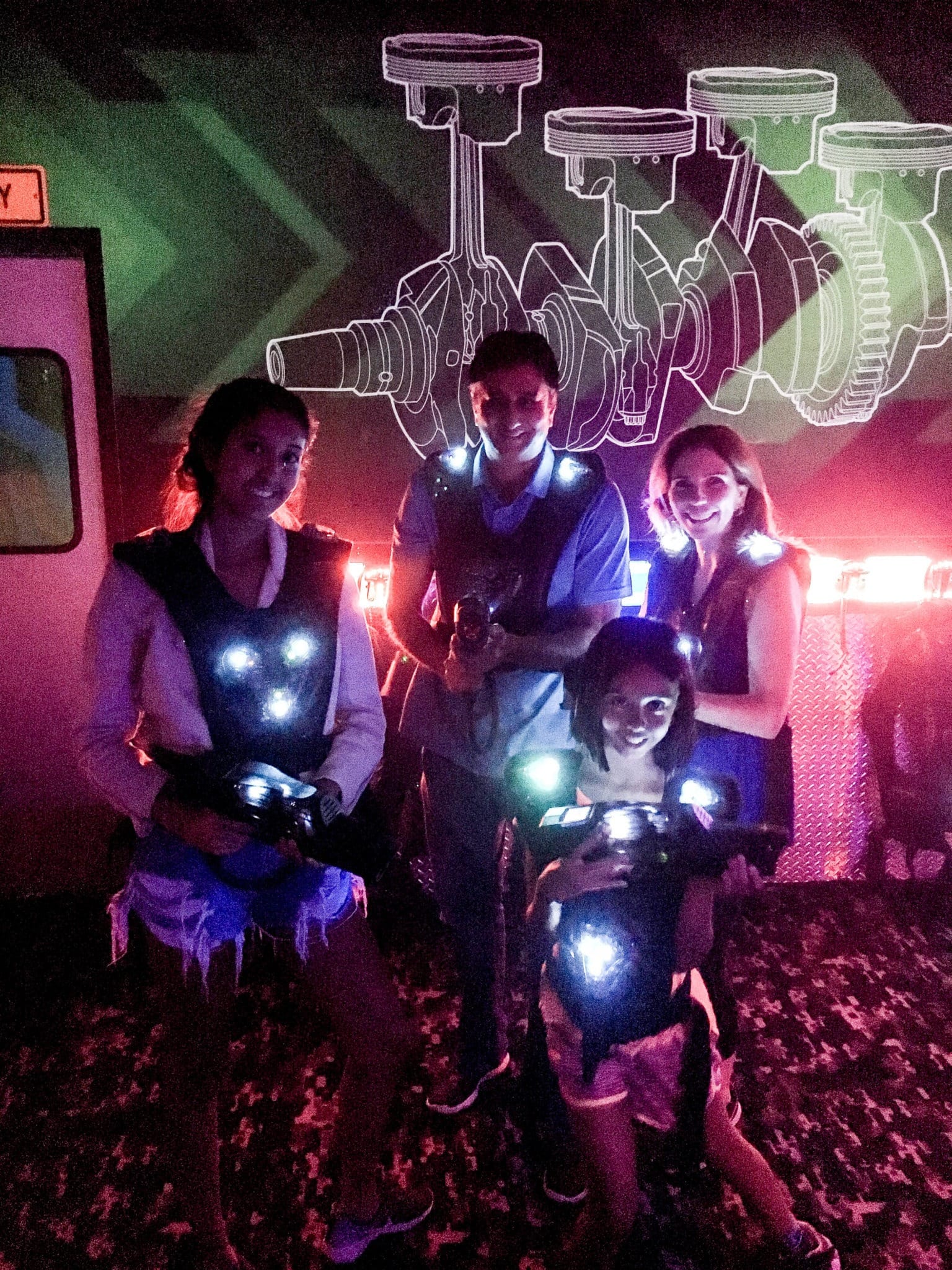 6. Laser Tag – Let the battle begin!
As we geared up with our laser tag equipment, we entered the two-story laser tag arena.  The battle began immediately and our competitive drive took over. We screamed we laugh, we tag our opponents, and we had a blast. The experience lasted approximately 15 minutes and we ended up exhausted.  This is a great experience for the entire family and a must-do activity when visiting Andretti. (One session is $10.95/Member and $12.95 /Non-Member)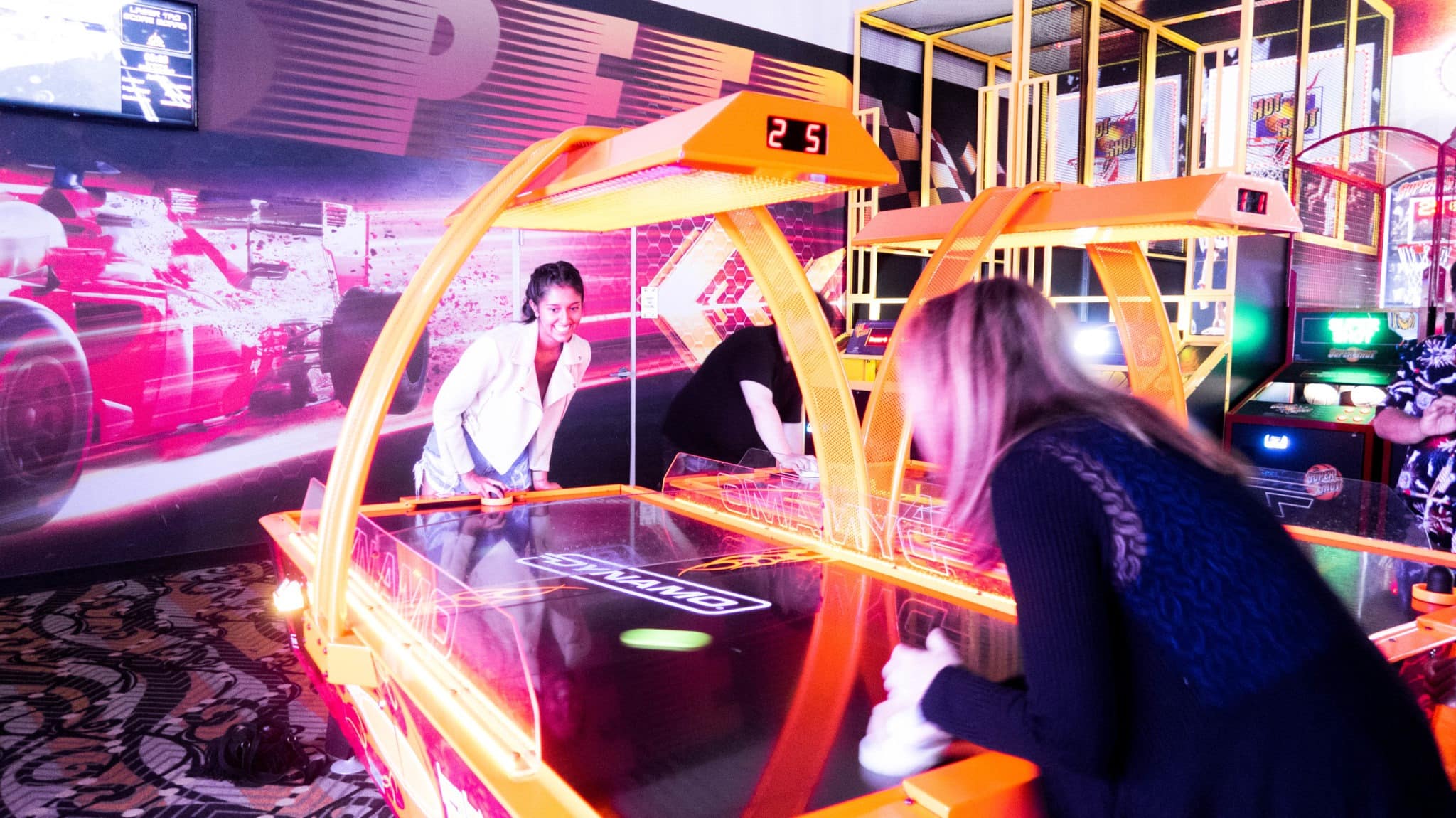 7. Arcade
After the laser tag experience, the arcade games welcomed our adrenaline rushes.  While Kiana shoots the hoops at the basketball challenge, Karina played with Mario Carts, Candy Crush and Doodle Jump.  We also enjoyed playing air hockey, Galaga, Ms. Pac-Man and Skee-Ball. At Andretti in Orlando, there are a handful of games to choose and play while earning a great variety of cool prizes.  This place is a magnificent arcade paradise all under one roof! (All your tickets/points are electronically stored on your Game Card / Andretti VIP Members receive 15% off all arcade play on video games)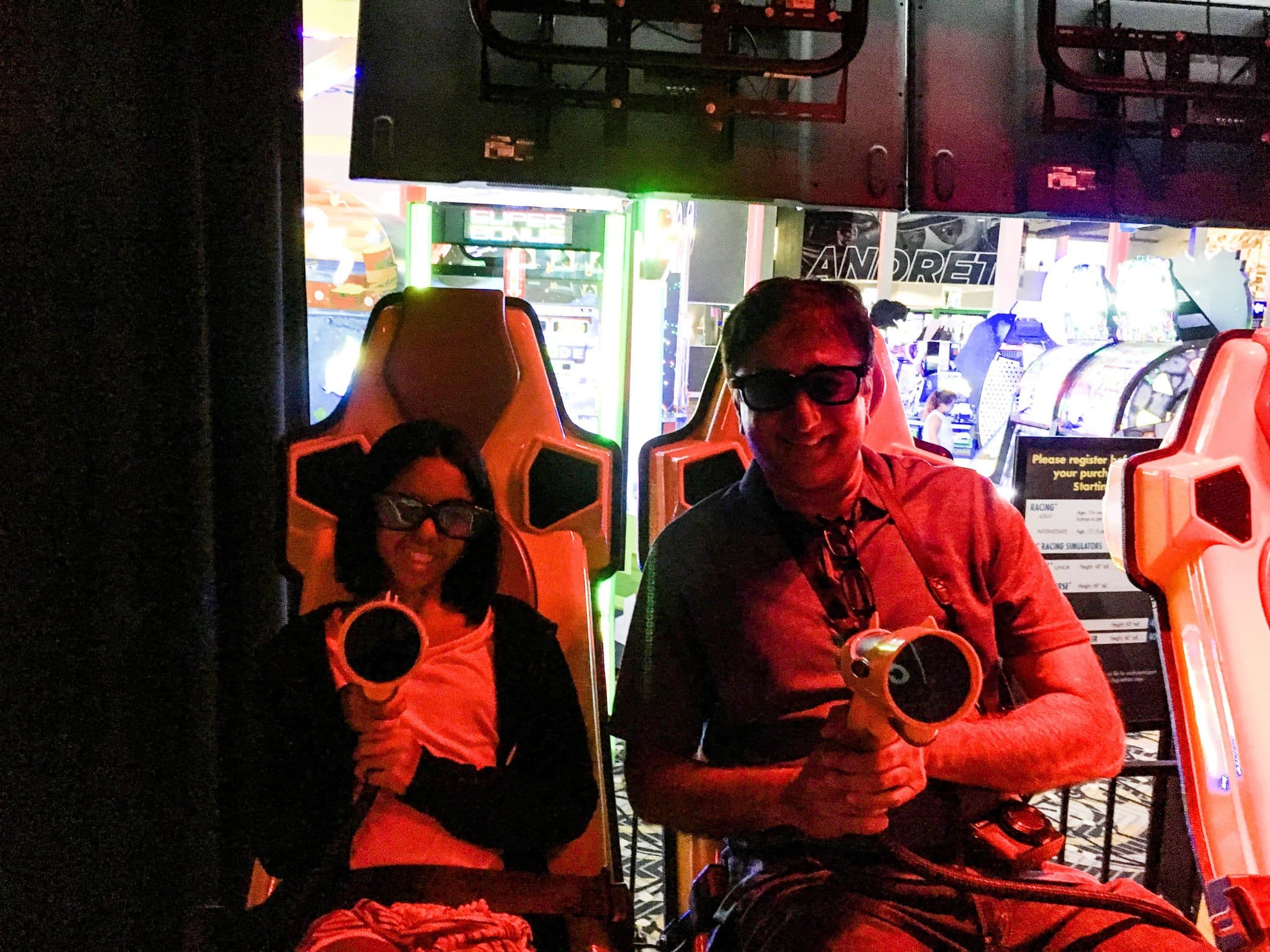 8. XD Dark Ride
Our next stop was the XD Dark Ride experience: a 7-D interactive movie experience with incredible special effects. While Kiana and I battled with the zombies in the Zombie Apocalypse, Sunil and Karina defeated the cowboys trying to take over the Old West.  All while using laser blasters competing against each other. The sound and the motions were exhilarating and we had a blast through the entire game. (A 5 minute Dark Ride experience is $9.95 for a MEMBER and $11.95 for a NON-MEMBER. )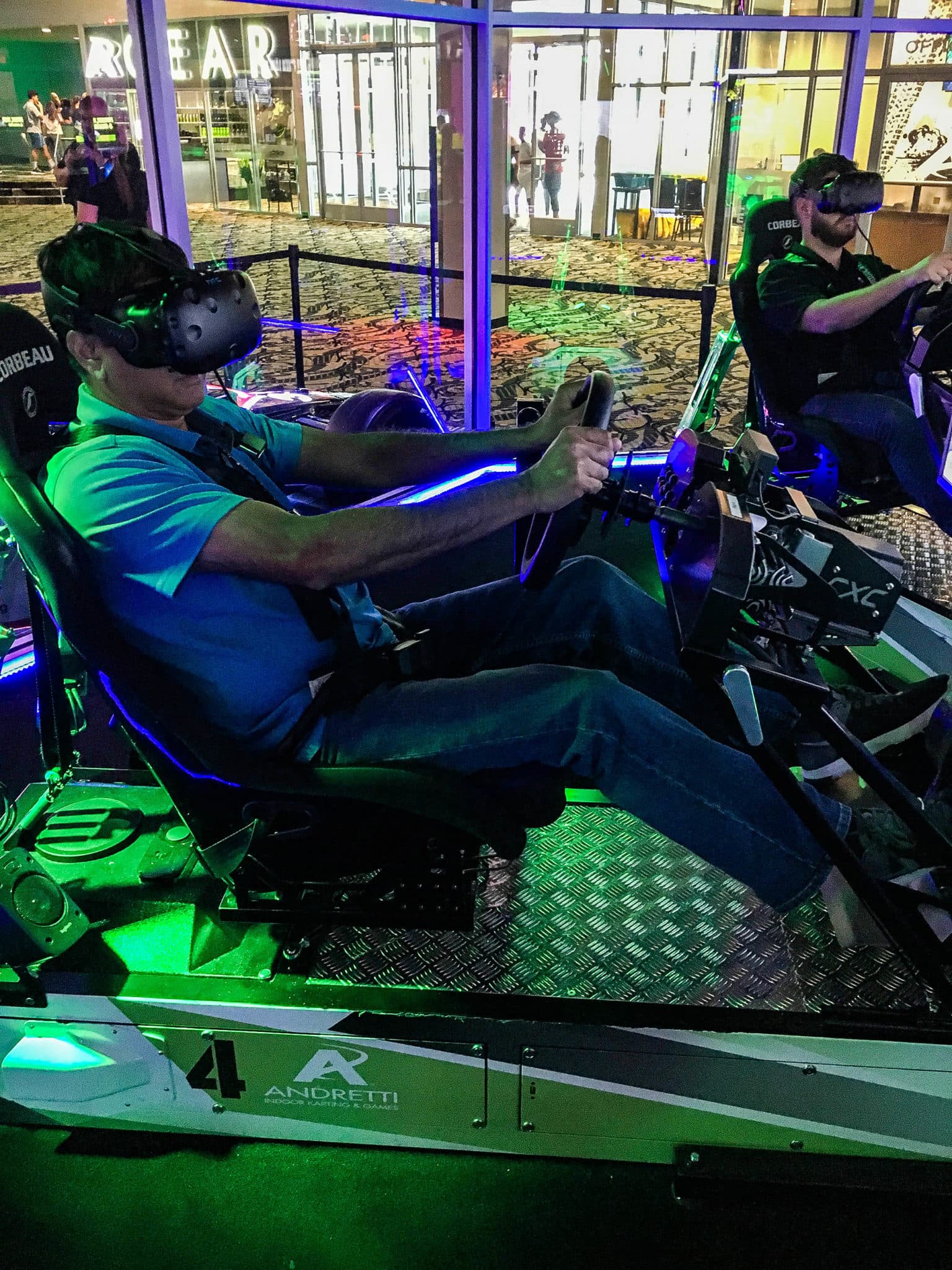 9. Andretti's Pro Racing Simulators
Located on the left side of the building is the Pro racing simulators.  Thanks to the power of virtual reality along with Andretti's racing simulators, you can experience the rush and the adrenaline of a professional race car driver without riding in real life. The screen, the steering wheel, the virtual environment with cars and tracks made the experience feel authentic.  For our little one who skipped the go-kart racing was a great experience had an amazing time. (A single 6-minute simulator experience is $10.95/ MEMBER and $12.95/ NON-MEMBER.)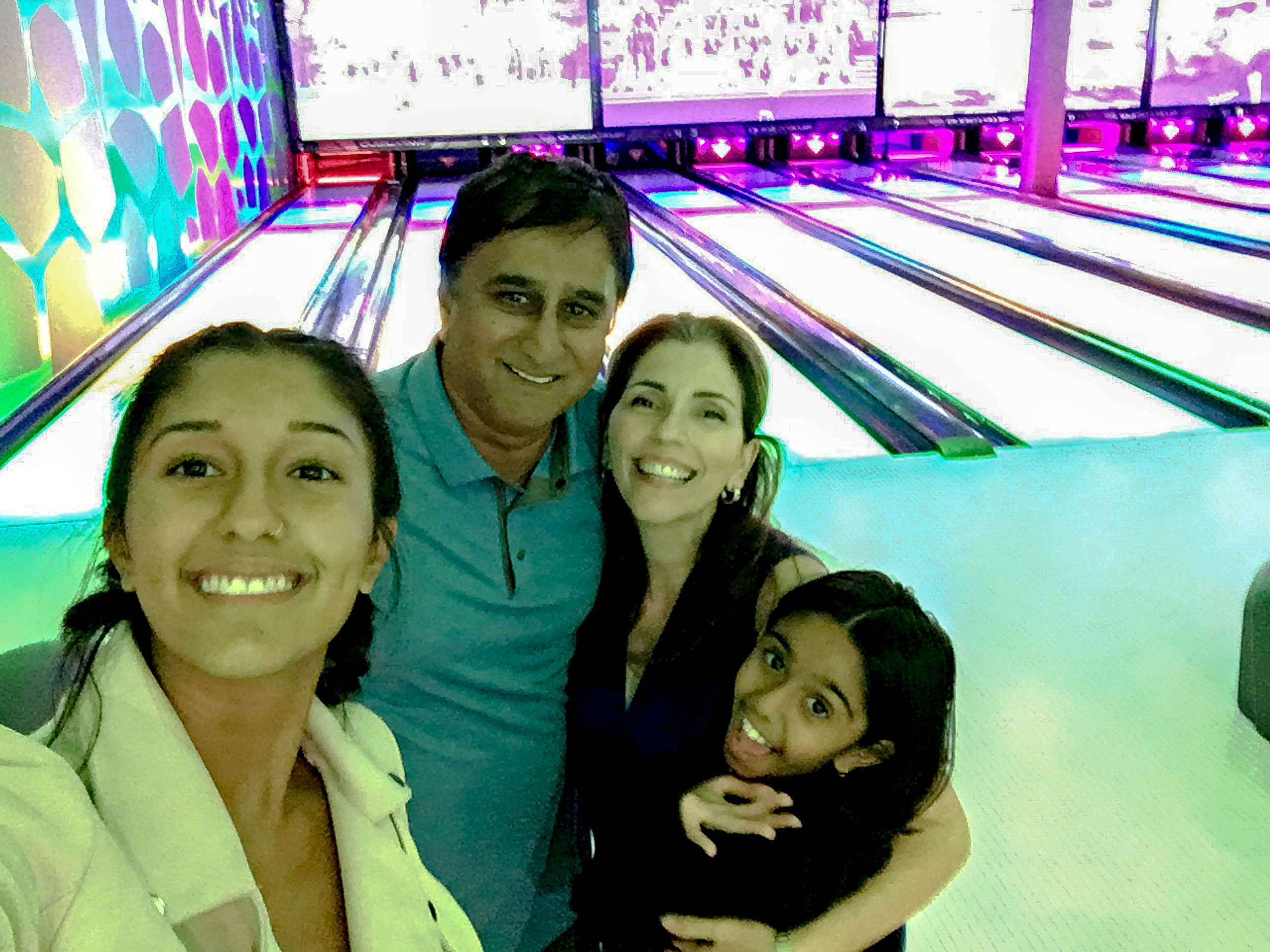 10. Bowling
Next, we headed to the beautiful bowling alley.  Once we geared up with our shoes and socks, we were ready for our bowling experience, but first, we ordered a couple of drinks and appetizers from Andretti's Grill.  The game was fun, challenging and entertaining and we had an amazing time. This bowling alley is gorgeous! It features 12 glowing with black lights lanes, four huge projection screens, comfortable leather sofas, and lit tables.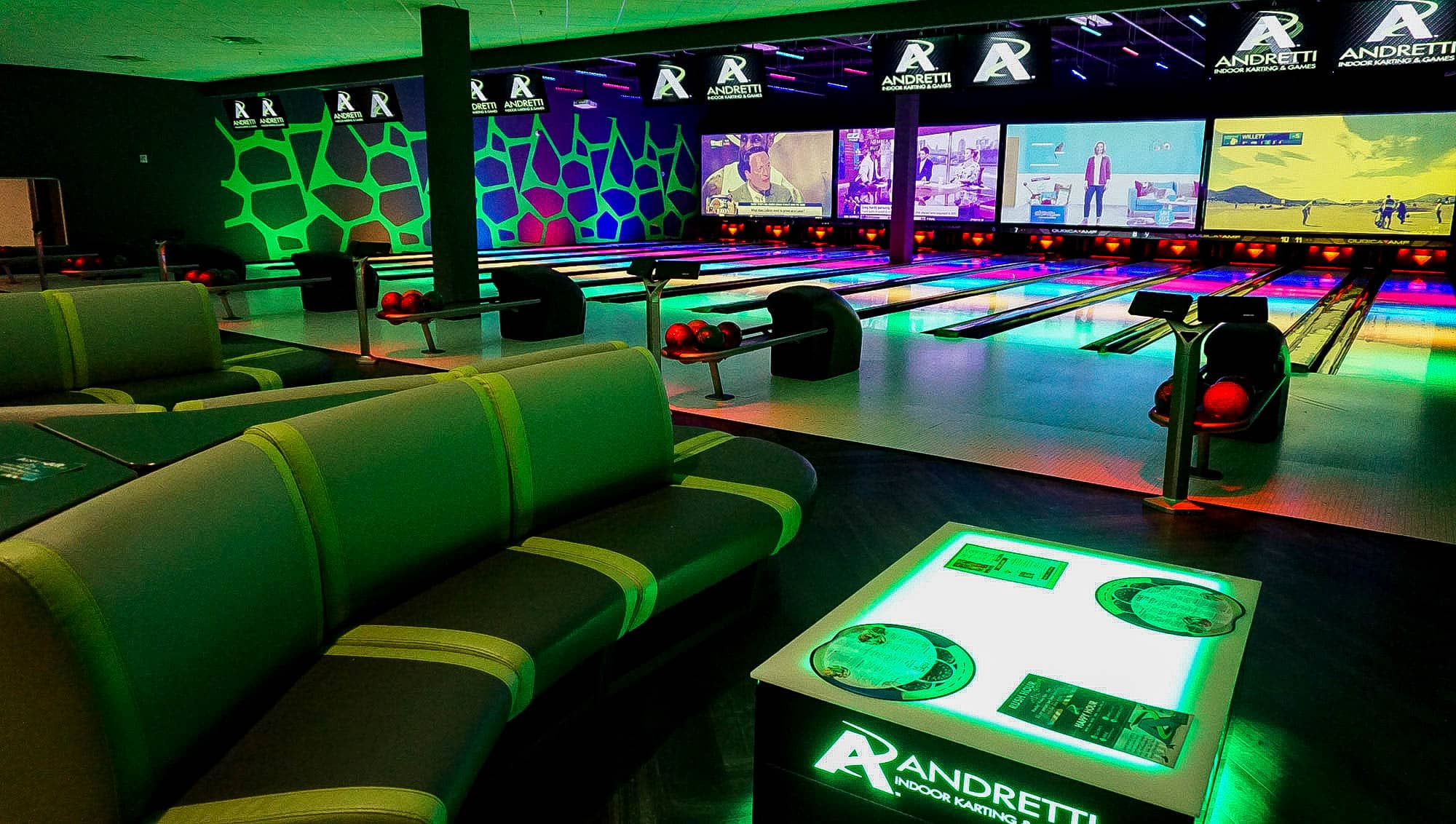 Tip:  No socks, no worries.  You have the option of purchasing brand new ones right there at Andretti!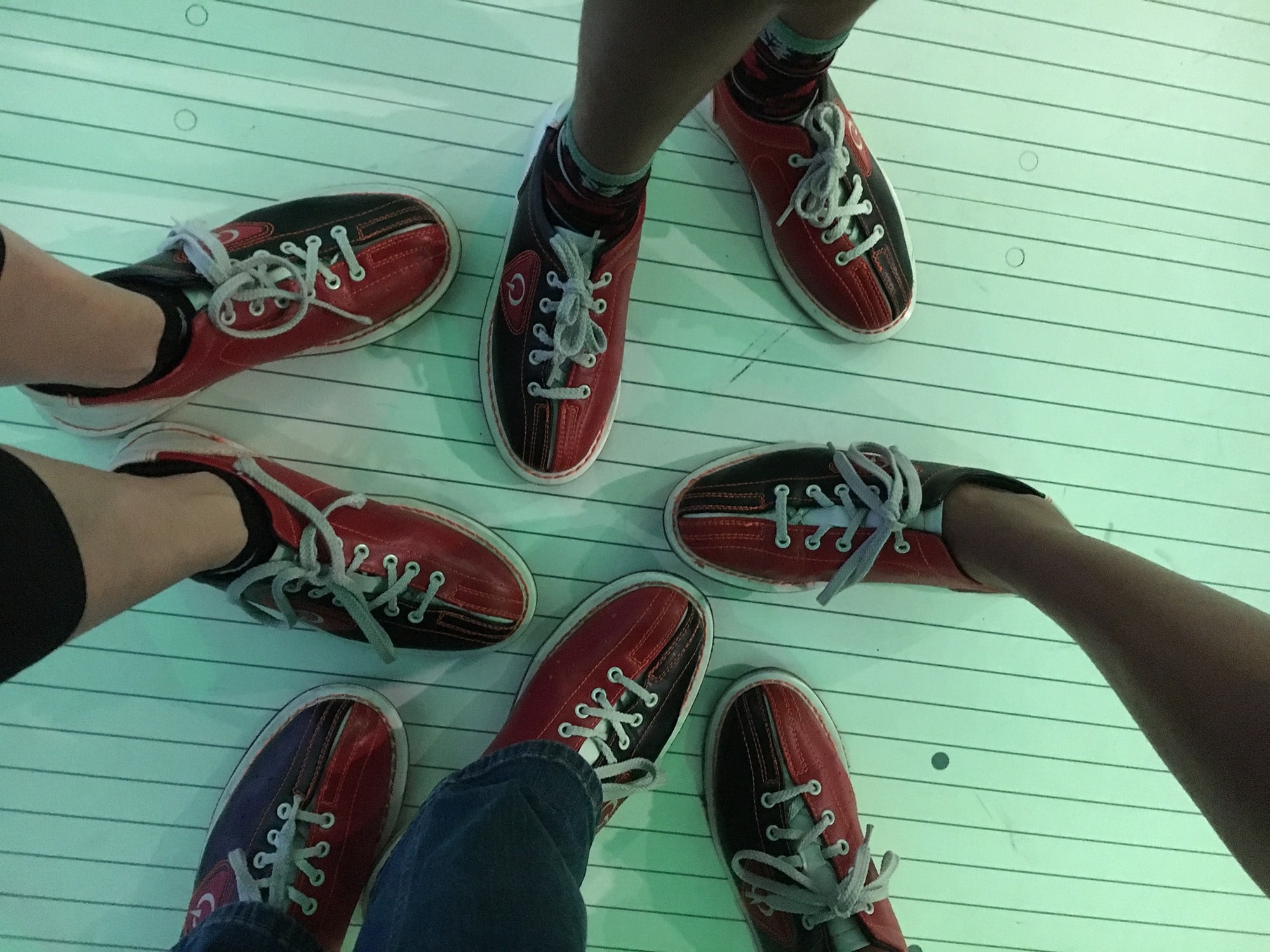 Tip 2: Bowling Special during Rush Hour Bowling! – Just $5/per person/per hour bowling & FREE Shoe Rental!  Monday – Friday from 4:00pm – 7:00pm.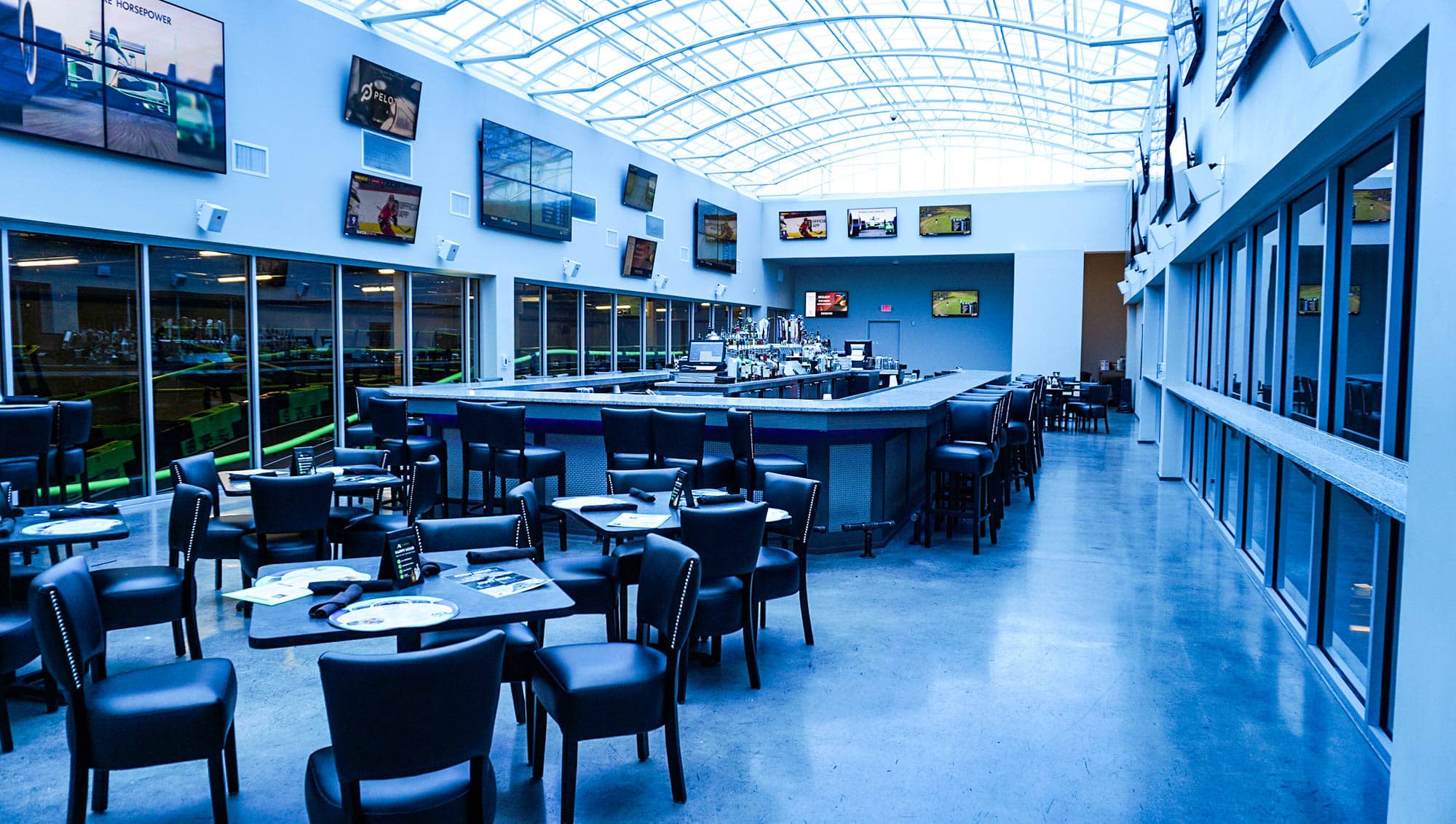 11. SkyBar
To wrap up our Andretti experience, we calmed our adrenaline rushes by enjoying a cocktail at the SkyBar. We have guided up the beautifully lit staircase into a gorgeous, window-filled room to drinks that represented racing terms, for example, the green, yellow, and red stoplights. As we winded down, we watched racers zoom by on the speed track on one side of the SkyBar and finished by watching the rest of the arcade goers from the other side. We were in love with the view and enjoyed it with a variety of beverages in hand.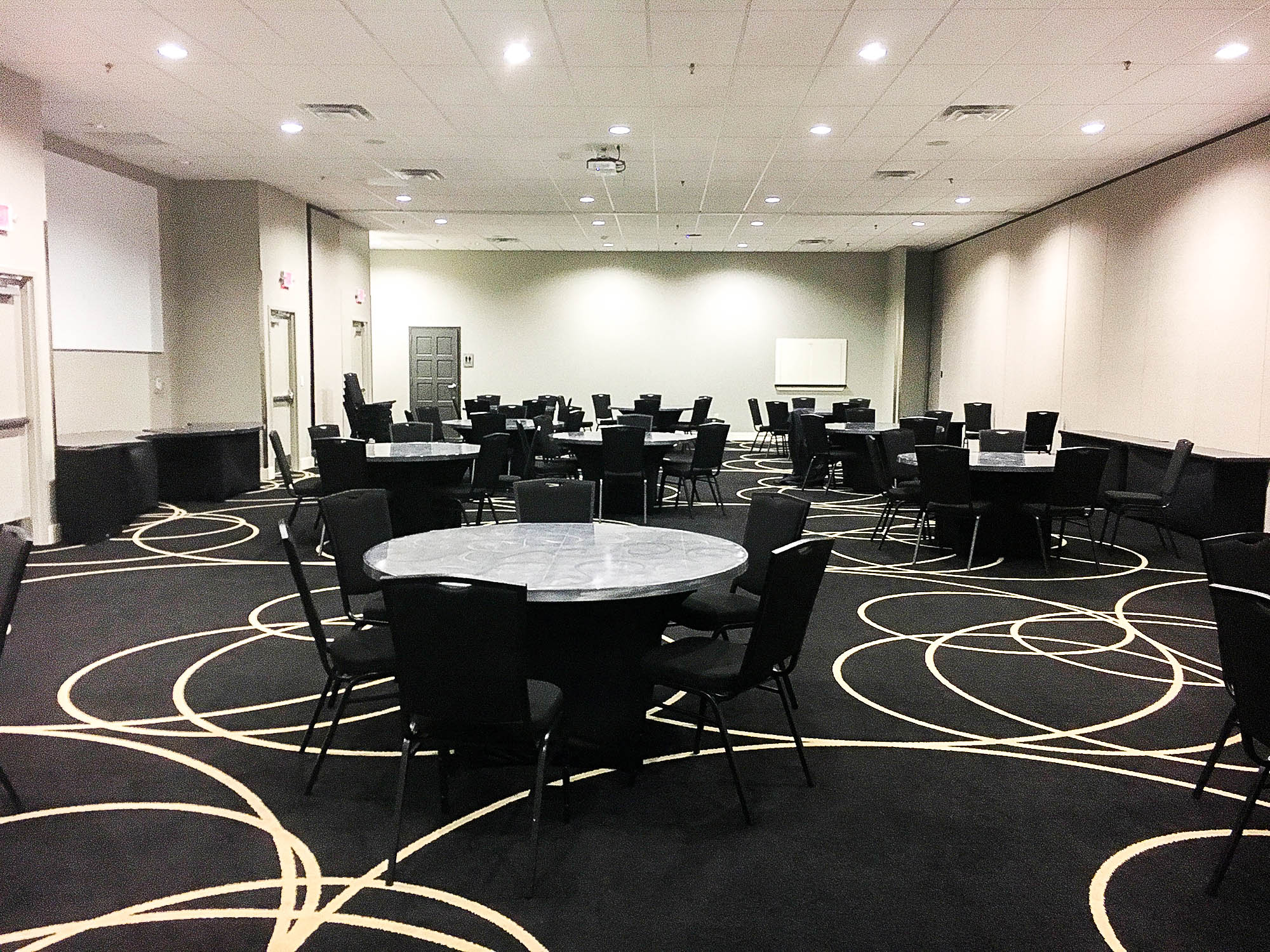 12. Meeting Rooms
Andretti offers over 10,000 square feet of private event and dining space along with AV equipment and free WiFi.  VIP rooms and banquet rooms are also available for smaller events. Their award-winning chef and in-house gourmet catering services are also available to make the night both delicious and delightful. So whether it's your special holiday party, rehearsal dinner, quinceañera,  bar/bat mitzvah or alumni reunion, Andretti offers the perfect setting for your special event.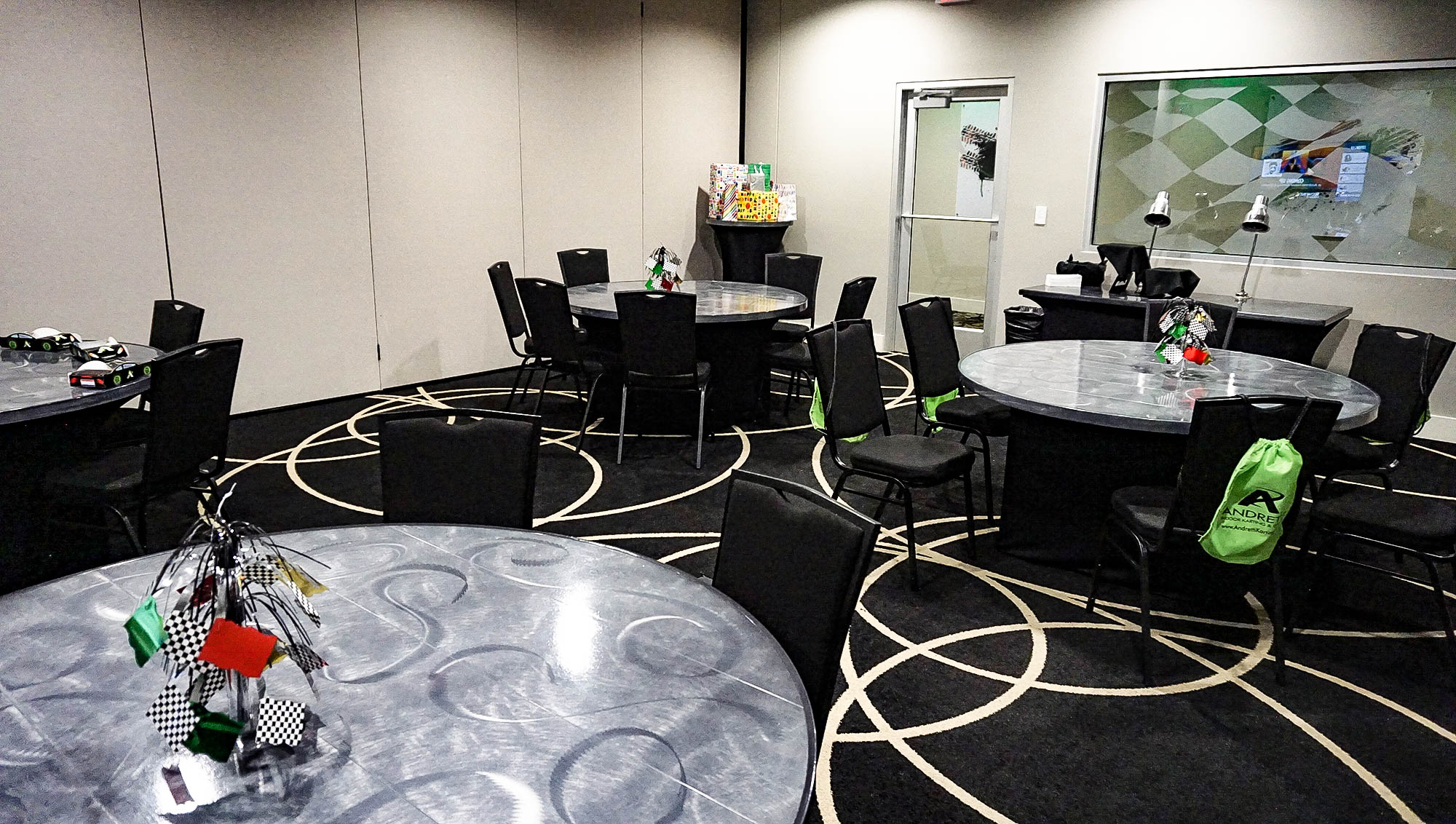 As our day came to an end, it was time to leave this amazing fun paradise.   Thanks to Matt, Scott, our waiters, Elisa and Ty and the rest of the team for your amazing hospitality.  We look forward to coming back again. 
Andretti Indoor Karting & Games
Address: 9299 Universal Boulevard, Orlando, FL 32819
Telephone: 407.641.0415
Follow Andretti here – Facebook | Twitter | Instagram | YouTube | 360 Tours on Google Maps