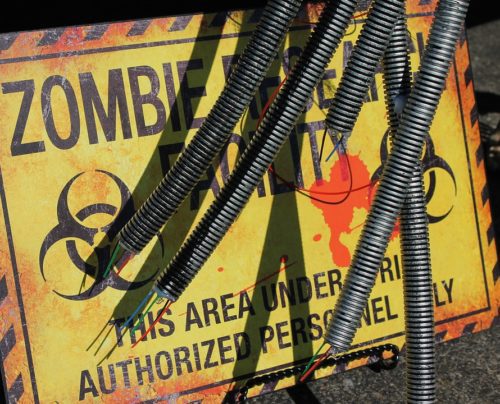 Tasty pumpkin lattes are back on the coffee shop menu and horror films have returned to the cinema. This can only mean one thing! Fall is here and Halloween is close behind. Orlando is a great city to enjoy this spooky and fun holiday. If you want to be creepily entertained, here are the top 10 ghostly and eerie events to visit in Orlando to have a scream.
Universal Orlando Halloween Horror Nights
When: selected nights from September 14 to November 3.
Each year Universal Orlando converts its parks, at dusk, to celebrate the dark side and this year is no different. The transformation includes 14 experiences, which are not for the faint-hearted or those under 13 years old.  The experiences and rides available include:
There is a haunted house dedicated to the awesome TV show Stranger Things and another based on the cult film classic Halloween. See if you can hold your nerve against a Demogorgon and Michael Myers.
If you are afraid of clowns to avoid the circus experience 'Killer Klowns From Outer Space.' It involves lots of tricks but no treats.
For the ultimate Halloween, experience don't miss the Academy of Villians: Cyberpunk show. You'll be blown away by the dancing and acrobatics performed by your favorite cinematic and mythical villains.
Check out available nights and tickets prices here.
Zombie Outbreak
When: Everyday (Mon-Thurs 2pm – 8pm, Friday 4pm – 10pm, Saturday 12pm – 10pm and Sunday 12pm – 6pm.)
If you are visiting Orlando as a group tests your survival skills at the zombie apocalypse, as a team. This live interactive gaming experience is an intense and thrilling game. It is located on International Drive and is open all year round after all a zombie outbreak could occur at any time!
Halloween Spectacular at SeaWorld Orlando
When: September 28 – October 28.
If your children love Halloween, SeaWorld is the place to visit. But be quick because the Halloween Spectacular ends on October 28th. The festivities include not so scary Halloween themed live shows at Pets Ahoy, Trick or Treat goody bags full of candy and a Halloween Dance Party. The whole family can have a fun day at the park in their best Halloween inspired costumes. For more details on activities and ticket prices, click here.
Visit the Cinema
There are many multiplex cinemas around Orlando and within the popular theme parks. For a classic Halloween experience find a screening of the Rocky Horror Show, it is shown every year. But if you want a chid friendly movie then you will easily find a showing of the new Goosebumps movie, Haunted Halloween.
Mickey's Not-So-Scary Halloween Party at Walt Disney World
When: August 17 – October 31.
Disney is going all out to celebrate Halloween with lots of fun activities for all ages dotted around the parks. Here are just some of the unmissable activities and shows:
Hocus Pocus Villain Spelltacular – This wickedly entertaining show for the whole family is hosted by the Sanderson Sisters witches from the Hocus Pocus film.
Happy Hallowishes Fireworks Show – Disney's most loved and most hated villains will feature in this colourful evening show. Start practicing your favourite villainess songs, so that you can sing-along with Cruella De Vil, Ursula and Maleficent.
The Mad Tea Party, Pirates of the Caribbean and Space Mountain rides have all been given a Halloween inspired twist, so be sure to visit them before Halloween officially finishes at Disney on October 31st.