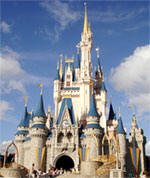 Orlando, the high-five holiday paradise of the world is home to Walt Disney World, the world's highest-ranking theme park. It is also the dream world of many people, who wish to visit the place at least once in their lifetime and the trip to Disney World is never complete without visiting Magic Kingdom, the Queen of Disney's Theme Parks that attracts millions of people each year to come on an Orlando vacation!
Magic Kingdom
Magic Kingdom is divided into seven distinctly themed "lands," and the eateries, shops, and rides all reflect the same theme within those lands.
   Main Street USA
The theme of Main Street USA harkens back to the turn of the 20th century, although there will be plenty of cast members with modern digital cameras on hand to take your picture in front of the Cinderella Castle (you can even get a card to add more photos as you make your way through the park). The largest gift shop in the Magic Kingdom—The Emporium—can be found here, as well as the very popular The Crystal Palace restaurant, featuring a generous selection of salads, pastas, meat dishes, kid cuisine and desserts.
Fantasyland depicts some of the super hit movie classics produced by Walt Disney Pictures. This part of the Fantasyland gives a fairy tale feel to its visitors and magically reduces their age, and making them as young as a five year old. Some of the most famous attractions of Fantasyland include Dumbo the Flying Elephant, Disney Character Breakfast, Story Book Circus and Under the Sea: Journey of the Little Mermaid.
Walt Disney was a futurist at heart, and Tomorrowland best reflects this vision. The Carousel of Progress is an updated version of an exhibit created by Walt Disney for the 1964-1965 New York World's Fair about technological advancements. The most popular rides here are Space Mountain and Buzz Lightyear's Space Ranger Spin, which is kind of like a moving arcade game. For those who don't like their rides to move around so much, enjoy the leisurely Tomorrowland Transportation Authority (TTA), which goes through Space Mountain.
It always feels like July 4, 1776 in Liberty Square. Cast members in this area of Magic Kingdom are dressed in Revolutionary War era period costumes, and the Liberty Tree Tavern recreates the atmosphere of a colonial New England inn. The Hall of Presidents is one of Magic Kingdom's original attractions, and since 1993 every sitting president has made an original recording for his own animatronic likeness. Tucked away in the back of Liberty Square is The Haunted Mansion, another 1971 original, which was refurbished in 2007.
Woody and Jessie from the Toy Story movies have found a home in Magic Kingdom's Frontierland, which also has a number of classic Walt Disney World attractions. The Country Bear Jamboree musical revue is a Magic Kingdom original from 1971. Once your child reaches the 40 inch height minimum, a ride on Big Thunder Mountain Railroad or Splash Mountain would be a great introduction to the world of theme park roller coasters.
Pirates, jungle river cruises, flying carpets—it's all here in Adventureland. Energetic kids can climb the Swiss Family Robinson tree house, and older adults will appreciate the leisurely Jungle Cruise. The Pirates of the Caribbean is one of those Walt Disney World attractions that one has to ride at least once, or for frequent visitors, at least once every time you visit the Magic Kingdom. Just remember, "Dead men tell no tales…"
Many of the landmarks and rides associated with Walt Disney World are here at Magic Kingdom, and Disney has done an exceptional job of preserving the most iconic parts of the parks past while always maintaining an eye towards the future. One of the main reasons why people keep coming back to Magic Kingdom time and time again is that they never know what they'll find, but they can be assured that it will be top-notch Disney quality.
Get a Magic Kingdom Map


Carry a map of Magic Kingdom so that you can plan where to go, what to see and do. You can download the PDF map or print out a Disney Day Planner. You can also get a guide map and the time map at the entrance so that you'll know even the times of shows and parades.
Buy Discount Disney Tickets in advance
Various discount tickets to visit Disney World and Magic Kingdom are available online. Book your tickets in advance and avail special discounts, plus, you can also avoid long queues at the ticket counter. If you are planning to visit Disney year after year, then pick up the 'No Expiration' option and save some bucks.

Save Time Have More Fun


While parades are a great opportunity to watch the Disney characters come to life, it is also the time when the most famous and crowded rides will be less crowed. So if you have no worries missing the parade, take advantage of the time and enjoy some of the major rides. However, plan accordingly as you will not be able to move to the other side until the parade is over.

Book Character Meals in Advance


If you are planning to have a character meal, its better to book in advance, even six months earlier to enjoy a great treat.  By calling 407-WDW-DINE, visitors can make reservations to any of the Magic Kingdom restaurants to enjoy a Disney Character Dining such as the Crystal Palace (Winnie the Pooh and Friends) and Cinderella's Royal Table (Cinderella). And while character dining isn't exactly cheap, the abundant buffets and the fact that the characters keep young children mesmerized and in their seats is worth every penny.

Easy Travel to Magic Kingdom


When going to Magic Kingdom, stop at the entrance by Epcot and take the monorail instead. It will save a lot of time while entering and leaving Magic Kingdom.

Stay in hotels near the Walt Disney World Resort


Choosing to stay at the resorts or condos near Magic Kingdom is very useful and take advantage of it. It saves a lot of time if you are planning to visit Magic kingdom even the next day. Moreover, you can return to your stay to chillout or take a nap in between visiting attractions. Vacationers can avoid rental car fees and get free shuttle service to Walt Disney World by staying at one of the resorts on Disney property or a Walt Disney World Good Neighbor hotel.

Ride the Ferry to Magic Kingdom


If you want to skip the monorail, then take a ferry ride that makes a lot of difference. Though it takes a little longer, it's worth the travel and you can take some great photos.

Check Out Fantasyland First


Fantasyland is the most popular and crowded at peak times. So plan to visit it first thing in the morning and visit the rest of the attractions later.

Take Breaks


Walking through the parks of Magic Kingdom, may a tiring experience and remember that you cannot cover all the attractions and rides in one go. So take small breaks, grab a snack and relax. These breaks will energize you instantly and let you do more than what you can actually do.

Take advantage of the Disney's Fast Pass


The Disney Fast Pass makes it possible for visitors to avoid the lengthy lines—at no additional fee—for some of the Magic Kingdom's more popular rides.

Pack Extra Batteries


Magic Kingdom is more like a sweet dream and all of us would love to remember it. So taking pictures is a vital part of the tour. So make sure to pack extra batteries so that you may not have to regret it later or miss to capture those precious breathtaking moments in your camera.
Magic Kingdom Events and Parades
Every year, the Magic Kingdom hosts Disney events such as the Mickey's not so Scary Halloween and Mickey's Very Merry Christmas Party. These Disney events do require a separate admission ticket, but these after-hours events are loaded with extra goodies, parades and performances that "regular" visitors just don't see.
One thing that every Magic Kingdom visitor should see is the regularly scheduled parade down Main Street USA. Disney frequently updates the performances, but everyone will have a chance to get a glimpse of the master of ceremonies himself, Mickey Mouse, and there are sure to be plenty Disney princesses involved. Many little girls even arrive dressed up as their favorite Disney princess during a trip to the Magic Kingdom.
Experience the Magic Kingdom, where dreams really do come true!