The all-inclusive day resort, Discovery Cove®, where guests enjoy a one-of-a-kind opportunity to swim with dolphins, has also welcomed 8 wonderful Caribbean flamingos, to add a touch of pink to the park.
The elegant birds arrived from nearby SeaWorld Orlando, in late June, and have now become accustomed to their spectacular new environment. Their new spacious home was designed by the professional experts on the Discovery Cove® staff and is great for the animals.
Discovery Cove® Flamingo Offer
As a thank you for visiting Discovery Cove® and welcoming the Caribbean flamingos, you can enjoy ONE free visit to SeaWorld Orlando, Aquatica Orlando, and Busch Gardens Tampa Bay.
To receive this great offer, you need to:
Book your visit to Discovery Cove®, not later than September 9th, 2019
Visit Discovery Cove® between today and October 31st, 2019
Park visit(s) to SeaWorld Orlando, Aquatica Orlando, and Busch Gardens Tampa Bay must occur within 14 days of your Discovery Cove visit.
(Other restrictions, fees, and taxes may apply.)
For more information, visit www.DiscoveryCove.com.
8 Fun Facts About Caribbean Flamingos
Get some flamingo knowledge before you visit Discovery Cove®, your kids will thi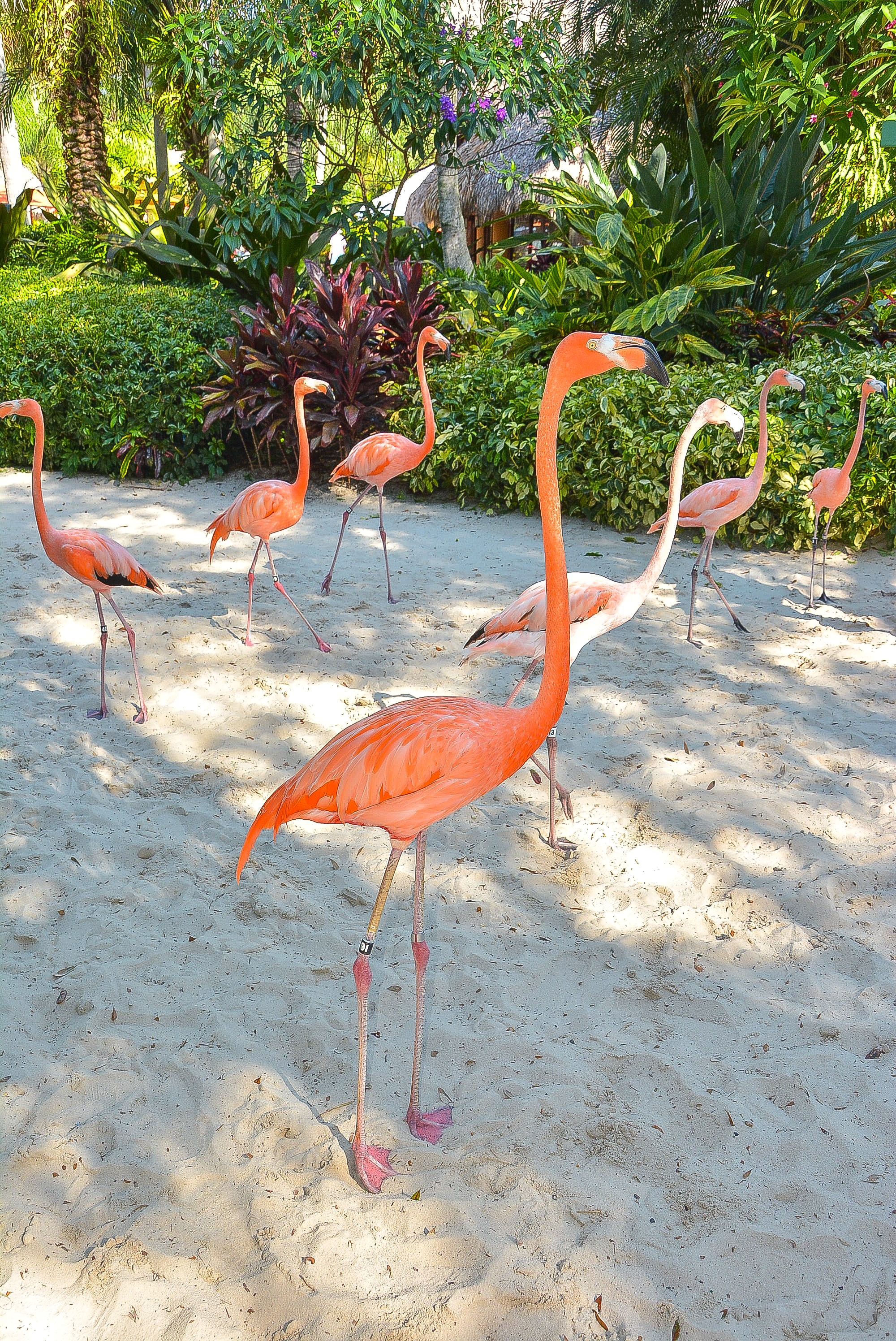 nk you're a genius.
Caribbean flamingos are the only flamingos to naturally inhabit North America
Adult Caribbean flamingos stand between 4 and 4 ½ feet tall, weigh between 5 and 6 pounds and can have a wingspan of nearly 5 feet
Their feathers can be deep pink, red or orange in color, making them the brightest colored of the flamingo species
But they aren't always pink. At birth and as young birds, they are grey in color.
They have long, pink legs with slightly darker pink knees and a large, pink, downward-curving bill that is black at its tip.
The word "flamingo" comes from the Spanish and Latin word "flamenco" which means fire and refers to the bright color of the birds' feathers.
Flamingos are monogamous birds that lay only a single egg each year.
A group of flamingos is called a stand, colony, regiment, or (our favorite) flamboyance.
How can you see the Flamingos at Discovery Cove®?
Every morning, the Caribbean flamingo's parade around the park's pathways and sandy beach. Feel free to walk around the park to see them and welcome them. They are pretty hard to miss as their pink feathers, elegant stance and walk can be seen from quite a few meters away.
You may hear them before you see them, as Caribbean Flamingos have a loud, deep honking call, which they often use during the morning stroll.