Mickey's Toontown Fair closed permanently in February of 2011 in order to
make way for the expansion of Magic Kingdom's Fantasyland
Located between Tomorrowland and Fantasyland in the Magic Kingdom theme park, Mickey's Toontown Fair is best known for being an area where toddlers can get out of their strollers and stretch their legs a little bit, with plenty of interactive play areas and opportunities for the kids to have their pictures taken with some of Disney's most beloved characters.
Mickey's Toontown Fair – Overview:
As the smallest of all of the themed "lands" in Walt Disney World's Magic Kingdom Mickey's Toontown Fair is in store for some really big changes—namely, it won't exist after the expansion of Fantasyland has been completed in 2013. In September of 2009, Disney announced that Magic Kingdom would be undergoing its biggest renovation since the park opened in 1971, with new rides, more princesses, and a few fairies.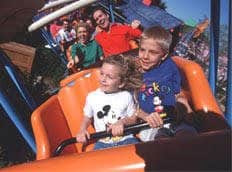 The Fantasyland refurbishment and expansion is slated to begin in late 2009 or early 2010 and is scheduled for completion by 2013, although certain areas might open as early as 2012. Most of Mickey's Toontown Fair will be razed to accommodate the new attractions, or re-themed to match the new Fantasyland expansion.
With the availability of Disney World vacation packages and discountDisney World tickets, fans of Walt Disney World can take advantage of some great deals that will enable them to experience Mickey's Toontown Fair one last time before this Magic Kingdom land vanishes like a bit of pixie dust. For the time being, however, here is what guests can expect when they take a stroll (or a stroller ride) through Mickey's Toontown Fair:

Dining: There are no restaurants in Mickey's Toontown Fair, other than the Toontown Farmers Market offering frozen lemonade and other snacks. Even though there is no character dining in Mickey's Toontown Fair, this area of Magic Kingdom is one of the best places for kids to meet and greet some of their favorite Disney characters.
Shopping: The three main shopping areas of Disney's Toontown Fair are Cornelius Coot's County Bounty, Mickey's Toontown Fair Souvenirs, and the Toontown Farmer's Market, which also serves snacks. The County Bounty is located under the Toontown Hall of Fame tent (which resembles a circus big top tent) where guests enter and line up for the Disney character meet and greet. Many of the items for sale here are currently tied into the Disney fairies, plus there are plenty of opportunities to stock up on Mickey gear.
Attractions: Guests won't find any attractions in Disney's Toontown Fair that require Disney's Fast Pass since the current attractions are primarily geared towards preschoolers. The longest lines will be found at the Toontown Hall of Fame and the Judge's Tent, where children can meet and greet the Mickey, Minnie, the Disney fairies and princesses.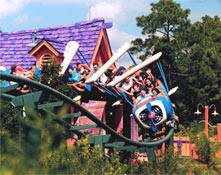 The biggest ride at Disney's Toontown Fair is the Barnstormer at Goofy's Wiseacre Farm. This crop-dusting, kid-friendly coaster is designed for adults and children to be able to ride together, and is perfect for those who are at least 35 inches tall. This ride will most likely be re-themed instead of torn down for the Fantasyland expansion.
There is no height requirement for two of the most popular attractions in Disney's Toontown Fair, Mickey's Country House, and the decidedly more feminine Minnie's Country House. Both of these attractions are multi-room play areas where children can walk through and touch the kid-friendly furniture and kitchen appliances, and there are even a few audio surprises for the kids who make their way through both houses. Donald's Boat is an outdoor water play area, perfect for those steamy summer afternoons in Orlando.
With a major renovation on the horizon, Mickey's Toontown Fair is set to take its place in Walt Disney World history, but there will always be plenty of opportunities to see Mickey and Minnie throughout the Magic Kingdom, because part of what Disney does best is combining the best of the old and the new at all of its theme parks.
The Lands of Magic Kingdom: