If you have young scientists in your family, you'll want to take them to Wonder Works in Orlando Florida. Here they can explore and examine a variety of wonder zones including the following fun and exciting events and explorations.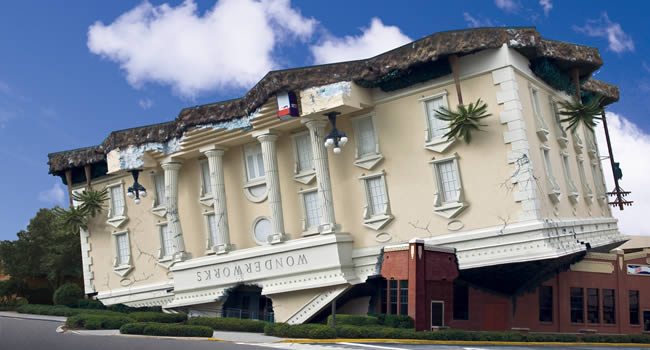 Here children over 36 inches tall can experience what a real earthquake feels like. The simulated earthquake will be 5.3 on the Richter scale and give kids the true feeling of how the earth feels when it's shaking and rattling and rolling. They'll also visit the hurricane shack and more. Your kids will come out with a newfound knowledge of what a real natural disaster is like and having experienced it firsthand they'll be even more prepared if they ever have to face the real thing in real life.
Physical Challenge Zone
Kids will love finding out how it works to lie on a bed of nails by dispersing the weight so that the nails don't penetrate the body. Or, how they can create their own 3D image of their body on this wall of pins. It's fun to make funny adjustments and see what life would be like with 4 legs or 20 fingers or toes. Meanwhile, in the bubble lab, you can create bubbles as small as a pinhole or as large as a basketball. Virtual sports, mind power and biofeedback round out the physical experiences here. Have bubble contests and see whose bubble really is the biggest.
Light And Sound Zones
Your kids will love learning how things move at the speed of light and how the shadow can go from one shadow to many. Watch the screen as your movement is changed into sound and the body appears to be the sound. Your kids will have so much fun they'll lose track of time and so will you. But remember, there's more fun just around the corner so set a time limit for each station so that you can explore and experience all of them.
Space Discovery
Your kids will love this one as they examine a space suit up close and personal and land a shuttle and go on their very own mission to Mars. They'll learn all about a mercury capsule as they climb aboard the one man spaceship and explore life in a space capsule. Your kids will especially love the astronaut training where they can climb aboard a gyro and learn how it feels to be weightless.
Imagination Lab
Truly the entire experience is going to feel like an imagination lab, but wait, there's more and your kids are going to love it. Everyone will love the alien stomper and the life-sized lite brite. Your kids can also do some digital painting and coloring if they wish. This is ideal for your younger kids.
Far Out Gallery
Your kids will be fascinated with optical illusions and you won't be disappointing them here. As you make your way to the basement you'll find a variety of optical illusions that will transfix youngsters young and old alike to the patterns and illusions.
Glow In The Dark Ropes Course
Your kids will enjoy the 3 story, glow in the dark ropes course. Here they can climb up to 36 feet and scale walls, lily pads and more. Suspension bridges and swinging beams will round out the experience. Appropriate dress is required. No dresses or skirts and closed toed footwear is a must-have for this portion of the experience.
Laser Tag
As your kids enter this blacklight maze they'll strap on special vests and begin laser tag. Glowing in the dark just makes it more fun and you're sure to enjoy watching or participating as they go through the course.
4D XD Simulator Ride
Strap yourselves into these comfy seats and prepare for the ride of your life. This is a 4D theater with only 12 seats per ride. You'll strap yourself in and then embark on a journey of imagination that transcends time and space. You'll be transported into this adventure feeling subtle movements as well as rollercoaster like effects as you become one with the movie. There are 3 different movies that can be shown on this screen and you'll literally feel as if you're a part of the movie.
To cap off your adventure, you'll enjoy an out of control magic comedy dinner theater show. Here they'll enjoy a healthy dinner and be able to watch a magic show that they'll remember forever.
The best part of the dinner and magic show is that the audience becomes one with the act. Audience participation is interwoven into this experience as guests are served hand tossed pizza with cheese and pepperoni, salad, beer, wine or soda, and a dessert. This is a hilariously fun time and everyone will come out laughing at how much fun it was that they had. Visit their website for more information.