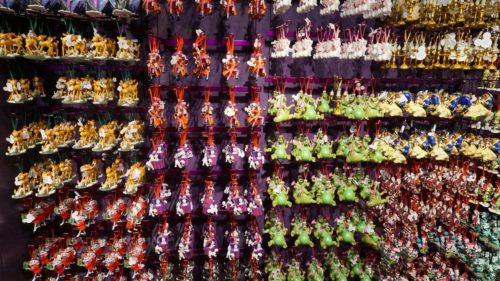 Most people come to Orlando for the theme parks, but if you're one of them and you don't stop to shop, you'll be missing out. Orlando is a shopper's paradise with malls and shops at every turn. You won't have time to visit them all, but if shopping is on your mind during your visit, you'd better add these prime shopping sites to your list for must-see places in Orlando.
Discount shopping of top designer brands is yours at this outlet shopping destination. Despite the great bargains on the best merchandise, you'll find it's a bit less crowded than some of the other discount options in Orlando. With plenty of outdoor strolling to get a dose of glorious Floridian sunshine, it's a good stop to make for your Orlando shopping adventure.
If you can brave the theme park crowds, then braving the crowds here won't faze you one bit. Some people even drive all the way to Orlando just to shop here. Hundreds of premium outlet shops await you. This one is closer to the theme parks so it naturally draws more visitors than the other outlets. By and large, it's considered one of the best places to shop in all of Orlando.
Want something a little more upscale? Then this is your place. It's a multi-level palace of shops, all indoors, unlike the outlets, so there's no sweating it out under the sun. It's spacious, sparkling and a haven for shoppers who crave the most elite brands like Prada, Chanel, Gucci and Cartier, to name a few.
What would you say to over two million square feet of shopping space? Why, yes, of course! The Florida Mall is another hugely popular shopping attraction in Orlando. What makes it a great choice is that it has something for everyone from mid-range to luxury brands. And if you're hungry, it's also the place to be with food choices that will make your head spin with joy from fast food to sit-down delights. Plus, should you shop 'til you drop, you can always stay at the Florida Hotel in the same complex.
Formerly known as Downtown Disney, Disney Springs is a fun way to spend the day on Disney property without paying for parking or paying admission. There are gobs of stores and restaurants to enjoy that have all that Disney magic. You can spend as much or as little as you like too since there's something for everyone, even a fountain that kids will love to splash in when the weather is hot.
Winter Park is a little bit further from the hullabaloo around the theme park, but if you've got a rental car, it's worth the trek through and out of downtown to get there. Here, you'll have a more unique experience that's been popular with the locals for years but has recently been discovered by the tourists too. Unique boutiques and gastropubs along cobbled streets add a distinctive charm that you don't get from the bigger malls.
7. Lake Buena Vista Factory Stores
Just like the big premium outlets, this Lake Buena Vista location is another prime discount shopping paradise. You'll stroll along rows of high-end outlets on a much smaller scale, but the good news is there are less crowds to contend with. You'll still find some major discounts here, some up to 70%, so put on your shopping shoes and get ready for bargains!
Looking for a more unusual shopping experience? This two-story place will do the trick. It has some more farm-to-table experiences for you, plus art and plenty of fresh Floridian produce. This is the kind of place foodies love, so if you're one of them, you're going to need to add this stop to your shopping itinerary.
Keep heading a bit more out of commercial Orlando and you'll wind up in Altamonte Springs, a place worth the drive for the mall alone. Ideally, you can visit it after stopping in Winter Park since it's so close by. It's a nice, clean and quiet mall with 160 stores, many like the ones you'll find in the Florida Mall, but with cheaper prices. It's definitely worth the trip when you factor that in.
Let's end with the newest addition to the Orlando shopping lineup. This massive new construction has it all from technology to high-end fashion. Modern with tons of choices for everyone, this location is right on I-Drive so expect it to be filled with other shopping tourists staying close to the theme park action.