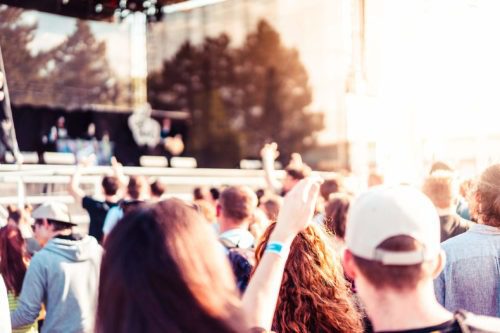 Orlando is home for more than 280,000 people and they can't all visit the many theme parks that the city has to offer. Visiting the same places and over and over again can make the experience lose a bit of its magic. As a result, many non-theme park festivals and events have popped up over the years, many of which take place annually.
If you want to feel like a local or want an afternoon or evening outside of the heavily commercialized adventure parks, consider attending one of the events listed below.  Let us know which one you want to attend.
Orlando 5k Color Run
Event Date: February 23, 2019
Enter your family as a team, €34/person, for an unforgettable experience of running, walking, skipping and dancing at the Orlando 5k Color Run. Throughout the 5-kilometer course, get color bombed, listen to a live DJ and have a good old giggle. The fee includes entry, a t-shirt, and a commemorative medal. You must check-in before 2:30 pm.
Fight for Air Climb
Event Date: March 23, 2019
If you missed the color fun run, this is another opportunity to take part in a fitness event in Orlando. In case, you are not aware, November is Lung Cancer Awareness Month. The American Lung Association is aiming to raise $120,000 at the Fight for Air Climb. Challenge yourself to the vertical stair climb race at the Bank of America Center, in Downtown Orlando.
Improve your adventure with these 'must know travel tips for visiting Orlando, Florida.' One of them might totally change your experience for the better.
Florida Film Festival, Orlando
Event Date: April 12 – 21, 2019
This 10-day festival features more than 180 films from the current, independent and international cinema. Tickets are already available for the Florida Film Festival, held at Enzian Theater. Prices start from $125. If you are a film fanatic, this is a great festival to experience! The film line up is available at 8 pm, on March 20th.
Orlando International Fringe Festival
Event Date: May 14-27, 2019
Downtown Orlando plays host to the Orlando International Fringe Festival and is the sister of the Edinburgh Fringe Festival in Scotland. Over the course of 14-days, uncensored and inclusive art performances will take place in venues and streets all around the city. If you have children, check out Kids Fringe.
Not sure where to stay? We know some lovely and affordable hotels in Orlando. To find our more, read 'Orlando Hotels with FREE Breakfast'
4th of July Bash in Winter Park
Event Date: July 4, 2019
On Independence Day, escape the cramped conditions and large theme park queues by celebrating America at Central Park, they will host an old-fashion styled July 4th, with live performances by Bach Festival Choir and Brass Ensemble, horse-drawn wagon rides, food and beverage stalls, a children's play area, and of course magnificent fireworks. The event starts at 9 a.m., with a children bike parade.
Celebrity Mascot Games
Event Date: July 21-22, 2019
In sunny July, you can attend one of the most exciting and unique events within Orlando, the Celebrity Mascot Games. It a perfect day for family fun! The mascots of over 30 professional teams, across the world of Sport, will compete, at the Amway Arena, to be crowned the mascot champion. Expect stunts, gladiator themed games and hilarity to ensue.
Christmas Tree Lighting
Date yet to be confirmed, around Thanksgiving
In historic downtown Cocoa, Christmas begins with the switching on of the Christmas tree lights at Riverfront Park. This is a wonderful and picturesque place to start a beloved holiday as a family. Along with the Christmas tree being lit, Santa Claus makes a visit, for children that want to get in their Christmas present order before the mad rush. They can also watch an outdoor movie.
With lots of events taking place over the course of 2019, it can be difficult to choose which ones to attend. Do any of them match your planned vacation? Lets us know of all the other festivals and events in Orlando in the comments section below. We'd hate to miss out on a good one.