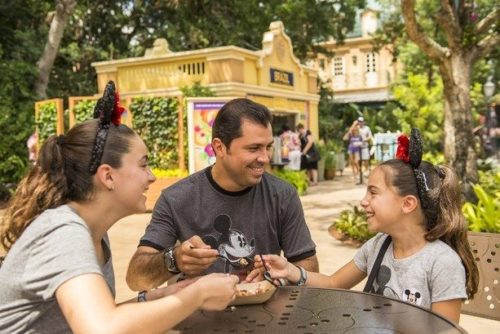 This week in Orlando offers something for everyone. Whether you're into arts and culture, prefer science, or just want to get your hands dirty in the garden, you're sure to find something on this list that's the perfect event for you. Orlando has a little bit of everything, so be sure to take in a show or schedule an evening event with your family so that you can get out and enjoy everything the city has to offer.
Shakespeare in Love
In this wonderful show, a young Shakespeare's life is changed forever after he meets the woman who will go on to inspire him to write one of his most famous plays. In the play, a young Shakespeare is stuck with a horrific case of writer's block while attempting to write what will become "Romeo and Juliet". What follows is a madcap adventure of a play that's full of fourth-wall breaking antics and romantic comedy that everyone can enjoy. Shakespeare in Love runs from February 7 – March 25, 2018, at the Margeson Theater. Visitors should purchase tickets and plan to enjoy a unique theater event that they're sure to remember.
Flight Lab at Orlando Science Center
Guests can get a unique feel for life as a military pilot at the newly opened Flight Lab at the Orlando Science Center. This center is equipped with multiple Oculus Rift display units that allow guests to work together as a flight team and learn to simulate missions. The unit was installed for STEAM learning and is an excellent resource to help community students learn about flight, but also a great option for groups visiting the Orlando area.
Indie Folkfest
The Indie Folkfest is coming up this weekend at the Mennello Museum of American Art and will be taking place February 10, 2018, from 12 to 5 p.m. The event is family and pet-friendly and designed to showcase both local and national art, talent, and culinary skill. This is the fourth annual Indie Folkfest for Orlando, with last year's event hosting more than 5,000 guests in the area.
Orlando Home and Garden Show

The 10th Annual Orlando Home and Garden Show will take place February 9-11,2018 at the Convention Center. The event is well known in the area, and this year will feature celebrity appearances by Tom Silva of "This Old House", Brian Santos "The Wall Wizard", and the renowned sand sculptor Ted Siebert. Guests to the area can also visit a wide variety of exhibits designed to showcase Orlando tourism, see exhibits of birds of prey, or watch famous interior designers at work. Locals to Orlando can enjoy learning about the soil on their property, the fixtures to consider installing in their home, or even adopt a pet.
Nature Connects® Art with LEGO® Bricks January 6 – April 22, 2018
by Artist Sean Kenney. This memorable experience is full of one breath-taking exhibit after another, each featuring larger than life elements of the natural world, recreated with LEGO® Bricks throughout the fifty-acre garden property. Visitors can see the wonder of nature, captured by the creativity of Sean Kenney, in a visual exhibition that's perfect for guests of all ages. Whether you're bringing your children or grandchildren to wander through the grounds, or taking a stroll on your own with your partner, these lovely exhibits are a beauty to behold. It's truly amazing how realistic the LEGO® artwork is, as it takes the shape of a wide variety of plants throughout the botanical garden. So stroll through the garden at your own pace, take photos, and document an experience that you're sure to want to remember for years to come.
Epcot International Festival of the Arts
For the second year in a row, Epcot is enjoying a sensational all-inclusive festival of the arts. This event will be remaining open seven days a week, with specific events being booked for each weekend while it is running. The event features themed artists, gourmet food to match, stage productions, and special entertainment and artists. When you're ready to enjoy good music, good food, and fine art, all in one easy to find a package, the Epcot International Festival of the Arts is the hottest place to be this spring. We'll have more next week about specific performers and upcoming events, so stay tuned to learn more!
When it's time to visit Orlando, take the time to purchase tickets to a few of these upcoming events so that you can enjoy everything that the area has to offer. Whether you're strolling through a LEGO® garden exhibit, learning about the power of flight with a virtual reality display, or attending a play or arts festival, Orlando never disappoints. There's always something new to see, always something available to do, and you'll never be bored with so many things available to do while you're in town. So spend a little bit of time scheduling events before you visit Orlando and you'll be all set to enjoy a visit you'll never forget.