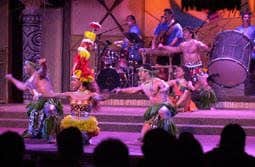 If a trip to Orlando, Florida was more affordable than that dream trip to Hawaii, there is one way to enjoy the best of both worlds—stay at Disney's Polynesian Resort and enjoy a dinner theater experience at Disney's Spirit of Aloha dinner show. Situated on the Seven Seas Lagoon, the open-air covered dining theater provides a comfortable setting for the music of the South Pacific islands, colorful hula dances, plus a fire-knife dance that will entertain guests of all ages.
Through music, dance and plenty of authentic Polynesian cuisine, the Spirit of Aloha tells the tale of a native girl returning to her people and her traditions. Music and dance from Hawaii, Tahiti, Samoa, Tonga and New Zealand are represented in these memorable performances, and many of the performers represent these island nations, giving the show an additional element of authenticity. As can be expected for a unique Disney dining experience, the Spirit of Aloha show is so popular that reservations and pre-payment are required. Guests can book their table online or call 407-WDW-DINE up to 180 days in advance.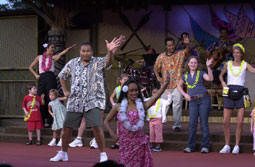 For the price of admission, which ranges from $28.99 – $65.99 per person, guests are served family-style platters of Polynesian foods such as barbequed pork ribs, roast chicken, fresh pineapple, salad with mango poppy seed dressing garnished with Mandarin oranges, Polynesian-style rice and seasonal vegetables . A limited children's menu is also available for younger children who are used to less exotic fare. There is even a chocolate "mouse" volcano to look forward to for dessert. Beer, wine and soft drinks are included for guests 21 years of age or older (picture ID required).
Disney Vacation Package Special!
4 days for only $499.00 for two guests
This package includes: All suites hotel accommodations at the Buena Vista Suites, Tickets to Magic Kingdom, Water Park Tickets, Transfers to the Walt Disney Resort and Downtown Disney, hotel fees. Take advantage of this special offer and experience the Magic like never before!  For reservations call 1.800.396.1883
Currently, the seating for Disney's Spirit of Aloha is at 5:15 p.m. and 8:00 p.m., Tuesday-Saturday. And although the Spirit of Aloha is considered the premier dining experience at Disney's Polynesian Resort, many families enjoy the character dining (and lower prices) at the Ohana restaurant, which is inside the resort. The menu at Ohana includes skewers of seasoned meat, stir-fried vegetables, fried dumplings, lo mein noodles and a salad starter. Add to that the entertaining antics of Lilo and Stitch and some audience participation for the kids, and the whole family will come away satisfied.
The Spirit of Aloha is a Disney character dining experience that is different from other Orlando restaurants, and guests staying at Disney's Polynesian Resort have the added benefit of being just a quick monorail trip away from Magic Kingdom, which makes this dinner show a great experience to come home to after a lengthy day at one of the Disney theme parks. Best of all, guests can still enjoy the tropical temperatures of the South Seas if they visit almost any time of the year.
Related links: Mickey's Backyard BBQ, Crystal Palace, Hoop Dee Doo Character Dinner Show
Spirit of Aloha Dinner Show
Restaurant at Disney's Polynesian Resort
1600 7 Seas Drive
Lake Buena Vista, FL 32830
For reservations call (407) WDW-DINE or (407) 939-3463