Parades are an every day occurrence at Walt Disney World's Magic Kingdom, and guests will have more than one chance to catch a real Disney parade if they spend the entire day at Magic Kingdom. For guests who are staying for an after-hours special event like Mickey's Very Merry Christmas party, there will be even more chances to enjoy this live musical extravaganza filled with Disney's favorite characters.
Walt Disney's Magic Kingdom events: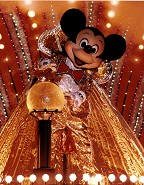 Always check the daily Magic Kingdom schedule at the park on the day of your arrival to find out when the parades are scheduled to take place. Disney cast members will start roping off the parade route at least 15 – 20 minutes before the parade start time, and the main route traditionally starts in Frontierland, cuts through Liberty Square, goes around the Cinderella Castle at the center of Fantasyland before coming down Main Street USA. Once those barricades go up, stay on your side of the route–it is against park rules (not to mention unsafe) to cross in front of any of the parade floats.
According to the Disney.com Web site, "Parade viewing in the Frontierland area is not as busy as on Main Street USA or in front of the Cinderella Castle. If the parade begins in Frontierland, sit near the beginning, so you can be the first to leave." Another tip that you might not find elsewhere: If you've already had your share of Disney parades, take this opportunity to ride some of the most popular rides that require a Disney Fast Pass, like Space Mountain in Tomorrowland or Big Thunder Mountain Railroad or Splash Mountain in Frontierland.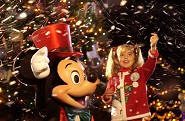 Parade time is also a perfect chance to enjoy a great meal at any of these Magic Kingdom restaurants that might be near the parade route, such as Liberty Tree Tavern in Liberty Square, Cinderella's Table in Fantasyland, and the Crystal Palace in Main Street USA, which is just around the corner from the last stretch of the parade route.
If a Magic Kingdom parade of fireworks display is on your to-do list, here is a brief description of the current shows available. Keep in mind that some parades are seasonal and Walt Disney World updates the parades at all of the theme parks on a fairly regular basis, but you are sure to see Mickey Mouse and the Disney Princesses at any of these Magic Kingdom parades and fireworks displays:

As the name suggests, Holidays Wishes is a seasonal fireworks show that takes place during Mickey's Very Merry Christmas event. Nobody in Orlando does fireworks quite like Walt Disney World, and you don't have to wait until the Fourth of July to catch a dazzling pyrotechnic display. Best of all, each fireworks display and parade is set against the backdrop of the happiest place on earth.
Related links: