Star Wars: Galaxy's Edge is the hugely anticipated new attraction at the Disney Parks across the USA. Have you heard about it? If you say no, it isn't a surprise. Usually, when a new ride, experience or show is opening the Disney marketing machine goes into overdrive. However, Star Wars: Galaxy's Edge is expected to be such a huge and successful event that Disney doesn't need to advertise. They are going with the Field of Dreams motto:
"if you build it, they will come."
When does Star Wars: Galaxy's Edge open?
California's Disneyland® Park has already opened their spectacular Star Wars: Galaxy Edge (May 31, 2019) and Orlando's Walt Disney World Resort will be unveiling their George Lucas inspired inter-galactic universe August 29, 2019.
Galactic Dining at Star Wars: Galaxy's Edge
There are two main restaurants within the various areas of Star Wars: Galaxy's Edge, they are Docking Bay 7 Food and Cargo and Oga's Cantina.  Save some time by seeing what you might like now.
Oga's Cantina
This unique and welcoming cantina is managed by the boss of the Black Spire Outpost underworld, Oga Garra. It's a fun place to eat as visitors will include bounty hunters, smugglers, rogue traders, and weary travelers of all ages. Are you ready to eat among them?
Oga's Cantina has a collection of tasty meals made using 'otherworldly' methods and unique shipments of beers, cider, and wines. While you have your food, you can enjoy the musical stylings of DJ R-3X (also known as REX).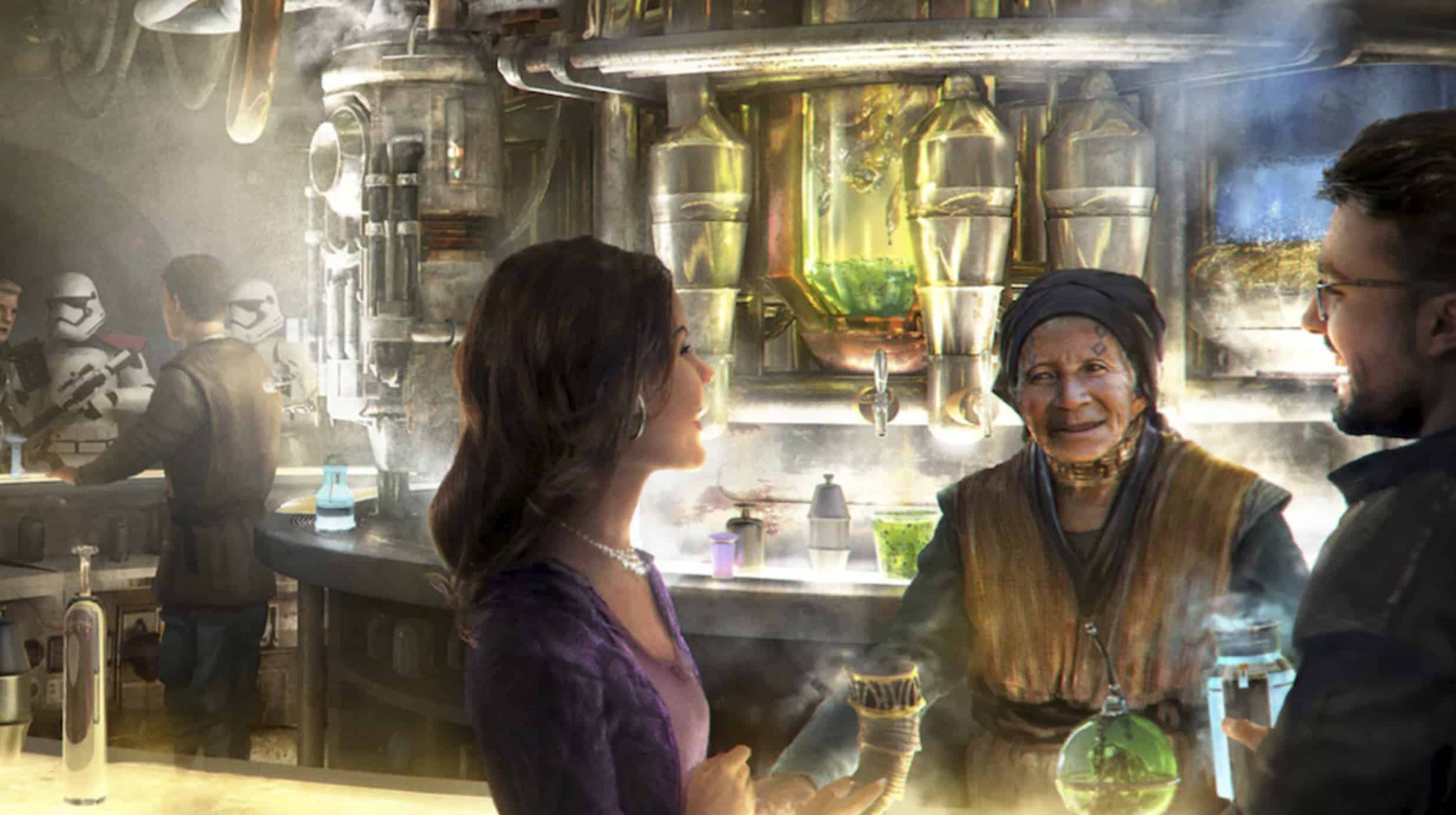 Remember your ID to order a Jedi Mind Trick cocktail, a Bad Motivator IPA or a Toniray wine. This unique themed dining experience doesn't accept dining plans.
Docking Bay 7 Food and Cargo
Disney has described the dining experience of Docking Bay 7 as a 'food freighter within a working hangar bay.' Head  Chef Strono "Cookie" Tuggs prepares a collection of meals using fresh supplies and he's working hard to satisfy every galaxy traveler's appetite. You can choose to sit inside the spacious hanger, or outside in the rustic seating area.
Entrées:
Smoked Kaadu Ribs – sticky pork ribs served with a blueberry corn muffin and cabbage slaw
Fried Endorian Tip-yip – crispy chicken served with roasted vegetable potato mash and herb gravy
Yobshrimp Noodle Salad – chilled shrimp served with marinated noodles and vegetables
Roasted Endorian Tip-yip Salad – marinated chicken served with mixed greens, roasted seasonal vegetables, quinoa, pumpkin seeds, and green curry ranch
Felucian Garden Spread (lunch only) – plant-based "kefta" served with herb hummus, tomato-cucumber relish, and pita
Braised Shaak Roast (dinner only) – beef pot roast served with cavatelli pasta, wilted kale, and mushrooms
Ithorian Garden Loaf (dinner only) – plant-based "meatloaf" served with roasted vegetable potato mash, seasonal vegetables, and mushroom sauce
Desserts:
Oi-oi Puff – raspberry cream puff with passion fruit mousse
Batuu-bon – chocolate cake with white chocolate mousse and coffee custard
Kids' Meals:
All Meals include a choice of Small Lowfat Milk or Small Dasani Water
Yobshrimp Noodle Salad (Disney Check) – chilled shrimp served with noodles, vegetables, and sweet orange dressing
A Taste of Takodana (Disney Check) – black bean hummus served with edible soil with nuts, chilled dipping vegetables, and multi-grain crisps
Fried Endorian Tip-yip – crispy chicken served with macaroni & cheese and seasonal vegetables
Food Guide: Lite Bites and Snacks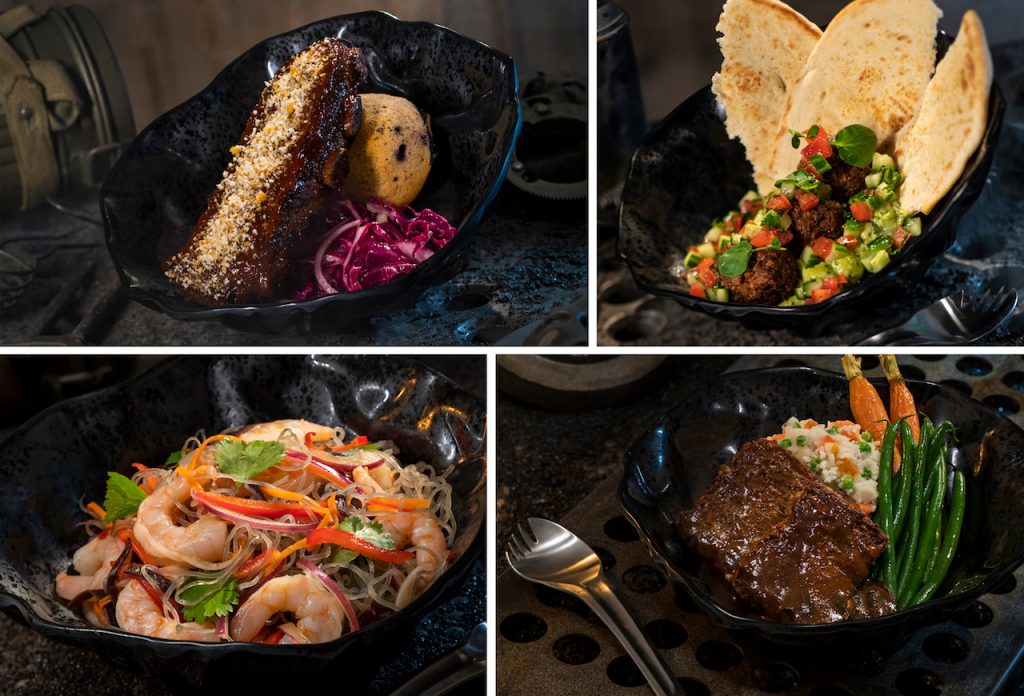 For when you need something quick or a simple drink to rehydrate and run to the next epic Star Wars themed ride or experience visit one of the catering stands at Black Spire Outpost Market:
Ronto Roasters, Milk Stand, and Kat Saka's Kettle.
Stay tuned to the OrlandoEscape Blog for more details to be revealed! For more information, visit the Disney Parks website.