The Waterfront at SeaWorld Orlando, is inspired by the sights, sounds and character of vibrant seaports around the world, this 5-acre nautical neighborhood bustles with activity and immerses guests in a rich tapestry of festive entertainment, dining and shopping.
Strolling through The Waterfront, guests may encounter an assortment of charming residents who bring the streets to life. The Harbormaster welcomes visitors and shares tall tales of life on the sea; comedic longshoremen entertain passersby with improvisational comedy and zany antics; and various musical ensembles serenade guests with the sounds of the Mediterranean.

Visitors can take in a spectacular view of The Waterfront from The Tower, SeaWorld's 400-foot landmark located on the Tower Island.   The tower features a two-deck, rotating platform that rises 350 feet offering a spectacular seabird's eye view of Orlando.  The Sky Tower ride is included with park admission.
Not only is the cuisine inspired by exotic lands, the shops and boutiques at The Waterfront also have an international influence. The stores showcase wares and treasures from ports all around the world, as well as new lines designed specifically for SeaWorld — such as the whimsical, glittering SeaFairy doll collection. Several shops also feature make-your-own gifts and keepsakes, such as beaded jewelry, fragrant colognes and bath gels.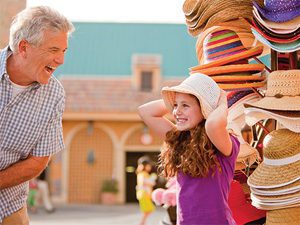 Artisans from the ports of Bali, Indonesia, Italy and South America demonstrate their crafts at Tropica Trading Company. Children's dreams come true at Allura's Treasure Trove when they design their own porcelain dolls — the only such program in the United States. The Waterfront's centuries-old apothecary is home to Swirls Sweet Shoppe, featuring custom concoctions such as sea-life-shaped candies, and Under The Sun offers unique collectibles and accessories to brighten up any kitchen and home.
A dazzling display of light ends the day at SeaWorld with Fireworks at The Waterfront. Stirring music fills the air, and breathtaking pyrotechnics are fired from every corner of the Harbor.
Regardless of time of day, The Waterfront at SeaWorld is a colorful mosaic of sights, sounds and flavors –- all infused with the fun and festive spirit of the Mediterranean. Its rich blend of culture, cuisine, and characters transports the imagination to faraway lands and takes its visitors on an exotic adventure.
Other SeaWorld great links to visit:
Book your SeaWorld Orlando Package – 4 days for only $229.00 for two guests – including hotel, daily breakfast, admission to SeaWorld and Aquatica Water Park for 14 days, 

FREE 

transfers to attractions. 

FREE 

parking and much more!
Swim with the Dolphins at Discovery Cove – includes hotel, SeaWorld Tickets and more!
Take advantage of  the SeaWorld Fun Card – Florida residents — Enjoy unlimited admission to SeaWorld for only $89.00 adults $81.00 children (3-9) through December 31, 2013.
Save on SeaWorld Tickets
Save on Orlando Flex Tickets with unlimited admission to Universal Studios, Islands of Adventure, SeaWorld, Wet 'n Wild and Busch Gardens plus FREE admission to Universal Studios City Walk.